---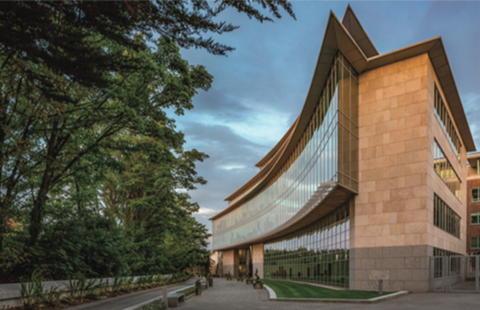 Before the Brexit vote, Dublin was in danger of oversupply. While the city should not expect tenants to pour in, there is reason for cheer, writes Russell Handy
Just a few months ago, Dublin's office letting agents would have been forgiven for being somewhat bearish.
The Irish capital was showing signs of heading towards an oversupply of office space, with construction gathering pace. Speculative development was a potential storm cloud in a country still grappling with legacy loans from the last cycle.
However, the little matter of the UK's referendum on its EU membership has turned agents' heads east towards a credible source of tenant stream.
Craig Wright, real estate investment analyst at Standard Life Investments , says that the city could benefit in the long term, as some finance and business service operations look for "alternative homes outside London".
"Six months ago, we were expecting an oversupply situation in Dublin," says UBS Global Real Estate's director of research and strategy, Gunnar Herm.
The current strong development pipeline could, Herm says, actually be a positive for attracting companies.
While the idea of a tenant exodus from the UK is somewhat far-fetched, there is clearly potential for occupier movement.
Herm, writing in a note on prospects for European business cities, says Dublin is a well-established financial centre, "but not on a global or European scale".
However, the Irish capital's flexible labour laws and strong economic ties to the UK and the US through a shared language keep barriers to movement "relatively low".
Geographically, Ireland is, he says, "relatively isolated from continental Europe.
"Even though transport links to the continent and the US are very good, links to the rest of the world are more limited," Herm says.
A low level of corporate tax has helped attract office occupiers and cut unemployment levels. Ireland introduced the 12.5% level in 2010, having gradually cut corporate tax from 50% in the early 1980s.
The Irish economy grew by 7.5% last year and Dublin has clearly benefited from the low taxation level, with several major multinational firms from the technology sector opening offices in the city.
The presence of Amazon, Google and Facebook has, in turn, attracted international real estate investors, including Germany's Allianz, Bayerische Versorgungskammer (BVK) and Middle Eastern-backed AGC Equity Partners.
The latter recently made its first foray into Ireland, investing €242m in core office asset One Spencer Dock. The 226,624sqft property, developed by Treasury Holdings in 2007, is fully let to PwC until 2032.
Another long lease attracted Standard Life Investments recently. The firm paid Starwood Capital €57m for a Dublin office block in July. The 86,872sqft Elm Park Green is let to Allianz on a 50-year lease, with a break clause not until 2023.
Patrizia Immobilien this year completed its purchase of the Oval scheme in Ballsbridge (pictured below), one of Dublin's central business districts, for an institutional client in March.
James Muir, managing director for Patrizia in UK and Ireland, says the Dublin office sector is "characterised by strong demand and a lack of supply". Dublin office vacancy is about 6%, according to UBS.
Marie Hunt, head of research at CBRE Ireland, says supply of office space is now "well-controlled", with many schemes experiencing either planning or funding delays.
At the midway point of this year there were, Hunt says, 27 office schemes under construction in Dublin. Already, some 22% of the stock under construction has been pre-let.
"It appears several schemes that originally had target completion dates of 2018 will now not be completed until 2019 or beyond," she says, citing planning and funding delays.
According to Capital Economics, a surge in demand for Dublin office space of 1m sqm would be equivalent to more than a quarter of Dublin's current office stock.
The recovery of the Irish economy has, says Herm, pushed office vacancy down significantly. Dublin's city centre sub-market has a vacancy rate of less than 6%, which, he says, could prove challenging for occupiers seeking the right-size space.
"Unlike other European cities, Dublin is in an office development cycle, which should bring centrally-located office space on the market relatively soon," he says.
Wright, meanwhile, says that with office vacancy at its lowest level for more than 15 years, prime rents in the central business district have doubled since 2013. Yields, he says, are back to pre-crisis levels of about 4.5%.
"While such strong performance isn't expected to continue at the same pace, the outlook is still positive," says Wright.
UBS estimates that over the next three years, Dublin's office stock may increase by more than 12%. Capital Economics, which estimates vacancy to be about 8%, says only around 300,000sqm are currently available across the Irish capital.
The addition of 30,000 extra finance employees would "completely eliminate" Dublin's available supply of prime and secondary offices, the firm says.
Housing the masses
An increase in population could put pressure on the city's infrastructure resources. Dublin's chamber of commerce says the city needs 54,000 new homes over the next seven years, pointing out that only 2,000 new homes were built last year.
Hunt says a lack of housing is Dublin's biggest challenge, something statistics back up convincingly. The population of greater Dublin area is expected to increase by just over 400,000 from 1.8m to 2.2m by 2031, according to Ireland's Central Statistics Office.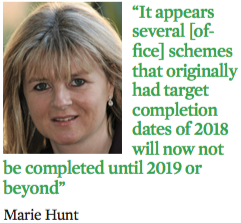 The Irish Business and Employers' Confederation last year warned that Ireland would need to make significant strides if it is to cope with migration between now and 2050. The group's chief executive, Danny McCoy, said Ireland's population could reach 10m by 2050.
Tristan Capital Partners recently invested in a residential scheme in Dublin. The firm said an opportunity fund it manages is ploughing €72.5m into a prime residential apartment block being developed on the former Dún Laoghaire golf course, in southern Dublin.
Cosgrave Property Group is developing the site, with the backing of Ireland's National Asset Management Agency. The deal is the first large-scale forward commitment structure in Ireland since the market's recovery began.
Peter Mather, managing director of investments at Tristan Capital, said residential development shut down during the financial crisis, leaving Dublin with an "acute shortage of housing as the Irish economy recovers and its population grows".
More residential schemes will be needed, while infrastructure improvements will be key. At €368m, one of the largest capital investment projects being undertaken by the Irish government, the Luas Cross City tramline extension, is due to open next year. Work began on the line, which will run south from St Stephen's Green, in 2013.
Encouraged by the tramline project, Meyer Bergman has invested €110m in Dublin retail for its third European Retail Partners fund. The investment manager bought high-street buildings and retail units in Dublin's central shopping district in two deals.
Markus Meijer, Bergman's chief executive, said the area would "benefit hugely" from increased footfall from the new tramline.
Confidence in the Irish shopper was also a factor that played a part in Blackstone's €1bn Blanchardstown Centre deal.
Anthony Myers, head of European real estate at Blackstone, said the US firm believes in the strength of the Irish economy.
Allianz Real Estate and Hammerson last year bought a portfolio of Irish loans backed by retail property assets including Dublin's 1.5m sqft Dundrum Town Centre, Ireland's largest shopping centre.
Hammerson was, according to chief executive David Atkins, attracted by Ireland's fast-growing consumer economy, real wage rises and house price inflation. Ireland's central bank has forecast GDP growth of 5.1% for this year and 4.2% for 2017. Hammerson says Irish retail sales were up by 5.3% year on year in May.
The Organisation for Economic Co-operation and Development recently pointed to the role knowledge-based capital investment by multinational enterprises is playing in Ireland.
With Dublin taking the lion's share of the country's growth, the city will need to be as accommodating to new arrivals as it has been to their employers.
Dublin: Glass half full
1

Currently reading

Dublin: Glass half full

2

3