The pan-European core real estate fund market continues to grow and is maturing quickly, writes Maha Khan Phillips
Fifteen years ago, MSCI launched its Pan-European Property Fund Index (PEPFI), with very little fanfare. The market was still relatively insignificant, and the index was worth only €406m.
Since then, as institutional investors have diversified from their domestic markets and sought low-risk solutions, the pan-European, open-ended core fund sector has grown substantially. By the end of 2019, MSCI's index had risen to €31.9bn in total net asset value. Investors have seen average returns of 9% over the 12 months to June 2019, and new entrants are flocking to the market to offer different products.
"There is a structural change in the industry, in terms of the availability of pan-European open-ended core products," says Peter Hobbs, managing director for private markets at Bfinance. "It has taken time to develop because the market is so fragmented in Europe, but there is real growth and momentum."
The open-ended core fund market in Europe is still small, however, compared with the US, where the NCREIF NFI-ODCE index covers net assets of more than $262bn (€242bn). But industry participants expect the gap to narrow over the coming years.
"The US is historically a bigger market in the funds space," says Gianluca Romano, managing director, capital markets, at JLL. "Contrary to that, European institutions tend to directly invest in assets in their home markets and haven't really embraced diversification until following the global financial crisis. There wasn't a local demand for pan-European low-risk-profile products, and that market has not had the time to develop like the US."
Now, however, investor appetite is not just restricted to Europe, but comes from further afield. "Small to mid-sized European investors are now embracing diversification, and certain Asian investors want to invest across Europe, and tend to be core and core-plus in terms of risk, and appreciate the diversification from a commingled vehicle. A pan-European open-ended core product could therefore be very appealing," says Romano.
LaSalle Investment Management is one beneficiary of global investor interest. Its Encore+ fund doubled in size in the 12 months to November 2019, marking the highest 12-month period of inflows since its inception. The fund has reached €2.5bn, and seen growing interest from Japanese and Australian investors.
David Ironside, managing director and fund manager of Encore+, believes the European market offers opportunities for growth, because it is benefiting from changes in demographics and technology, as well as increased urbanisation, and focus on environmental concerns.
"We appreciate now, looking through the eyes of our foreign investors, how European cities are limited in the space available," Ironside says.
Similarly, M&G Real Estate's European Property Fund is invested in 70 individual assets and 12 different European jurisdictions, and has €4bn in assets under management. "We have a queue of capital coming in, and we are now at the stage where we have increased our investor base to 65 institutional investors from a total of 19 different jurisdictions globally," says David Jackson, who runs the fund.
Open-ended core funds can be categorised in several ways. Entry to market is one. Some of the largest funds, such as those from LaSalle and M&G, were launched before the global financial crisis. Others, including funds from CBRE Global Investors and Invesco Real Estate, were created in the aftermath.
More recently, new entrants have created a third group, which includes the likes of BlackRock, Principal Real Estate, Nuveen Real Estate, Swiss Life, and Patrizia.
Still others are leveraging off past expertise, to widen their product offering. DWS's Europe II fund is a relatively new entrant, but DWS has offered a similar product to German investors for quite some time.
"The DWS fund, Europe II, was launched two years ago, designed for international institutional investors. However, we've been running pan-European core funds for nearly 50 years on behalf of German investors," explains Jessica Hardman, head of UK Real Estate at DWS.
Similarly, the LaSalle E-REGI fund, which exceeded €1bn gross asset value (GAV) in January, started as a German Spezialfonds in 2011, investing in offices, logistics, and retail in Europe.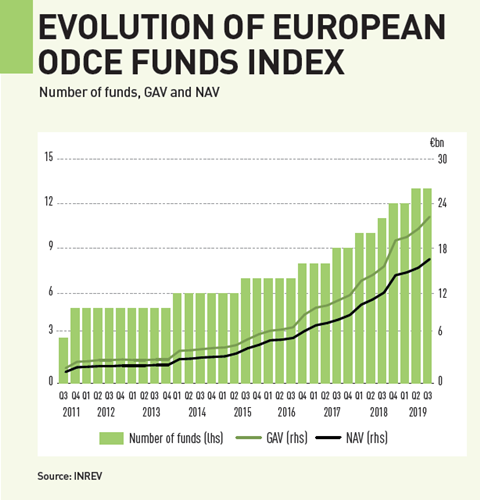 Funds can also be categorised by size. The largest have up to €5bn in assets, while smaller funds can have a couple of hundred million euros, say consultants. Funds can also be divided by geography and sector. Some will operate in the euro-zone only, while others will include the UK in their investment universe.
"Some funds only invest in euro-denominated locations," says Hardman. "Our funds include the UK as well. We like it; we think it adds good diversification to the fund. The UK has received more than adequate performance, but now that the picture is clearing a little bit, we think we'll see strong performance."
Before the global financial crisis the majority of open-ended funds held portfolios largely composed of office buildings. However, funds have diversified considerably into the retail, logistics, and residential sectors.
For example, Patrizia has seeded a pan-European residential fund with €650m-worth of assets, and plans to grow it to over €1bn this year. The manager says a number of existing and new global investors from Europe and Asia had committed to its Living Cities Residential Fund. In contrast, CBRE's pan-European Core Fund focuses more on prime retail and office real estate, as well as well-located logistics real estate, primarily in the euro-zone.
Uwe Rempis, fund manager of the LaSalle E-REGI fund says the office sector will always be his primary focus. "Office is the backbone of the fund. We want to have 40% to 60% invested in offices, typically in long-term leases but we're also prepared to consider re-leasing opportunities, and we also have long-term investments in industrials. Alternatives such as hotels, apartments hotels and even student housing make up a less significant part of the portfolio, with target allocations no more than 15-20%," he says.
But Andy Simmons, senior vice-president, advisory and consulting at Green Street Advisors, believes this will change. "I think there is real scope for institutional investment in healthcare. There's been a challenge there in terms of some of the operational pressure on tenants, leading to concerns from prospective landlords over rent cover, and so tempering new development. But it looks like we've come out the other side of that," he says.
Consultants also point out that prime core markets in Europe are very expensive, and investors are right to be concerned about corrections and downturns. A response to that has been more focus on sectors like student housing, self-storage and healthcare. Residential assets, in particularly, have historically been more resilient in downturns.
But in the race to build products to meet increased investor demand, there will be winners and losers. Some new entrants, for example, will have limited their retail exposure, and any downside from underperforming retail markets.
"The newer start-up funds, with perfect hindsight, or current knowledge, will have avoided retail. They will probably have avoided the UK in the short term, and will have focused on office and logistics," says Richard Everett, senior managing director and fund manager, Pan-European Core Fund at CBRE Global Investors.
Everett believes the UK will be a key market in future. He says: "The UK is now seen as a much better place to invest. If funds have managed their weightings properly and are allowed to go to the UK as well, that should bolster returns."
But older funds have other advantages to offer, Everett argues. "Funds that have been investing in logistics over the last 10 years have embedded value. If you are now looking at logistics, you'll be paying very high prices, with some concerns of over-supply of big box," he says.
Older funds also have scale. "All the major managers seem to have, or are thinking of setting up, these pan-European funds," says Will Robson, global head of real estate research, at MSCI.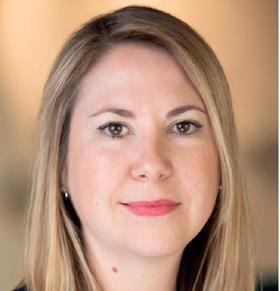 "The number has increased gradually over the years. The bigger managers have gotten bigger as well. You can see in the numbers that the average fund size has been increasing, as well as the aggregate value of the index. The big boys are getting bigger, and the efficiency they have in terms of economies of scale and access to investor capital has helped with that growth."
However, for the market to mature transparency will need to be addressed. "Transparency remains a key issue," says Rory Morrison, managing director, fund management, at Invesco Real Estate. "We meet investors and prospects and consultants and they ask us how our strategy is different from the peer group. Often, the consultant has a better view of that than we do."
Morrison believes that transparency has traditionally been a shortcoming that index providers have been unable to get to grips with. "Investors coming into the market today would almost need to find a way through slightly secondary sources of information to identify the available pool of fund opportunities, whereas the ODCE index in the US provides a lot of that data, and country and sector weights, approach to leverage, and performance data that doesn't exist in Europe so far," he says.
Last year, industry association INREV launched the INREV European Open End Diversified Core Equity (ODCE) fund index, as well as its asset-level index, in a bid to increase transparency in this sector.
"The ODCE index launched in April last year, but it is still an index in the consultation phase," says Lonneke Löwik, CEO, INREV. "We are still working out some of the details, but we've published it to ask for feedback from the industry, and we launched it at the same time as we launched the asset-level index because we are working on connecting the two and getting much more transparency."
INREV has been working closely with NCREIF in the US, and ANREV in Asia-Pacific, so that the three regional ODCE indices can, eventually, bring together a global offering. "When we started, we made sure that we were comparable and that we use the same methodology so that we have the potential to do this, but at the moment we are working towards full transparency," says Löwik.
Invesco already has a global vehicle – the Invesco Global Direct Real Estate Fund, and others are no doubt following suit. But industry participants say that index providers will need to do more to build the market. MSCI provides good benchmarking and attribution analysis against relevant benchmarks, but does not provide details of individual funds within the benchmark.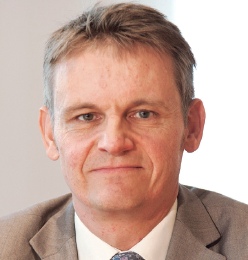 INREV, in contrast, does not have the technical and intellectual resources of a $25bn market company such as MSCI, points out one consultant.
"[MSCI's] business is devoted to providing transparency in helping both managers and investors in the funds," says Robson. "We try to provide as much detail as possible in terms of how asset-level performance combines across sectors and regions and driving the fund-level returns. We are aiming to provide as many of the contributors as possible, so that people have a good idea of where performance is coming from, and where risks may lie."
For its part, INREV says its new ODCE index is likely to be the first that will combine with its new asset-level index to link asset and fund-level attribution.
"Our members want us to make sure that the index really functions and does what it is supposed to do, and are really looking forward to this additional linkage with the asset-level index," says Edgar Orlovskis, research and analytics manager at INREV.
Industry participants say there is more to do. "INREV is doing a great job on this. What they need to do is push ahead on the asset level. INREV is good at measuring the fund-level performance, but not the asset-level performance. MSCI has a better hand there, but once they crack that, INREV will be very compelling to use," says Hobbs.
Market participants agree that, once more transparency is introduced, interest in the ODCE market will increase even more.
Core real estate Europe: On the path to maturity
1

Currently reading

Core real estate Europe: On the path to maturity

2

3