One of the fastest population growth rates in Europe has city administrators and investors scratching their heads, writes Russell Handy
Ask any Londoner what their biggest issue is with the UK capital and over-population – with its implications for the residential sector and infrastructure – is inevitably cited.
Some 1,600km north, the Swedish capital of Stockholm faces similar pressures, albeit from a lower starting point. The city region has one of the fastest-growing populations in Europe, ahead of Nordic rivals Copenhagen and Oslo.
"While Nordic capitals continue to grow, they need to adapt to accommodate more people," says Craig Wright, real estate investment analyst at Standard Life Investments.
Growing more rapidly than any other city in Europe – including London – the population of Stockholm is expected to rise 11% by 2020, and reach one million in the next five years.
By 2024, the figure could by as high as 2.5m – about a quarter of Sweden's entire population.
The largest capital city in Scandinavia, Stockholm accounts for over a third of the country's gross domestic product.
The city's administrators can be forgiven for scratching their heads as housing and infrastructure rise to the top of their agendas.
"Efforts have been made to reduce traffic and congestion in the city centre," says M&G Real Estate fund manager David Jackson.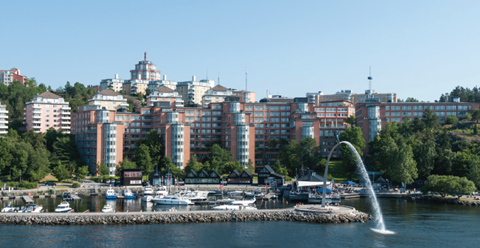 Wright says Stockholm is continuing to innovate to maintain its position as the largest capital city in Scandinavia and alleviate the pressures of urbanisation.
Swedish residential planning policy has been slower to react to accommodate inward migration, he says. The Förbifart bypass, a 10-year project, is aimed at reducing congestion in the west of the city and linking the north and south.
"These projects will not alleviate property shortages directly," Wright says. "But Sweden's macro-prudential policies, designed to calm house price growth, are taking effect."
Such improvements to Stockholm, spread across 14 islands with 57 bridges, have enticed investors.
Modifications to Stockholm's underground network – as well as a new line to the airport – were reasons behind Union Investment's €244m purchase of the Vattenfall headquarters in Stockholm's Arenastaden, a district north of the centre which is expected to rise in popularity.
Its proximity to the city centre, as well as good infrastructure links and an emphasis on environmental factors, explain the appeal, says Philip La Pierre, of Union Investment.
The district, anchored around Unibail-Rodamco's 101,048sqm Mall of Scandinavia, is due to have its own Metro station in 2024.
On the opposite side of the city in Kungens Kurva, Finnish pensions insurer Varma recently invested in retail asset Heron City with CapMan Nordic Real Estate Fund and Cavendo in a joint venture worth SEK930m (€97.3m). Once again, infrastructure improvements were factors in the investment decision.
Access to the centre of Stockholm is set to improve significantly with the completion of underground motorway tunnels, Varma says.
Stockholm's physical constraints and urbanisation have manifested themselves in the investment market, says Wright. Despite yield compression, investors continue to believe in Stockholm's potential. "Stockholm has maintained a remarkable level of momentum amid claims that the real estate cycle could have already peaked," says Wright.
He says the secret to its success has been threefold, with solid economic growth, low interest rates and low supply across all property sectors. "It's a situation we haven't seen manifest in other Nordic cities such as Helsinki or Copenhagen," he says.
Mikael Söderlundh, head of research at Pangea Property Partners, says strong investor demand for Nordic real estate in recent years is now combined with more assets being put up for sale.
The Nordic property markets will continue to perform well, according to Pangea's Outlook for 2017. Sectors with strong rental growth, such as central offices in Stockholm, are pinpointed as winners by the firm.
M&G Real Estate recently invested €230m for its core European strategy in the Blekholmen 1 office asset – its largest continental European deal.
Investor appetite remains strong for core Stockholm assets, says Jackson. "Stockholm is a very transparent market in a country with a resilient economy," he says. "Low unemployment has increased demand for office space."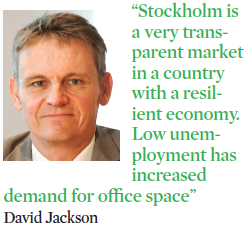 Jackson says the multi-let Blekholmen 1 asset ticks two boxes for its core strategy by not being out-of-town while being in a city that offers the prospect of rental growth – a quality less obvious in other major European cities.
"There are cities across Europe where there's a particular bias towards one sector, but that's less the case with Stockholm," Jackson says.
The effects of the UK leaving the EU, alongside stimulus from the European Central Bank, "only enhance the attractiveness" of Swedish real estate, Invesco says.
Sourcing such properties in the Swedish capital, Jackson says, is not an easy task. "It is hard to find assets, we haven't seen that many opportunities in the centre of the Stockholm central business district," he says.
In its European Market Outlook, Invesco Real Estate says finding rental growth "means moving into less established markets" as core locations are close to their historical peaks.
The firm cites Oxford Economics and CBRE figures estimating that prime Stockholm office rents are about SEK5,500 per sqm per year, SEK600 above their all-time high.
Rental growth is forecast to be more subdued in the next five years, at about 0.7% per year, Invesco says.
The shortage of investable product is curtailing capital flows in Stockholm, resulting in continued capital value appreciation, says Wright. "A shortage of institutional-grade property is encouraging investors to look at potential value inherent in secondary cities across the Nordic region."
Stockholm's central business district office rents increased by 18% last year. According to Wright, the supply shortage will continue throughout 2017.
"We're expecting another increase of 6% this year," Wright says. "And even this estimate could prove conservative."
Alecta, Sweden's largest occupational pension provider, last year bought 10 properties on Stockholm's waterfront at Nacka Strand, an area due to benefit from the extension of the city's Metro network. "The decision to extend the metro to the centre of Nacka obviously makes the area more attractive in the long term," says Fredrik Palm, head of Alecta Real Estate.
The 110,000sqm portfolio, leased to 300 tenants, includes offices, hotels, public buildings and educational facilities. The area is one of Sweden's "fastest-growing municipalities", Palm says. Developed in the early 1990s with the conversion of former car factory, the scheme includes several new office buildings.
The former owner, The Carlyle Group, bought the area in 2012 from Swedish government-owned real estate company Vasakronan and worked on plans for new homes and the conversion of offices into residential use.
A plan is in place to create 1,500 new flats in Nacka Strand, which Alecta says will mean further investment in services and communication in the next few years.
Palm says there is high demand for premises in the area and that the establishment of the Stockholm fashion district, with 12,000sqm of space, is an example of what i s now going on in the area. "We foresee investment in Nacka Strand as long as we continue development along with other players in the field," Palm says.
Venturing beyond the core into less well-known locations hardly seems adventurous in a city increasingly regarded as a safe haven.
City Focus Stockholm: Fully stocked
1

Currently reading

City Focus Stockholm: Fully stocked

2

3

4