With political uncertainty on the minds of investors, the cool-headed Norwegian capital is well positioned to attract international capital, writes Russell Handy
"Foreign capital and investors can be a vital contribution to urban development, bringing new perspectives, experiences and ideas to the real estate market."
Those words, from Oslo's governing mayor, Raymond Johansen, at MIPIM in March, belie a Norwegian real estate market that has historically struggled with the idea of the arrival of foreign capital.
A strong currency, coupled with Norway being outside of the European Union, has meant non-Nordic investors have avoided investing in the country.
Europe's listed vehicles in particular, have shied away, according to Invesco Real Estate in its European House View for the second half of last year.
Oslo, whose popuation is expected to grow by 200,000 by 2030, was firmly on the front foot at MIPIM this year, hosting an Oslo Investor Summit.
"The city of Oslo is ready to work with you to develop projects that raise the bar of quality and put citizens centre stage," Johansen said.
Transparency and speed of transaction completion, says Stig Bech, partner at Norwegian law firm, BA-HR, are also reasons to invest in Oslo where, he explains, most properties are traded via special purpose vehicles.
Key statistics
• Prime Oslo office yield: 3.75%
• Prime rent: NOK 4,200
• Vacancy: 6%
• Office stock: 1m sqm CBD/8.6m sqm total
Source: CBRE
Regardless of the charm offensive on the south coast of France, it could be argued that Oslo is already enjoying a healthy level of overseas investor attention, despite lower liquidity for core assets and record capital growth last year (see Capital growth fuels 2016 returns).
Round Hill Capital, with StepStone Group Real Estate, last year invested in Oslo as part of its $200m (€177.3m) Nordic debut.
Per Morten Kiil, chief executive of Oslo-based NLI Eiendomsinvest, says the fund seized upon strong interest from international investors to enter the Nordic logistics and industrial market.
Round Hill Capital founder and chief executive, Michael Bickford, says the firm is building a local management team for the region following the purchase of the 326,000sqm portfolio.
"We believe the Nordic region benefits from positive macro-economic trends, attractive yields for commercial, industrial and logistics properties and strong rental growth," Bickford says.
Sweden's SBB I Norden recently paid about NOK 4.3bn for the Oslo headquarters of DNB BANK, which has about 10 years left on its lease.
Core product in Oslo, where strong locations combine with long leases of more than 10 years, are extremely attractive to investors, says John Solberg, chief executive of CBRE in Norway.
"However, slightly more fringe locations should also be attractive to any core-plus and/or value-add investor, given the super strong demographics of the Oslo region," he says.
Solberg says the country's real estate sector is now better aligned with international expectations.
"Oslo offers a friendly, deal-making environment," he says of the city that this year topped the World Happiness Report.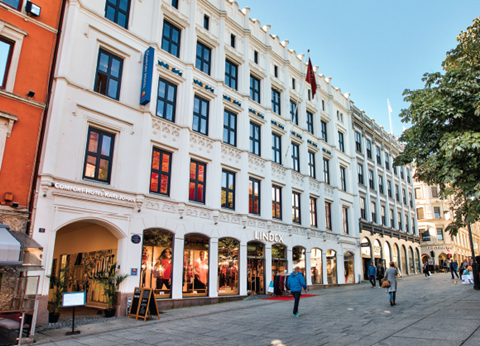 CBRE Global Investors, HIG Capital, Hines and Madison International Realty have all invested in the city, with the latter last year selling the Statoil office complex to a club of local investors established by Arctic Securities for NOK3.9bn (€419m). The 65,768sqm property in the Fornebu district was sold at a 5.4% cap rate.
Madison, which has also previously invested in Norwegian retail, increased its interest in the Statoil asset from 35% to 90% for NOK680m in 2014.
CBRE Global Investors recently invested in central Oslo, buying a prime, mixed-use high street retail asset at 12 Karl Johans gate.
The deal was the manager's third in the city, having bought the HH1 office property and the Tatlergården H&M flagship store in Bogstadveien.
HIG Capital recently bought Vitaminveien 1, a 21,200sqm office asset in central Oslo. The deal was the firm's fourth Norwegian investment – but its first in the country's office sector.
Avignon Capital and Norwegian partner, Clarksons Platou Real Estate, this year sold prime Oslo office, 27 Østensjøveien for €61m.
The off-market sale to Malling & Co Eiendomsond, an all-equity fund, produced an 87% return on equity. Avignon Capital bought the 16,766sqm asset in 2014 in Helsfy, described as a growth area of the Norwegian capital.
Prime Oslo office yields are averaging 3.75%, according to research by CBRE, putting them in the same area as central London. Such low yields have not always been the norm, however.
Hines Europe bought its first Oslo asset in late 2015, investing €52m in Karl Johans Gate (pictured) for Bayerische Versorgungskammer (BVK) as part of a €1.3bn mandate to invest in prime European high street retail properties.
At the time, Hines considered Oslo real estate as being undervalued, its managing director for Europe, James Robson told MIPIM delegates.
"Oslo's undervaluation has somewhat dissipated now," he says. "But other cities are arguably overvalued."
At the time of purchase, Robson said the building was typical of the kind of property that the firm targets – being a well-located, retail-anchored asset and offering income.
The key to the success of such central retail assets is, of course, footfall. Oslo, like many of its European peers, is pushing forward with efforts to make the city less dependent on roads and, as Johansen says, give priority to "people over cars".
"Our vision for Oslo is to make it greener, more inclusive and creative for citizens," Johansen says. "The main objective is to make sure that the Oslo economy remains sound, strong and stable."
Significant population growth – a feature Oslo shares with Nordic rival Stockholm, Sweden's capital – has resulted in the Oslo's Bjorvika, Tjuvholmen and Vulkan districts being revitalised, with apartments, offices and retail space emerging out of former industrial areas.
With growth set to continue for the foreseeable future, similar regeneration schemes are likely.
The participation of investors from beyond the Oslofjord hangs in the balance, with strong demand from domestic investors keeping yields low.
"While Norway remains economically prosperous thanks to large energy reserves, this does not necessarily translate into attractiveness for international real estate investors," Invesco says.
At a time of increased global political uncertainty, the Norwegian capital, with unemployment at just 2.8%, according to the Norway's Welfare and Labour Administration, offers common sense and constitutional stability.
Capital growth fuels 2016 returns
MSCI's IPD Norway Annual Property index recorded a total return of 10.6% for Norwegian investment property last year.
Capital growth stood at 5.2%, close to the 2015 figure of 5.4% – the strongest on record since 2007.
Last year was the fourth consecutive year of positive capital growth.
Since 2012, capital values for Norwegian investment property rose cumulatively by 13.6%.
Income return fell to 5.2% in 2016 from 5.3% in 2015, the lowest-ever level in the history of the index.
MSCI said Norway's performance results for 2016 reflected broadly based capital value growth that was driven by rental growth and lower valuation yields.
All sectors recorded double-digit total returns, ranging from 10% to 12.4%, with industrial being the strongest performer, based on an impressive return from logistics.
"Investors able to understand the fundamentals of different industrial locations will find great opportunities to deploy capital and receive robust returns," says John, chief executive of CBRE in Norway.
The logistics sector returned 12.1%, supported by capital growth of 5.5% on top of a 6.3% income return.
The retail sector also continued to deliver strong capital growth at 6% in 2016. This compares with 6.5% in 2015.
Despite a 17-year low of 4.2% income return, offices in Oslo's central business district achieved a total return of 11.5% on the back of capital growth of 7.1%.
City Focus Oslo: Warming to a cool market
1

Currently reading

City Focus Oslo: Warming to a cool market

2

3