Could this be the year for northern Italy's financial, industrial and cultural hub? Russell Handy reports
If ever there was a year when Milan could put itself in the shop window, this was it. As the host of Expo 2015 world fair, the Italian city is centre-stage for a global showcase.
While the six-month event is tipped to draw in as many as 20m visitors and boost the city's tourist trade, it remains to be seen how Milan's real estate sector, still plagued by office vacancy levels of 14.8%, will benefit.
At a time of increased international investor interest in southern Europe, and with Spain having been the '2014 story', this year could be Milan's best opportunity to attract investment.
"It's not on the scale of the 2012 Olympics in London, but it will have a positive impact on Milan's infrastructure, as well as the visibility of the city and the local economy," says Generali Real Estate's managing director for Italy, Alberto Agazzi.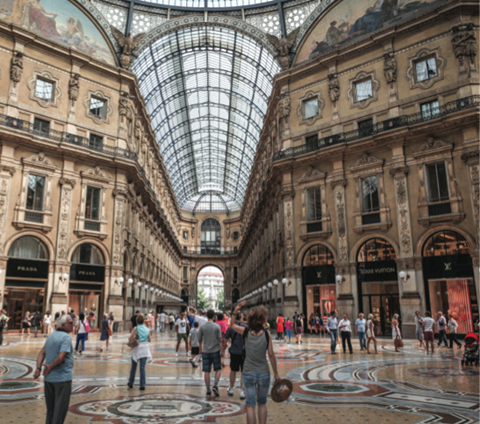 In a recent US television interview with CNBC, Joseph Sitt, chief executive of Thor Equities, said Europe was once again attractive from a currency and macroeconomic perspective.
Early signs of increased international appetite for Italian real estate were evident last year. Investment volumes reached their highest level since 2008, according to BNP Paribas Real Estate. Milan, at 24%, attracted the greatest share of investment, beating Rome (14%). Milan is firmly first stop.
Last year's improvement in investment activity took Italy back to levels above the country's 10-year average.
Generali estimates that 54% of all commercial real estate transactions last year had Milan postcodes.
Sandro Campora, country manager for Italy at CBRE Global Investors, says Milan and northern Italy share many attributes with other core European cities – but most core investors have, up until recently, been put off by the perception that the country is risky.
"I believe we are now out of the crisis, but there is still work to be done," he says. "Signals of recovery were already evident in 2014, which was a better year for the real estate market compared to 2013."
Campora believes that 2015 will be better than 2014, at a time of increased competition for core European real estate.
Yield compression, he says, has caused prices to rise – albeit not to their 2007 levels.
While AXA Real Estate, Blackstone, Colony Capital and German funds such as Deka have invested in Italy, new entrants emerged at the start of this year. M&G Real Estate returned to Italy after a 10-year hiatus, buying a 3,745sqm high-street retail development in Milan from its developer PRIA.
Acting for several private investors, Partners Group completed its €233m purchase of two prime central Milan office properties earlier this year. The investment manager bought the Via Monte Rosa and Viale Sarca assets from Italian closed-end real estate vehicle Unicredito Immobiliare Uno.
Partners said it bought the assets at an entry price that would enable it to realise "significant value" in a market that has "constantly improving fundamentals".
The Via Monte Rosa property is let to Italian newspaper Il Sole 24 Ore as well as PwC, while the Viale Sarca building is the headquarters of Pirelli.
Such assets, however, rarely become available on the open market in Milan. Sellers are traditionally more likely to pursue off-market sales strategies.
"There aren't that many opportunities to invest in Milan," Partners Group director Fabian Neuenschwander told IP Real Estate at MIPIM this year. "The city's many 'palazzi' often require significant capital expenditure."
The firm, Neuenschwander said, is not a core investor, preferring to "manufacture" core and remain selective.
Milan is not alone in being branded as a city full of old office stock, sharing the stereotype with its major European peers. While the city's Baroque trophy assets rarely trade, investors see little potential in Milan's many post-war assets, with renovation projects a rarity.
With investor opportunities scarce, some investors, including Invesco Real Estate, are pursuing build-to-core strategies, buying assets in need of renovation or re-letting. The firm last year bought a 6,200sqm office asset in Milan's Via Sassetti for a separate account.
Its location was key, says Carlo Romano, Invesco Real Estate transactions director for Italy. "The asset is close to Porta Nuova, an increasingly attractive area for tenants. You either enter a bidding war with aggressive investors, or you look to create something."
With prime assets in Milan few and far between, investing in development or in off-centre assets is a credible alternative. AXA Real Estate has also done this, buying core assets for its Selectiv' Immo account close to Milan's central business district.
The largest development in Milan, Hines' 290,000sqm Porta Nuova scheme, is now fully owned by the Qatar Investment Authority (QIA). The sovereign wealth fund took a 40% stake in the asset in 2013, buying the remainder this year. The scheme has a market value of more than €2bn.
Hine's chief executive for Italy, Manfredi Catella, said QIA's purchase was a "very positive sign for Italy in terms of attractiveness of the country to leading institutional investors".
Despite limited inroads for investors, IdeA FIMIT's sale of a portfolio of five office properties near Milan could be a sign of things to come.
The società di gestione del risparmio (SGR) is looking for a buyer for the quintet of assets from its closed-ended Atlantic 1 fund. Innovation Real Estate Advisory and CBRE were recently jointly appointed to sell the portfolio, which generates annual rents of €23m. Fully let to tenants including Italian energy company ENI, the portfolio could reach as much as €300m, a source with knowledge of the assets estimates.
With many closed-end funds having 2005 and 2006 vintages, more fund managers are, a decade on, likely to look to offload assets.
Paolo Bellacosa, managing director of capital markets at CBRE Italy, said with the Italian commercial real estate market "growing in popularity", a number of similar or larger portfolios are likely to come to the market.
BNP Paribas REIM SGR is selling 11 office assets in northern Italy, let to the state from its Patrimonio Uno vehicle, a 2005 'vintage' fund. The fund was established as part of the Italian Ministry of Economy and Finance's real estate privatisation programme.
Funds with 10-year lives and conceived before the global financial crisis are unlikely to find banks willing to refinance loans on old properties, making sales more likely.
Unlocking Italian real estate that has been held in the same hands for a decade will, however, require investors that have the ability to create value from assets that are not by default considered prime, despite having attractive tenant schedules.
Lease liberalisation
While secure income is the main appeal for most investors, changes to Italian rental contracts could shake things up. Under its 'Sblocca Italia' reforms, the country's government approved changes that could create more flexibility, with a move away from traditional 'six plus six' contracts a potential consequence for new leases.
The liberalisation of commercial lease laws could have significant impact on Milan's office sector. Deregulation of commercial property leases means that provisions of Italy's previous tenancy law are no longer mandatory for property leases where annual rents exceed €150,000.
Parties that intend to enter into commercial leases with annual rent of more than €150,000 will be entitled to agree upon a term of agreement "even shorter than the minimum term", explains Francesco Sanna, K&L Gates partner in Milan.
It is hoped the amendment will make lease agreements as flexibile as they are in other European markets.
Douglas Babington-Smith, head of Italy at DTZ, says Italy's office landlords and tenants are likely to enjoy more flexibility as a result of the changes. "The changes should create more balance in the relationship between tenant and landlord," he says.
Over time, Milan's office sector could theoretically compete with its major European counterparts, where less rigid lease contracts are the norm.
There are, of course, more immediate concerns for investors mainly chasing stable income in a market where significant capital growth is unlikely.
Babington-Smith expects some office rental growth this year in areas of tighter supply, such as Milan's central business district.
Agazzi, meanwhile, says a low level of vacancy in the central business district is the likeliest contributor to rental growth.
"Rents are stable, they are not growing – but there are more transactions," he says. "That's good for the market. We may see selective rental growth this year; this is the beginning of a new stage in the cycle."
City Focus: Milan - All the world's a stage
1

Currently reading

City Focus: Milan - All the world's a stage

2

3