Investment volumes may not be earth shattering, but a strong tenant mix bodes well for the capital of la gastronomie, writes Russell Handy
Home to the annual fête des lumières, Lyon is yet to enjoy the global spotlight, with international real estate investors largely in the shadows.
While increased competition for core assets in capital cities has brought Europe's secondary cities into view, Lyon has, so far, attracted few new investors.
"Lyon is very much a second-tier city, its potential frequently being cited alongside France's other second cities," says a recent PwC and Urban Land Institute (ULI) report.
The former capital of Gaul is near the foot of the European league for investment, having slipped three places in PwC and ULI's joint sentiment survey to number 26 over the past 12 months. Preliminary figures from Real Capital Analytics/Property Data suggest around €640m was invested across the city's three major sectors – office, retail, industrial – last year.
The Paris region continues to attract 70% of investment in France, while Lyon, the head of both the Rhône department and Rhône-Alpes, accounts for half of the remainder.
This is despite significant efforts in recent years by Lyon's local authorities and Gérard Collomb, mayor since 2001, to entice potential occupiers. OnlyLyon, a group of 13 partners – all major players in Lyon's economic development – has made great strides in putting the city on the international stage. Unfortunately, its creation in 2007 came just months before the global financial crisis brought an end to the commercial real estate boom, with investors retrenching to the safety of the triangle d'or of prime central Paris.
With a university city and a high quality of life – this is, after all, the capital of la gastronomie – Lyon's long-term prospects should outweigh any recent reluctance from investors.
Philippe Deloffre, head of commercial real estate debt funds at Acofi, says: "Lyon is still a fairly young investment market from an international perspective.
"Where Lyon has done well is for office lettings, with figures above the national average."
PwC and ULI's report highlights Lyon's "diverse economy", with the city home to industrial groups and life sciences, as well as a rapidly growing digital sector.
"(Lyon) is now considered France's second Silicon Valley, after Paris," the report says.
Deloffre says Lyon's industrial background is a significant factor in how the city has developed.
"The city has capitalised on that strength so that today it's now known for its biotech and pharmaceutical sectors," he says. "It's now part of the city's identity."
Biotechnological firm Genzyme, pharmaceutics expert Mylan and advisory firm McKinsey from the US operate in Lyon. As do Japanese automotive firm JTEKT and lens manufacturer Menicon. China's Huawei and Ying Li Solar also have bases in the city, alongside Sweden's Alfa Laval and Canada's Westport. German pharmaceutical giant Bayer is also a Lyon tenant, as is European TV channel Euronews.
Benoît de Fougeroux, BNP Paribas Real Estate's director for the Rhône-Alpes region, says Lyon's chemical or pharmaceutical hubs that house industry leaders are a "major attraction".
"And then the creation of different service hubs over the past 10 years means that Lyon has a broad and compatible offering," he says.
Take-up figures for 2015 suggest Lyon is experiencing impressive occupier demand, with 273,000sqm leased last year, according to France's Centre d'Etudes de la Conjoncture Immobilière (CECIM). The figure is the city's best since 2011.
De Fougeroux says that, despite demand from occupiers and "big deals" expected this year, Lyon's 2015 take-up figures are unlikely to be repeated.
"Even though 2016 may not be quite as impressive as 2015, it should be a good year," he says.
French rail operator SNCF is moving as many as 500 staff from Paris to Lyon's third arrondissement, after agreeing to take 18 floors in the city's Tour Incity.
Like many non-capital European cities, the attraction of lower rents to occupiers is obvious.
De Fougeroux says there is more to the city than cost-saving issues. "Rent is important for occupiers," he says. "But it isn't the only criterion for companies – location, transport connections and economic dynamism are other considerations to take into account."
Deloffre, a 'Lyonnais', having grown up and studied in the city, says that while Lyon has long been a very accessible city from a personal and family standpoint, "what has changed is its infrastructure and public transport network".
"Transportation has made constant progress – this has been a big plus for the city," he says, pointing out that Lyon was the first city to introduce a bicycle-hire scheme.
With accessibility improved to its central streets and the city boasting a large catchment area (estimates of as much as 1.5 million are often cited), Lyon's retail sector has attracted significant investment in recent years.
Large, centrally-located retail assets, such as Unibail-Rodamco's Part Dieu scheme, continue to draw in customers, as well as tenants. The 127,000sqm centre, built in 2004, is let to the likes of Apple and Zara.
Rue de la République, a major retail destination with more than 1,200 stores, attracted investment from Abu Dhabi Investment Authority in 2012.
Grosvenor Fund Management, acting on behalf of the Middle Eastern investor, is looking to increase footfall and improve the major high street, a UNESCO world heritage site. Belgian-based retail Codata ranks the street the 14th busiest shopping location in Europe.
The city's success also derives from its position as a major logistics hub.
"There's no doubt that the Lyon region is a core logistics market, developed over the last 20 years to the east of the city, and still with plenty of land available for development," Deloffre says. "Lyon is the hub for the entire region."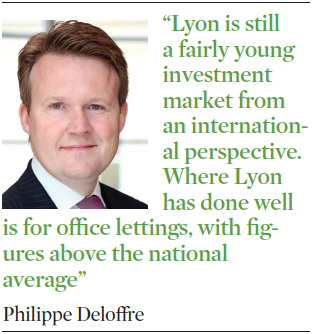 The second-tier city is, like its UK counterpart Birmingham, at risk of being geographically 'squeezed' – with investors typically more focused on the Ile-de-France regions immediately surrounding Paris, or venturing 420km south to sprawling Marseille, where UK REIT Hammerson has developed major retail scheme, Les Terrasses du Port.
However, Deloffre says the Lyon region's position makes it an attractive logistics market not only in France, but also for firms looking to distribute in neighbouring Switzerland, Italy and Germany – itself a significant source of capital.
"The Germans are very busy," says De Fougeroux. "International investors are more in evidence in the retail and hotel sectors in Lyon.
"They have shown an interest in offices, but they are not aggressive enough."
Lyon continues to undergo significant change, with major mixed-use projects under construction, such as Confluence, at the meeting of the Rhône and Saône rivers. The city's development prospects are considered bright. Unlike some of its European peers, Lyon has closely monitored new development, with few construction permits granted.
Crédit Agricole's purchase last year of the Grand Hôtel-Dieu de Lyon from developer Eiffage suggests confidence in the city's medium to long-term prospects.
The conversion of the historic 51,500sqm city-centre building – scheduled for completion in 2018 – includes retail and office space, along with a 143-room InterContinental hotel.
Speculative developments have attracted foreign capital. AG Real Estate, a subsidiary of Belgium's AG Insurance group, recently invested in Lyon's office sector for the first time.
The FACTORY building, which includes retail space, is being built by French real estate investment trust, Icade, with completion due late next year.
The building is part of the Ynfluences Square city block, the first section of the second phase in Lyon's Confluence scheme.
"We are convinced that the programme, launched on a speculative basis, will soon find users looking for an efficient building in a recognised office area," says Thibault Delamain, head of French investment and asset management at Belgium's AG Real Estate, which last year sold a retail asset for around €40m in Lyon's Rue de la République.
Deloffre expects more investors to back speculative developments or VEFA (vente en future achat).
"Lyon could potentially see more investment in developments, which would confirm yield compression," he says.
City Focus: Lyon - Food for thought
1

Currently reading

City Focus: Lyon - Food for thought

2

3