Last year ended with civil unrest in Paris, daubing a streak of realism across the French capital's picture-postcard image. But for most of 2018, the city attracted property buyers on a large scale.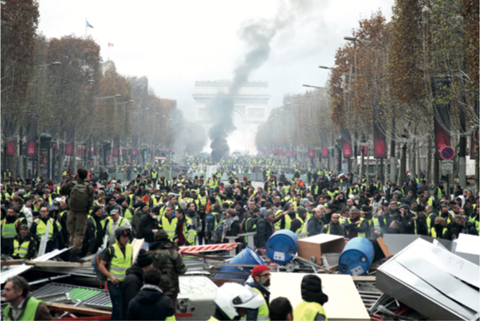 According to commercial property data firm Real Capital Analytics (RCA), when final numbers are in for 2018, the total volume of property deals taking place in the Paris/Ile de France region is likely to be down on 2017's €26bn. But the market activity has not really slowed, says Tom Leahy, the company's head of EMEA Analytics.
"Last year's numbers were boosted by Gecina's acquisition of Eurosic and, excluding these corporate deals, it is likely [that] investment in single assets and property portfolios will be at least on a par with last year's numbers, with more than €20bn transacted," he says.
"In the city of Paris itself, there is more than €9bn in contract deals and this is well above the 10-year market average." He notes that commercial property prices – as measured by the RCA Commercial Property Price Indices – show transaction prices in Paris have continued to increase, by 3% year-on-year. "This rate of growth puts Paris low down the list of global metros. However, prices are 57% above their pre-crisis level, and at this level it is difficult to maintain a double-digit rate of growth."
Last year, non-French investors accounted for the greatest proportion of market activity since 2007. European and US investors were the biggest providers of overseas capital to Paris, he says, spending more than €3bn in 2018, according to figures including deals up to 10 December.
The biggest purchase was Invesco's acquisition of the Capital 8 office building in 8th arrondissement for €789m. A major deal took place later in the year, with the five-star Westin hotel changing hands in October at €550m, bought by Henderson Park from GIC.
The notion, and now the reality, of the Grand Paris project has whetted the appetites of investors for real assets in the capital for several years. Central to the plan is the €35bn Grand Paris Express project – the construction of 200km of new transport/metro lines and 68 new stations by 2030.
The plan is to create links to even out some of the social disparity between districts, as well as to forge connections to a new university hub for artificial intelligence and facilities for the Olympic Games in 2024.
Huge investment is being drawn in, both in terms of the actual transport infrastructure as well as for real estate in locations that are expected to benefit from improved access. But there is still uncertainty about the project's schedule and budget, and technical issues have been dogging the project.
So far, the priority is to complete the extension of line 14, which will connect Paris to St Denis and Orly, before the Olympic Games take place, and delays have been announced for lines 15,16 and part of 17 and 18.
However, Gunnar Herm, head of real estate research and strategy Europe at UBS Asset Management, trusts in the progress of the plan, which is fully funded and under way. "A major deadline for big parts of the Grand Paris infrastructure project is the Olympic Games in 2024 and we are confident that the French government will deliver, as promised, by this date," he says.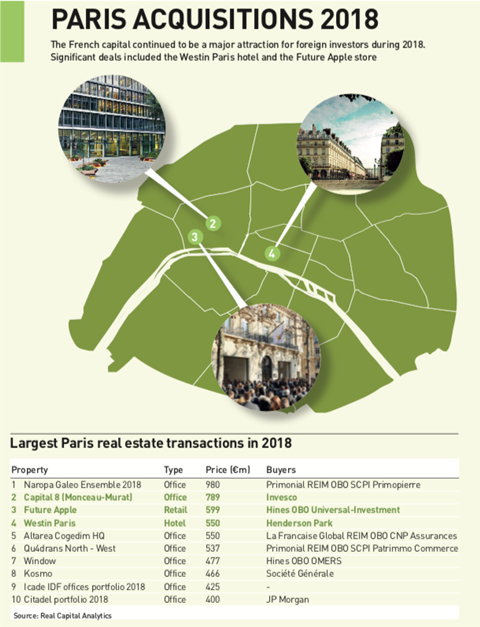 Leahy observes that investments are being made outside central Paris because the project is opening up suburbs. Tristan Capital Partners, for example, made its first purchase in the city for two years in May, when it bought an office in the Val-de-Marne, to the east of the city, for redevelopment.
Justin Curlow, global head of research and strategy at AXA IM – Real Assets, says the Grand Paris Express project should make the inner rim north (St Ouen, St Denis and Clichy) and south (Montrouge, Chatillon) more accessible.
"The office sector is well-positioned to benefit from this infrastructure investment project," he says, highlighting the inner rim submarket, which offers high-quality, large-floorplate office space at competitive rents just outside Paris – but with improved transport linkages.
"We also think that La Défense and Péri-Défense markets are going to benefit from the RER E extension and Line 15, which should unclog RER A and reduce commuting time to La Défense," says Curlow.
One important station which needs to be built in Paris before the Olympics is Saint-Denis Pleyel in the city's northwest, says Karim Habra, Ivanhoé Cambridge's head of Europe. "We've just acquired a property in Saint-Denis, which will be 200 metres from the future station, and signed nine-year lease on it," he says. "This shows how committed we are to the Grand Paris project."
Ivanhoé Cambridge acquired the 90,000sqm office-building campus from AEW in November, in what was the single largest office sale in the French market in 2018. The tenant, EDF, signed the new lease for the entire property, at the same time as beginning to renovate the building.
The western Paris suburb of Nanterre will also benefit from the extension of the Grand Paris network, according to Habra. In October, Ivanhoé Cambridge acquired a 9,000sqm office building under construction in Nanterre, just behind La Défense, via a forward-sale agreement.
With 68 new metro stations in the suburbs of Paris – and the same number of neighbourhoods set to become more accessible – there are many opportunities for all kinds of real estate development, says Guillaume Pasquier, head of business development, Grand Paris Project at La Française.
He says an urban campus of over 1m sqm is under construction on the Plateau de Saclay in the south of the Paris Region, which will make this area a magnet for high-tech companies.
"In Villejuif, a mixed-use neighbourhood of more than 400,000sqm is emerging around the station Gustave Roussy," he says.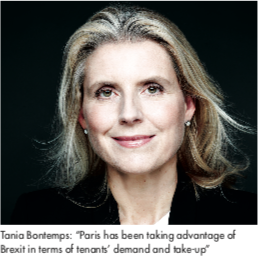 The UK's exit from the EU this March is another factor buoying the Paris office market. "Paris has been taking advantage of Brexit in terms of tenants' demand and take-up. Several institutions such as the European Bank Agency as well as several clearing house activities will be moved to Paris," says Tania Bontemps, president of Union Investment Real Estate France.
Union and US private-equity investor The Carlyle Group are involved in a project in the French capital. Union bought the 23,600sqm Grand Central development at Saint-Lazare station a year ago, which Carlyle will manage.
Bontemps expects a few thousand jobs to transfer from London to Paris, and banks such as Bank of America and JP Morgan are taking positions. "On the investment side, since the UK is not a target anymore for several investors, the price pressure and competition on the Paris market is significantly stronger than before," she says.
The classic, grand streets of central Paris remain a magnet for foreign investors, such as Oxford Properties, the global real estate arm of the Ontario Municipal Employees Retirement System. Last November it bought its first luxury retail asset in the city, the 1,430sqm flagship store of Italian luxury brand Valentino – at 273 rue Saint-Honoré – for an undisclosed amount. The Canadian investor said it might make more acquisitions in the French capital as it continued expanding its luxury retail portfolio globally.
And just before Christmas, Norway's sovereign wealth fund bought another large central Paris property in the form of 79 avenue des Champs-Elysées, which has 10,000sqm of retail and office. The Government Pension Fund Global acquired the building from French insurance group Groupama for €613m.