Institutional investors are excited by prospects offered by property developments in Copenhagen, including the city's Carlsberg district, and growth in Denmark's tourism and domestic spending, writes Russell Handy
Such is the strength of the Danish lager, it is easy to forget that Carlsberg is a district of Copenhagen.
The ongoing redevelopment of the former Carlsberg brewery site in the west of the Danish capital has attracted some institutional names of equal stature to the beer once branded "probably the best in the world".
A decade has passed since Carlsberg's decision to decommission the site and move 200km west up Denmark's E20 to Fredericia (see Tall order).
PKA, which administers three Danish labour-market pension schemes, recently invested up to DKK2.4bn (€323m) in debt for the Carlsberg City project. PKA made the money available as a loan facility for the redevelopment of 125,000sqm of space.
The country's PFA Pension, Juristerne og Økonomernes Pensionskasse (JØP) and Danske Civil-og Akademiingeniørers Pensionskasse (DIP) are also investing €148m in the 33-hectare plot a visit. The three pension funds have respectively taken 49%, 34% and 17% stakes in a partnership buying six residential real estate assets from the Carlsberg Foundation.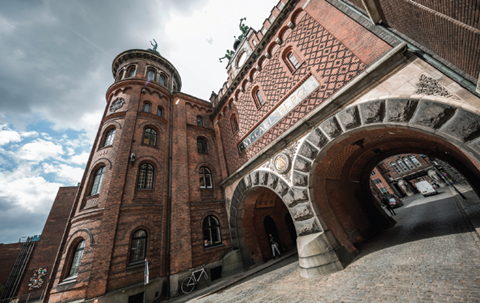 PKA, meanwhile, has also invested in a project to redevelop Copenhagen's wholesale market, Grønttorvet, into another new city district.
The Danish labour-market pensions administrator joined forces with housing developer FB Gruppen to buy the plot in Valby.
The planned project – New Valby – is worth at least DKK5bn and will include 2,000 residential units. Development of the site will take place over the next four to five years.
The 160,000sqm market, currently a major trading point for vegetables, fruit and flowers, moved out to Høje-Taastrup this year.
Domestic finance
So far, so domestic, and to an extent, Copenhagen is no different to other major global cities, with developments – often a step too far for those less familiar with the country – more likely to be financed with capital from closer to home.
Less than 15km north of Carlsberg's site, CBRE Global Investment Partners (GIP) recently invested in a shopping centre in a joint venture with Portus Retail.
GIP, CBRE's multi-manager, bought the BIG shopping centre in Copenhagen's Herlev district from NREP for its European Co-Investment Fund (ECF).
The 45,705sqm property, says Jeremy Plummer, head of EMEA and CBRE GIP chief executive, offers a "great opportunity to buy a well-performing asset".
Such opportunities were greater earlier in the cycle, when yields on Copenhagen's retail assets were closer to 5%, compared with the 3.5% recorded in the first quarter of this year by JLL's Danish partner Sadolin & Albaek.
Investors, both foreign and domestic, are now faced with increased competition and higher prices across all of the Danish capital's main real estate sectors.
This year Avignon Capital sold a prime retail asset in the centre of Copenhagen for DKK200m, setting a new benchmark yield for the city.
Leased to Louis Vuitton, the Amagertorv asset had been owned by Avignon for just short of four years.
Clive Nichol, the firm's director of UK and European investment, says the asset's yield compressed from around 4.8% to below 3% during its tenure.
A booming tourism industry and high domestic spending power were key reasons for the asset's purchase in 2012, he says. At the time, the market was largely void of international investors.
"Much of the ownership was domestic," Nichol says. "Yields have now stabilised; there are good fundamentals."
The fact that international investors are increasingly flocking to Denmark represents a natural progression in today's market, says Sadolin & Albaek.
The firm says prime yield levels in Copenhagen are relatively competitive to those offered in comparable European markets.
"We believe the strong international investor demand for Danish property investments to be a lasting, structural phenomenon," a recent report notes, adding that the Danish market has become "highly liquid, professionalised and transparent".
"We see this as a clear advantage for the market".
Relative to investment conditions in other mature and stable European markets, Copenhagen is a "fairly competitive destination for professional property investors", the firm says.
Despite the yield compression, Copenhagen still offers opportunities, "if you can buy the right asset, perhaps off the main street, and be patient for rental growth", says Nichol.
Vacancy rates in greater Copenhagen are around 4.1%, in line with their average since mid 2012. More significantly, the city's retail sector has been enjoying rental growth, with the top rent reaching DKK23,000/sqm per year by the first quarter of this year.
Nichol says Copenhagen's 1.8km Strøget axis – Europe's longest pedestrianised street – is "the most pleasant of its kind in Europe".
"It's a pretty unique retail experience," he says, adding that retailers on the street are well positioned to complement online retail, "as they are flagship stores that present a showcase of retailers' ranges".
PATRIZIA Immobilien last year invested €200m in Stroget shopping street for a German pension fund mandate, buying the 20-unit Galleri K as a co-investment with a German scheme. Separately, the firm bought 10 Copenhagen office and high street retail properties for around €170m for two institutional investors from Germany. Six of the assets were also in the city's Stroget area.
As well as strong domestic investment, the city is enjoying an increase in tourism from Asia. Chinese tourism in Denmark, according to figures from Dansk Industri released last year, has risen 127% since 2010, partly due to new flight routes between the two countries. Chinese visitors, it said, spend four times more than the average Copenhagen tourist.
Such tourism flows can, of course, alter the fortunes of cities dramatically. Just as Scandinavian airline SAS can open a new route, it can just as easily close it. So the fact that neighbouring Germany remains Denmark's greatest source of tourism should reassure investors in both the city's retail and hotel sectors.
Conversely, Swedish day-tripping shoppers, as well as Malmö-dwelling commuters, might be put off following increased border controls introduced by the Swedish government in January this year. Heightened passport checks have inconvenienced Swedes travelling in and out of Copenhagen by road and rail, making the 40km journey longer, with rush-hour traffic rising.
If the stricter border controls remain, Swedes renting in Malmö could even be persuaded to relocate to Copenhagen.
Tall order
Carlsberg City District borders Copenhagen's Frederiksberg and Valby districts. Beer was brewed on the premises from 1847 up until 2008, when production moved to Jutland.
The site will be transformed into a new neighbourhood, with a new '1799' postcode. About 600,000sqm of residential, retail and office space, as well as schools and retirement homes, will be built on the site by the middle of the next decade.
The site's development company, Carlsberg Byen, owned by Realdania, PFA, PenSam, Topdanmark and Carlsberg, this month invited architects, engineers and contractors to pitch to build high-rise properties on the site, with a design phase to begin next year.
Eight residential towers will be built over the next decade, ranging in height from 50 to 120 metres.
The call for investment in the city's residential sector comes at a time of pricing appreciation.
Rising prices, however, have not put investors off. Stockholm-based private equity firm Alma Property Partners this year bought a portfolio of 53 apartments in Copenhagen and Lyngby for its pan-Nordic opportunistic fund from Sveafastigheter.
Simon de Château, the firm's chief investment officer, said that while residential prices in and near Copenhagen have appreciated since bottoming out in 2009, there is still "good value in buying select portfolios".
City Focus: Copenhagen - Probably the best city
1

Currently reading

City Focus: Copenhagen - Probably the best city

2

3