Global political instability and a wealth of start-up firms have boosted Berlin's appeal, with the office and residential sectors in vogue, says Russell Handy
As the tech masses continue to descend on Berlin, it is somewhat fitting that the fruits of an architect schooled in technology are now being reaped.
A purple patch in the interwar years for Hans Heinrich Müller provided the German capital with iconic power stations, which, like much of Berlin, subsequently lay redundant for decades.
Some 90 years later, Müller's creations are now housing the small and medium-sized tech firms who continue to lead Berlin's renaissance.
The tendency for reclamation is not, of course, exclusive to Berlin, with London's Battersea power station and Tate Modern turbine hall both enjoying a next-century revival.
"These kind of old, landmark buildings lend themselves to the creative industries," says Nico Mercker-Sague, senior asset manager at Avignon Capital, which has invested in and redeveloped two Müller-designed Umspannwerk buildings in Berlin's Prenzlauer Berg and Kreuzberg. "Their popularity is not restricted to purely tech firms."
The same could, indeed, be said of Berlin.
Start-up firms, as well as German and international corporates, are being drawn to Berlin, which Mercker-Sague describes as an attractive proposition.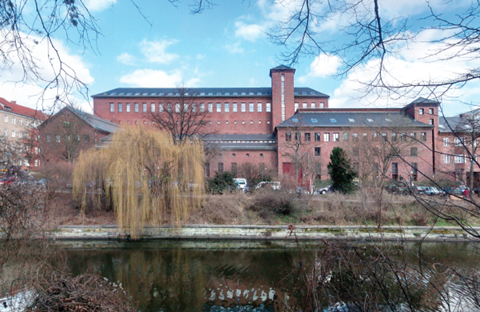 "Munich and Frankfurt have traditionally been destinations for corporates, but Berlin is now being considered as both a German and European hub," he says. He dismisses the suggestion that Berlin is at risk of becoming dependent on one sector.
At INREV's annual conference in Berlin this year, chief executive Matthias Thomas said the city has "long been the continental European hub for technology start-ups, giving London a run for its money. Very positively, this has brought considerable new job creation to the city."
The city's appeal has seen office vacancy fall and demand for apartments rocket in recent years.
Thomas Zabel, founder and chief executive of JLL's German residential partner, Zabel Property, says Berlin is benefiting from the fact that it has "never been about big corporate names".
Zabel says: "What makes our city is the amount of small start-up companies popping up," he says. "When a couple of large global firms leave a city, a lot of burnt ground is left behind. But Berlin is not going to run the risk of the departure of one type of industry."
Berlin's population growth shows no sign of abating, with as many as four million people likely to inhabit the city by 2035, according to Germany's institute for economic research.
By 2020, Berlin will welcome a further 62,000 office employees, according to consultancy bulwiengesa.
The increase would take the city's number of office staff to about 775,000, or 40% of all earners in the city.
In a recent report by Nestpick, Berlin ranked second out of 100 cities, based on qualities including housing, transport, employment prospects and nightlife.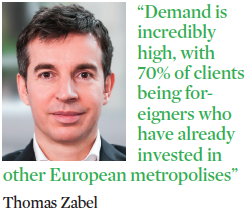 "For 25 to 35-year-olds, this is probably the most exciting city in Europe," says Zabel.
Human capital will fuel the growth of Berlin's real estate sector over the next 10 years, according to a white paper by LaSalle Investment Management.
The LaSalle European Human Capital Index (LEHCI), released at MIPIM in Cannes this year, identified cities with a concentration of human capital, or the capacity of the population to drive economic growth through productivity.
The index, which judged cities on skills, creativity and investments, highlights Berlin as set for notable growth in its human capital stock over the next 10 years due to its innovation district.
Zabel says Berlin's residential sector is enjoying investor interest on a global level as political instability played favourably into the capital's hands.
"There are not that many markets offering a safe haven," says Zabel, whose firm is receiving inquiries for Berlin property from every corner of the world. "Demand is incredibly high, with 70% of clients being foreigners who have already invested in other European metropolises, like London or Paris."
Susanne Kiese, head of research at Colliers International Germany, says the country as a whole has earned permanent status as a safe haven among long-term investors.
"In light of the upcoming federal elections in September, Germany's economic stability is also perceived as a guarantee of political stability and that the public will continue to back conventional parties," she says.
Kiese points to increasing doubt regarding the realisation of Donald Trump's planned economic and tax reforms, and the UK's formal application in March this year to leave the European Union as potential drivers of further investment in Germany.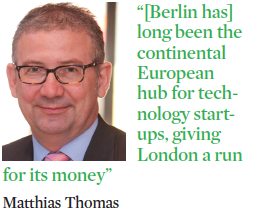 "[These] could animate investors who are still sitting tight to soon begin moving their assets to Germany," she says.
To focus too much on the wrangle surrounding the UK's decision to leave the EU would be unwarranted. However, Berlin has made no secret of its desire to attract "flighty" start-up talent from London.
In the days following the Brexit vote, Germany's Free Democratic Party sent a van to the UK capital emblazoned with a message for start-up firms to "keep calm and move to Berlin".
Economist Anders Borg, speaking at this year's INREV conference in Berlin, said the city is transforming itself into a significant entrepreneurial hub.
"You cannot have 10 of those in one country," he told delegates. "The city is not competing against the rest of Germany, it's competing against Stockholm and London."
Stuart Reid, partner at Rockspring, says the firm has been focusing on the Berlin office market over the past 18 months. Rockspring this year bought the Berlin headquarters of Coca-Cola from Deka for €59m.
"With excellent tenant demand driven by strong population and job growth, set against the limited development pipeline, Berlin office market fundamentals are very favourable for investment," Reid says.
"We have considerable capital available for further investment into this market and are actively exploring other opportunities with an eye especially for value-add offices."
Christoph Wittkop, head of Germany at Barings Real Estate Advisers Europe, recently described Berlin as a "high conviction market".
"We have a positive view of the Berlin office market," Wittkop said after Barings invested in a fully let office building in Berlin's Mitte district.
Barings said the building is in the middle of a changing, diversified quarter, close to Germany's new secret service headquarters.
Allianz Real Estate is investing €175m in a Charlottenburg office scheme being sold by Patron Capital and partner Suprema.
Annette Kroeger, chief executive of Allianz Real Estate Germany says the investor is strengthening its presence in Berlin, "enabling us to profit from the very dynamic office market there".
Kroeger says high demand on Berlin's office market means premises with a central location are "few and far between. Rents are therefore rising and vacancies dwindling."
Finland's Ilmarinen is also eyeing the Berlin office sector. The pensions mutual this year co-invested in Friedrichshain with Immobilien Europa Direkt, an open-end real estate fund managed by Schroders and backed by Swiss institutions.
Ilmarinen portfolio manager Mikko Antila says Berlin has strengthened its position as one of Europe's real estate markets.
"In addition to high investor interest," he says, "this is also reflected in growing rental demand for office space – vacancy rates for office premises have declined to a record-low level, which has clearly started to put upward pressure on rents."
The German capital is an attractive investment location for Ilmarinen, Antila says. "We do not exclude the possibility of making further real estate investments in Berlin."
Simon Ellis, fund manager at M&G Real Estate, says Berlin is "probably as popular as Munich", with competition rising among investors.
M&G Real Estate has invested €94.1m in a central Berlin office this year for its pan-European growth strategy. JP Morgan Asset Management sold the Badensche Strasse building, in the Wilmersdorf district.
"It's a fiercely competitive market," says Ellis. "But we would consider going back there."
City Focus Berlin: Spending spree
1

Currently reading

City Focus Berlin: Spending spree

2

3