While there is talk of UK banks moving to Frankfurt following the Brexit vote, the city is trying to attract other types of tenants, says Russell Handy
Just over four months after the UK voted to leave the European Union, talk of an en masse shift of financial talent to Frankfurt – or anywhere else in Europe for that matter – has subsided, despite Goldman Sachs reportedly looking to move staff to the German city.
"There will be no single winner from Brexit," Union Investment Real Estate's head of investment management, Philip La Pierre told IPE Real Estate at the Expo Real conference in Munich last month. "It's much more likely that if – and it's a big "if" – banks do decide to move staff away from London, it will be to more than one location."
Matthias Leube, regional head of asset management, Germany, real assets at AXA Investment Managers-Real Assets, says it is too early to say what the effects of Brexit will be on Frankfurt. "If there is a dispersal of some jobs from the UK into Europe, should passporting rights be revoked, cities and asset owners are likely to compete for individual occupiers on a case-by-case basis," he says. "While this might have positive effects on some cities, the effect is currently difficult to assess as it could be light or big."
That has not stopped Frankfurt mayor Peter Feldmann conducting a marketing tour for the city this year. There is also the possibility of the Federal State of Hesse changing its labour laws to make the city more attractive to banks' top managers.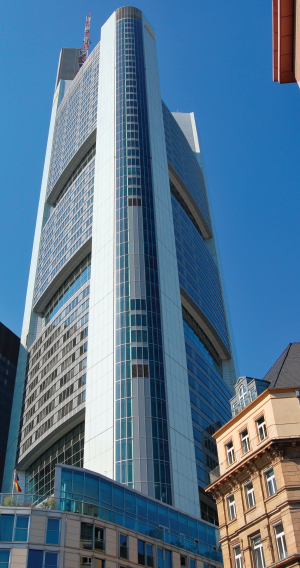 Proximity to the headquarters of the European Central Bank and to Deutsche Börse could also influence banks to relocate, says Christian Eder, Invesco Real Estate's associate director of research.
"Frankfurt has excellent data links and internet connections," he says, "as well as the existing excellent transport connections both national, intra-European and also intercontinental.
"If further relocations, for example, of the European Banking Authority or of major parts of the euro clearing industry go to Frankfurt, this could also boost attractiveness for banks even further."
Eder says it appears "very unlikely that Frankfurt will lose by any means because of Brexit".
However, Marius Schöner, CBRE Global Investors country manager for Germany, says: "We don't see London-based banks looking for space here, it's no more than a rumour. There's nothing yet to point at as a good example. What is evident is that German banks have stopped any expansion plans for London."
That has as much to do with the current state of health of Germany's banking sector as it does with Brexit fallout. With instability at Deutsche Bank and job cuts – as many as 9,600 – at Commerzbank, the sector is hardly in expansion mode.
"The German banking sector is in consolidation," says Schöner. "It's been less expansive, showing moderate demand over the last years due to sensitivities around cost as well as restructuring."
Eder says Deutsche Bank's job losses are not "exclusively focused" on Frankfurt and are more likely to be made elsewhere.
In the case of Commerzbank, another 2,300 jobs are being created in other departments, Eder points out.
Commerzbank's tower in Frankfurt – worth a reported €800m – recently attracted investment from Samsung Asset Management.
The subsidiary of the life insurance division of the Samsung Group will buy Frankfurt's tallest building next year via Patrizia Immobilien. If talk at this year's Expo Real is to be believed, the deal set a new record low yield for Frankfurt, with some estimating it to be as low as 3.6%.
Despite planned job cuts, Commerzbank will continue to occupy the office and has signed a 15-year lease.
Broadening horizons
Frankfurt, where about 75,000 jobs depend on the banking sector, also faces the longer-term but less immediate risk of automation. Moves to take jobs out of the hands of people could play a significant role in the future of banking, delegates at Expo Real heard.
Frankfurt, of course, is not alone in being so dependent on the banking sector, sharing its characteristics with the likes of London's Canary Wharf and La Défense in Paris.
"Frankfurt, like most large German cities, has solid economic growth," says Schöner. "Its demographics are strong and out of the Big 7 metropolitan areas it is second only to Munich in terms of population growth."
Schöner says the city and wider region offer more than just banking. "Across the broader Frankfurt region, growth has been driven by many sectors, including legal practices, logistics and the pharmaceutical sector."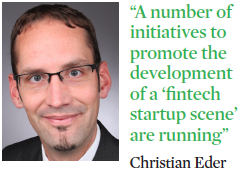 Frankfurt also needs to find a way to attract fintech (financial technology) and technology, media, and telecommunications (TMT) firms from the comparatively more attractive rents and lifestyle that Berlin offers employees.
"If you think fintech will be the future," says Schöner, "it's not guaranteed that Frankfurt will be the first choice."
Fintech and TMT tenants continue to congregate in Berlin, with the city's Prenzlauer Berg regarded as a tech cluster. The district's reputation for exposed brick, open-plan offices is for now incomparable with Frankfurt.
But the city is making strides, says Eder. "A number of initiatives to promote the development of a 'fintech start-up scene' are running," he says, pointing to moves by Deutsche Börse, Commerzbank, Deutsche Bank and ING Diba.
"If those measures are successful, this group might present a further driver for office demand in Frankfurt," Eder says. "However, the demand is likely to be focused rather on smaller office units that those start-ups might look for. And also with more modest rent levels – not in the 'prime' range."
BlackRock recently invested in Frankfurt, buying a 28,500sqm B-grade office building in Frankfurt's largest back-office cluster – the Lyoner Viertel.
Wolfgang Koedel, director within BlackRock's German real estate business, says the area is an established, yet transforming, sub-market.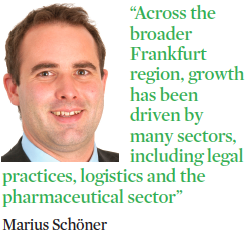 "Frankfurt, along with Berlin and Munich, are the three largest and highly institutionalised office markets in Germany which provide for great liquidity to investors," he says.
TLG Immobilien has €160m in Frankfurt as part of a move beyond its traditional investment areas. The property company bought two properties in Frankfurt am Main from a US investor. The firm has typically focused on the office markets of Berlin, Dresden, Leipzig and Rostock.
The city's office sector continues to grapple with high levels of vacancy, with the average about 11%. Leube says the figure is expected to fall to about 8% by 2020.
"Part of the reason for this is that completions are expected to remain below their 10-year average,"he says, estimating that 186,100sqm will be delivered in 2017 and 2018. "Stock withdrawals have also increased, reaching about 90,000sqm in the first half of this year."
Office stock, Leube says, could reduce by about 1% this year, while annual office employment growth is expected to be about 1.6% until 2020.
Leube says investor demand for Frankfurt is still strong, with prime yields expected to fall by the end of this year. Prime yields are at a record low of 4.1%, and are 10bps below their 2007 levels, Leube says. "Beyond 2016, we will see additional pressure on yields,"he says.
About €1.5bn was invested in the first six months of this year, almost double the amount being paid by Samsung Asset Management for Commerbank's tower.
For Frankfurt, says Eder, there is life beyond the banking sector, with 75% of office take-up coming from other sectors and industries.
The city, he says, continues to offer a high quality of life, despite concerns that the residential market is under strain. Mercer's annual quality of life survey for 2016 ranked Frankfurt seventh, some 30 places higher than London and Paris.
If Frankfurt does become a destination for what Eder describes as Brexit refugees, the city's housing planners will need to tackle issues of affordability both on the rental and buy side.
City Focus: Banking on Frankfurt
1

Currently reading

City Focus: Banking on Frankfurt

2

3