Real estate in the CEE region has compelling fundamentals. But the full impact of the COVID-19 crisis remains to be seen, writes Maha Khan Phillips
What a difference a few weeks make. In early March, real estate fund managers investing in Central and Eastern Europe (CEE) were talking about the region's rosy future. Now the picture is less clear. While the underlying fundamentals of the market remain strong, there are concerns that international investment might slow down.
On paper, there has never been a better time to invest in the region. While total 2019 European real estate activity was down 2% compared with the year before, CEE activity was up 15%, exceeding 2007 as the region's best year, according to Real Capital Analytics (RCA). And investment volumes increased by about 3% year on year, according to CBRE Global Investors, a figure that was almost double the previous 10-year average volume. Poland accounted for the major share of total transaction volume with about 56% of transactions, followed by the Czech Republic, which made up 22% of total volume. The most popular asset class was offices, which represented half of all transactions.
"Warsaw has benefited because rents are reasonably low, compared to other European capitals," said Uwe Rempis, manager of the E-REGI Fund at LaSalle Investment Management, speaking to IPE Real Assets in March. "It makes a lot of sense for big corporates to move their back-office functions to Warsaw and to benefit from the cost ratios."
Industry experts will be keeping an eye on how the coronavirus crisis shapes the market, particularly as regards international allocations. As RCA points out, there is little doubt that restrictions on movement of people will impede the flow of capital between countries and continents.
"One of the things that really sets these markets aside is how much international capital they are reliant on," says Simon Mallinson, executive managing director, EMEA at RCA. "In western Europe, it is 50-50 domestic and overseas investments. But if you look at somewhere like Poland, there is just 10% of capital that is domestically sourced. That shows just how international these markets are. That can be a real positive as these investors tend to have deeper pockets, but there is also a risk that the capital goes away."
And it looks like that capital might be retreating. "In the last 18 months, there has been a significant push by South Korean capital into central Europe, as they see the yield gap between Western and Central Europe, and the foreign exchange benefits of investing into euros," says Mike Atwell, head of capital markets CEE at JLL. "Given the current market sentiment with coronavirus, and the loss of the foreign-exchange benefit, we feel Korean capital will be less active in 2020."
It is difficult to make any predictions about the outcome for the market in the short to medium term, but once pandemic concerns are over the CEE region should remain compelling on many levels.
Dimitris Raptis, deputy CEO and CIO of Globalworth, a listed property company with assets in Poland and Romania, says: "The fundamentals in these countries are young, well-educated populations who speak very good English, and there is a low cost of labour compared to western Europe, with low and stable tax environments, as well as significant subsidies and grants by the EU, and by governments themselves. All these elements have created a very good background over the last four or five years for multinationals to come into the region."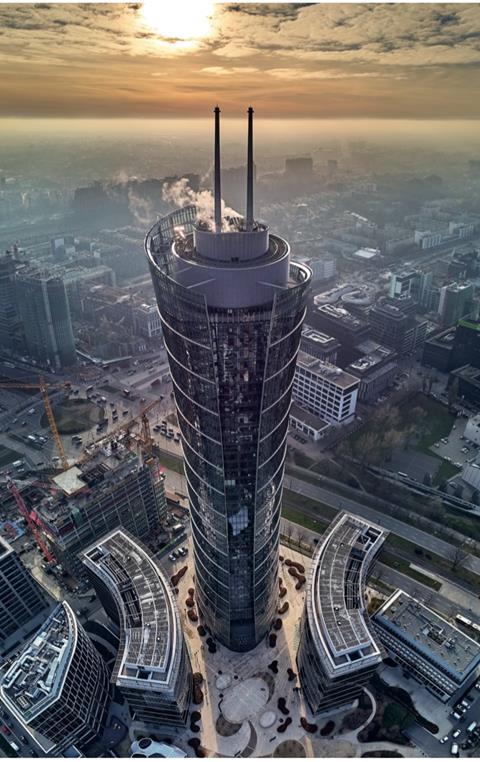 Globalworth's combined portfolio value rose by 23.7% in 2019, to €3bn. In 2019 it completed or announced 11 new real estate investments totalling €614m. Raptis says the portfolio is about 85% allocated to offices, and 5% allocated to logistics. "Both have become interesting, particularly when you look at them on a relative basis, compared to what you are paying for an asset in London or Berlin or Paris, versus Warsaw or Bucharest. This has attracted a lot of investor interest in this part of the world. It has actually led to a significant yield contraction, especially in Poland and Czech Republic and Hungary, and a little bit less in Romania."
The CEE market recorded a total of €14bn in transactions last year, according JLL's, CEE Investment Market 2019 report. Over 55% of that amount was allocated to Poland.
Evan Lazar, co-chair of the global real estate group at law firm Dentons, says: "Poland attracts the most investment activity simply because the market is the largest, and is clearly a converging, if not converged, market. The perceived level of risk investing in Poland is not that far off from western European locations. But there are opportunities for slightly better pricing than in Germany and France."
He believes investors are allocating to Poland, followed by the Czech Republic, which is smaller, but still attractive for investment. "Hungary is considered slightly riskier by investors, and Slovakia is a very small market. Investors consider Romania to have a bit more risk than other countries," he says.
With €7.7bn of total transaction volumes, 2019 was another record-breaking year for the Polish investment market, surpassing the previous best-ever market result of 2018 by over €500m, according to JLL. There was yield compression across all market sectors, with the exception of retail yields, which remained stable.
In 2019, 147 deals closed, with the dominant office sector accounting for €3.83bn in volume. Retail accounted for €2.02bn, industrial €1.48bn, hotels €289m, and the living sector €137m, says JLL. European investors accounted for about 50% of deals, up from 27% in 2018. Asian capital was stable, accounting for 20% of volume.
A key deal last year was the Warsaw Spire Tower, which was sold by Ghelamco and Madison International Realty's joint venture for €386m. In January 2020, Madison acquired a 46.5% equity stake in European logistics investment platform ELI, a €500m Polish real estate portfolio. The transaction was Madison's first major logistics acquisition in Europe.
"We have made investments into what historically has been seen as CEE, but our investments have been made exclusively in Poland," says co-CIO Derek Jacobson. "From Madison's perspective, Poland has differentiated itself relative to its CEE peers. Demographic trends, GDP growth, as well as how economies have performed relative to each other in down cycles, for instance. I don't see Poland as a developing country, but a developed one."
Prior to the coronavirus crisis, Jacobson had pointed out that a key differentiator for Poland, compared to other CEE countries, was the liquidity in the market. "There are quality assets in the Czech Republic and Romania and Hungary in all assets classes, and there are absolutely interesting demographic areas and interesting plays on regional growth," he said. "But the big concern to us in some of those other markets, is that if there is any kind of hiccup, there are more liquidity concerns."
The coronavirus crisis is a hiccup that nobody could have, arguably, seen coming. Industry participants say it is too early to say exactly what the implications will be on the region. But some sectors may actually see increased growth. The logistics sector, for example, is being seen as a key component of the fight against the virus, as goods are increasingly delivered to socially isolated cities.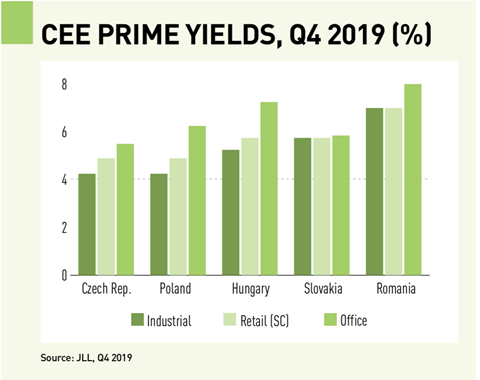 "Poland is very interesting in the sense that it borders seven countries," says Jacobson. "Most notably, it is very well connected by road and by rail. In the logistics market, there is a trend where tenants have been effectively utilising the arbitrage of locating their distributing facilities in Poland, where they can not only get a relatively educated employment base, but a flexible employment base relative to German labour laws, and a relatively inexpensive labour base, which still services the same market than if they were located 100 kilometres away."
In 2019, the most active investors in the Polish logistics sector were those with Asian and European capital sources, each responsible for about a third of transaction market volumes, according to JLL.
"There is clear demand for logistics," says Robert Snincak, head of investment operations, CEE at CBRE Global Investors. "There are regions that are structurally undersupplied in terms of logistics, and developers are looking at those. E-commerce is one of the key drivers. The current logistics schemes serve western Europe, so further development in the region means further demand for logistics assets."
Focus turns to cities
In addition to specific sectors and countries, fund managers are targeting certain cities. Last year, Atrium European Real Estate, which focuses on locally dominant food, fashion, and entertainment shopping centres, disposed of large parts of its CEE portfolio, as part of a strategy to consolidate its assets and focus on high-quality assets in prime urban locations only.
Atrium CEO Liad Barzilai, says: "We used to be spread out throughout CEE, in many cities and countries. Over the last few years we disposed of many offices. We are focusing on investment in capital [and] tier-one cities such as Warsaw and Prague…these are the most stable." The firm divested assets in Romania, Hungary and Slovakia. "We are exiting cities that are not the capitals or major cities," he says. "We felt that we could not create a portfolio of scale, and with the relevant dominance of assets and quality required to be in those countries. And therefore, they don't fit the criteria of countries we want to be in. We cannot create a portfolio of the quality and size that we want."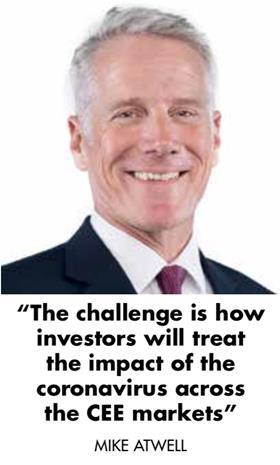 Transparency concerns
There is also an issue of transparency in smaller markets. David Ironside, managing director and fund manager of the Encore+ Fund at LaSalle Investment Management, says: "Transparency is the number one issue. Poland and the Czech Republic are the biggest and most transparent markets in the region. The other markets do not provide us with transparency on the tenant side, the supply side, or in terms of data. So they tend to be markets with mainly value-add investors, who are taking higher levels of risk."
However, while some managers are suggesting that Poland should be considered as part of a western European portfolio because of its market characteristics and risk-reward profile, other CEE countries also posted strong macro-economic performance in 2019.
In the Czech Republic, investment volumes totalled €3.1bn, up by 23.5% over 2018, says JLL. In contrast to Poland, the Czech Republic has a higher rate of domestic investors, who hold 40% of market share. South Korea investors represented 24% of the market, followed by Austrian investors at 10%. As across CEE, the office sector was dominant, and represented 39% of investment volume. The retail sector held the second-largest market share at 16%, although it is unlikely that this figure will be matched in 2020 following the coronavirus health concern.
In Hungary, total transaction volume in 2019 was €1.7bn. Hungary posted the strongest transaction activity in the office sector, comprising 45% of total investment volume, followed by retail at 27%.
The market also witnessed heightened activity in the hotel segment, says JLL. Activity in the hotel sector was particularly strong in the four-star and five-star segments, with an investment volume of close to €250m. But that is unlikely to be repeated in 2020, as industry experts believe the hotel sector will take time to recover from the health crisis.
Romania is a similarly small market, with investment volume of about €683m in 2019. Even though Bucharest is traditionally the most sought-after market in the country, it only accounted for 48% of the total investment volume in 2019, according to JLL figures. Instead, secondary cities – neglected for years – have become more interesting as quality product came to the market and the perceived risks decreased.
Slovakia is also a small market, posting €779m in transaction flow in 2019. Investors mostly focused on office and industrial asset classes, says JLL. And while 18% of the market volume came from the retail asset class, it is not clear how that footfall will look after the crisis.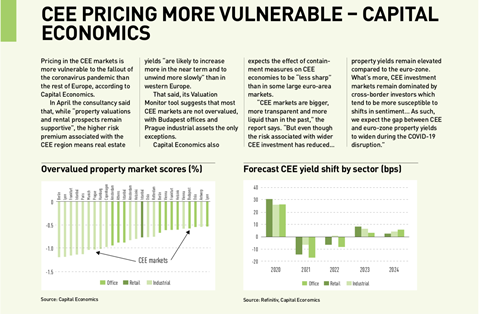 "Each country has its own special characteristics," says Snincak.
While there are opportunities across the board, investors need to consider how much risk they want to take. The CEE region still has to mature, particularly in regard to its smaller markets and sectors.
In January, real estate development and asset-management firm Round Hill Capital sold its shares in RESIDOMO, a residential property portfolio in the Czech Republic which it bought in 2015, to Heimstaden Bostad for €1.3bn.
Stan Kubacek, managing director and head of residential investments at Round Hill Capital, says: "RESIDOMO was our key investment into central Europe and it was a substantial one. We are actively looking for opportunities around other markets across Europe, the US, and this region, notably Poland, where we have identified potential investments in the accommodation space, building new rental housing stock in the top five or six cities where there are no significant multi-housing portfolios available to buy."
But the firm has yet to invest in those new opportunities, and Kubacek believes part of its role is to support market maturity in the residential sector. "We are helping the markets to understand the sector. When we first approached local banks to finance RESIDOMO there was limited understanding of the residential asset class, but seeing us deliver quarter after quarter of sustainable cash flow, they became more comfortable and so started providing financing to our business and other rental housing operators."
He believes that banks need to become more comfortable with the notion of providing finance for housing. "From a macro perspective, we definitely see an opportunity. We need to bring the banks to the table, and then we need to find the right local developers to support. We aren't expected to do ourselves the entire value chain of buying land and developing land and permitting it and constructing it, but we expect to support organisations who are focused across this process and invest in them and the sector," he says.
Before the coronavirus crisis hit, a key concern in the CEE region was competition for the best assets, and the risk-reward play off. Despite that, industry participants agreed that the CEE market remained less competitive than that of western Europe, which was part of its appeal.
"CEE may be overlooked by a lot of investors because they want to focus on western Europe," said Matthias Brodesser, head of transaction management international at Warburg-HIH, prior to European lockdowns. "That will create opportunities, because you may have a lack of competition compared to other countries in terms of investing."
How those opportunities will play out is difficult to predict. Atwell says: "We've seen prices going up and yields going down. It's becoming more expensive and certainly more competitive. Each transaction that we hear about in Poland is achieving record deals. But it is still cheaper than western counterparts.
"The challenge is how investors will treat the impact of the coronavirus across the CEE. The underlying fundamentals of the CEE market remain strong. However, the coronavirus is creating uncertainty and the short to medium-term impact is as yet unknown."