Decreasing vacancy levels in Brussels and yield compression in rival European cities have put the Belgian capital back in the spotlight, finds Russell Handy
Considered the capital of Europe, Brussels finds itself at something of a crossroads at the midway point of 2016. While the Belgian city enjoyed significant global investment last year, including 'new money' from Asia, subsequent yield compression could make the city a victim of its own success.
Brussels and Belgium as a whole were last year firmly in vogue. BNP Paribas Real Estate estimates that €3.9bn was invested in Belgium last year, an increase of 26% on 2014.
China Investment Corporation (CIC) and AEW Europe's €1.3bn purchase of a Belgian and French retail portfolio from CBRE Global Investors swelled figures. Two properties, in Waasland and Wijnegem near Antwerp, were considered major jewels in the 10-asset portfolio, with Belgium's improving macroeconomic outlook a factor.
Gregory Martin, managing director of Savills Belux, says that although there are high levels of investment activity – leading some to draw parallels with previous cycle highs – investors "still follow their investment strategy very carefully".
Martin believes that the market has room to grow, while CBRE Global Investors' country manager, Piet Van Poppel, believes that demand for office assets in Brussels will be sustained.
"It's a trend that will continue," he says, pointing out that investors are struggling to find comparable yields outside real estate. "Even at yields of below 4%, core capital is being attracted."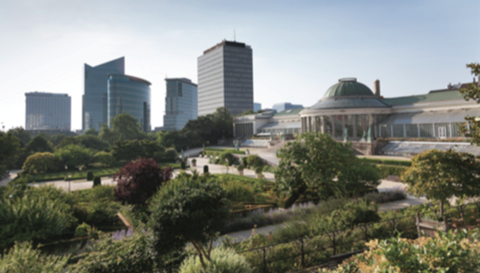 Karim Habra, managing director for France at LaSalle Investment Management, says the firm is considering opportunities in Brussels, with clients showing an interest in the Belgian capital. "That really has been driven by the spread between yields in Brussels and in the likes of London and Paris," Habra says. "Many of our clients are asking about opportunities in Brussels."
Those clients will be following some well-courted investors. While much has been made of the fact that Taiwan's Fubon Life and China's Gingko Tree have both invested in Brussels, there is also appetite for the city from closer to home. Last year, Finland's Ilmarinen invested in Brussels, taking a 50% stake in a 70,000sqm office let to European Commission bodies on long-term leases.
The deal, which coincidentally put the Helsinki-based institutional investor in a joint venture with Gingko Tree, followed its earlier purchase of the Bastion Tower.
More recently, Patrizia Immobilien bought the 33-floor Astro office tower for a group of Korean investors. Konrad Finkenzeller, head of institutional international clients at Patrizia, says Asian institutional investors are increasingly joining their European peers in Brussels.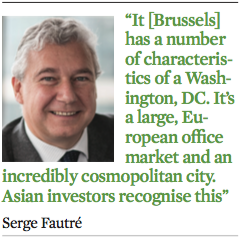 Serge Fautré, chief executive of AG Real Estate, says Asian outflows are a sign of the continent's growing economic strength.
"Brussels is unanimously regarded as the capital of Europe; it has a number of characteristics of a Washington, DC. It's a large, European office market and an incredibly cosmopolitan city," he says. "Asian investors recognise this."
Fautré was last year on the sell-side of the table as AG Real Estate sold its Ellipse building to Taiwanese investor Fubon Life.
The 50,342sqm building, in the city's north district, is fully leased to two public entities – the Flemish Community occupies about 90% of the building and l'Institut Belge des Services Postaux et des Télécommunications, the remainder.
Fautré believes the sale to a Taiwanese investor is both a sign of the market's internationalisation as well as further proof of market stability.
AG Real Estate has sold an asset to AXA Investment Managers-Real Assets, offloading the Woluwe Gate office scheme in the southeast of Brussels.
Martin says: "There's more money chasing long-term secured cash flow as all insurers are trying to align their liabilities with investments that will deliver long-term returns. The question is will funds that tend to be very cautious broaden their investment strategy and take more risk on board?"
While there is no doubting the appeal of well-let offices in the Belgian capital, the city, says Fautré, "has the risk of losing a little of its attractiveness. For a long time, we were the country of reference for multinationals looking for a European headquarters," he says. "We have lost that somewhat, which is a shame, but we've strengthened our 'lobby city' status."
Brussels, he says, has gained from the arrival of European bodies, and the public sector plays an important role in maintaining demand.
Van Poppel says the advantage of Brussels for Asian money is the city's long leases. "Brussels is really an administrative city, the European, Belgian and local administrations tend to sign 15-year-plus, fully-indexed leases," he says. "That makes that type of real estate almost like a bond – but with an important premium on, say, Belgian or European bonds. We have seen opportunistic capital coming from the US and the UK – they see the play between distressed and core."
Fautré says while Belgium's many levels of government "may seem excessive for such a small nation", as a real estate investor "it's a good thing on both a short and medium-term basis".
With such a large office stock, estimated at being around 13m sqm, Brussels has not been without its vacancy issues, with the level of empty office space hovering at around 10%.
The figure has fallen in recent years, with vacancy closer to 12% in 2009, according to Cushman & Wakefield.
Both Fautré and Van Poppel agree that Brussels has benefited from the conversion of office stock to residential use, taking obsolete assets out of the market and cutting overall vacancy levels. "There's no doubt that it's helped," says Van Poppel. "We have seen around 900,000sqm of grade-C assets converted into housing – that's almost 7% of the market."
Fautré says grade-C office space has consequently "virtually disappeared" from the market, leaving better-quality assets ready to be let.
For rental growth to improve, Van Poppel says Brussels needs both the Belgian and wider European economy to grow.
Fautré agrees, adding that growth in the Belgian economy will also go some way towards helping improve confidence after the country's recent terror attacks.
"While recent events have strengthened the country, there are clearly inequalities that create these situations and frustrations," he says. "A stronger economy and simplified governance are not the only way forward, but will help."
Gear change needed
While cities around the world adjust to the re- urbanisation of workers and cycling schemes become more popular, Brussels is still very much a car-centric city, says Serge Fautré, chief executive of AG Real Estate.
"The Belgians have always lived under rulers," he says. "That explains the desire for independence and as a consequence, for individual housing.
"If there is a trend, we are seeing the same people move back from the periphery and that should reduce the amount of traffic somewhat."
With employees generally living far from the city's office-dominated districts and many businesses in Brussels offering staff company cars, it does not seem that the traffic issue will be easily solved.
It also puts the Belgian capital in a less attractive league at a time when the young professional with a preference for public transport and cycling is so revered among investment strategists.
Steps, however, have been taken to improve this outlook. "Mobility is an important aspect of any city," says CBRE Global Investors' country manager, Van Poppel, who welcomes the completion of the Schuman station in the city's European Leopold quarter.
The station, he says, has improved links to Brussels airport, as well as functioning as a railway axis through the city.
Despite a rise in rail passenger numbers, convincing commuters to leave the car in the garage, however, may take some time.
Brussels: Capital gains
1

Currently reading

Brussels: Capital gains

2

3