Big infrastructure and property developments in a dynamic city not quite at its zenith have caught the imagination of investors, writes Russell Handy
True to its 19th century 'Forward' motto, the UK city of Birmingham continues to embrace change.
A hotchpotch of Georgian, Edwardian, brutalist and glass-dominated futurist features, the town centre says much about a city seemingly in perpetual transition.
Investors have embraced the second city's variety; its eclectic architectural menu has attracted a diverse spectrum of investor types.
The razing of Paradise Circus best encapsulates the city's state of constant flux. Famously described by Prince Charles as a place where "books are incinerated, not kept", the scheme's top-heavy, concrete library has been consigned to the history books. The seven-hectare site is now being flattened to make way for an initial two standalone office blocks.
Developer Argent and Hermes, asset manager for the BT Pension Scheme (BTPS), are behind the project, renamed as 'Paradise' (pictured above).
The joint venture, sensibly, given the size of the scheme, is phasing development. Its first two blocks, One and Two Chamberlain Square, are due for completion in 2018, to be followed by more sections between then and 2025. As well as office space, the project will also include retail and hotel elements.
Chris Darroch, Hermes fund manager, says the scheme will play a significant role in pedestrian flow, with as many as 15m people a year passing through the project.
"We're trying to put back what was in place around 40 to 50 years ago," Darroch says. "Two public squares will be incorporated, along with consumer-facing occupiers at ground level to encourage people to stay and rest."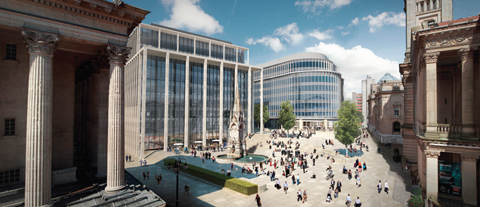 "Right now, it's hard to imagine 1.8m sqft of office space going into that area," he says, adding that Argent showed foresight in conceiving the development, both in terms of vision and funding.
Darroch says Argent and Hermes' decision to build speculatively was based on the belief that large UK cities such as Birmingham pose less risk of oversupply.
"In UK provincial cities, there is a risk if everyone turns the taps on at the same time," he says. "But the lack of development finance from banks means there's little risk of that."
Darroch says Birmingham is not only seeing internal moves by office tenants, but the city is also experiencing demand from occupiers looking to increase space.
"Office rents and business rates in London – combined with the cost of living for staff – are acting as a pressure valve," he says.
Despite rival Manchester's renewed appeal in recent years, Birmingham was the most investable UK city – as well as the sixth most investable in Europe, according to ULI and PwC's jointly compiled Emerging Trends in Real Estate report.
Close to Hermes and Argent's scheme, the impending arrival of 2,500 HSBC staff is heralded by many as a major shot in the arm for Birmingham, once the "city of a thousand trades".
The bank's retail and commercial banking activity will move to a brand new, purpose-built site in 2018. Miller Developments and Pro Vinci Asset Management began construction of the Arena Central scheme, which will include 1m sqft of office space, late last year.
Ed Gamble, executive director in CBRE's Birmingham office, says Birmingham's office market is benefiting from strong tenant demand and a lack of supply.
"Large, blue-chip tenants have signed long leases and that's undoubtedly given the city a boost," Gamble says.
Birmingham, he adds, is the only UK city not to have breached its previous prime rent threshold – a situation he says investors are acutely aware of.
Hines and Lone Star's sale of one of the city's largest assets, the 470,000 sqft Brindleyplace estate, is further evidence of the attraction of a city not quite at its zenith.
Let on long leases to Deutsche Bank, RBS and Deloitte, rents in the asset are around £24 per sqft, below Birmingham's prime-peak average of £30.
With office and retail investment volumes totalling £1.3bn last year (according to preliminary data from Real Capital Analytics/Property Data), Birmingham is now appealing to investors from beyond Europe.
"There's been a real shift in investor demand for Birmingham," says Gamble. "Chinese, Malaysian and US investors are now looking at the city – although German funds remain dominant."
In a city that boasts of being home to the UK's largest German Christmas market, Deutsche investors have targeted Birmingham's prime office properties.
In October last year, Munich-based GLL Real Estate bought One Brindleyplace for £37m. The 69,214 sqft asset is leased to Deutsche Bank until 2029.
German capital was on both sides of one of the city's biggest deals in recent years when Union Investment Real Estate paid Commerz Real £125m in 2013 for One Snowhill. Its tenant roster (KPMG, Barclays) clearly appealed.
Union Investment said it was attracted by Birmingham's "broadly diversified, dynamically-evolving" economy. Automotive and financial services industries in the city were also features that whetted Union Investment's appetite for the city.
Patrizia Immobilien invested in nearby Edmund House in the same year, paying £8m for a 79,156 sqft multi-let property. At the time 30% vacant, the asset has since been refurbished.
Andy Brooksbank, head of investment management at Patrizia UK, says the location of the asset – one of the firm's first deals in the UK – justified its refurbishment.
Domestic capital has also sought out similar assets. A few doors away, Bridges Ventures turned around 158 Edmund Street. Its location, once again, played a greater role in its appeal than initial condition.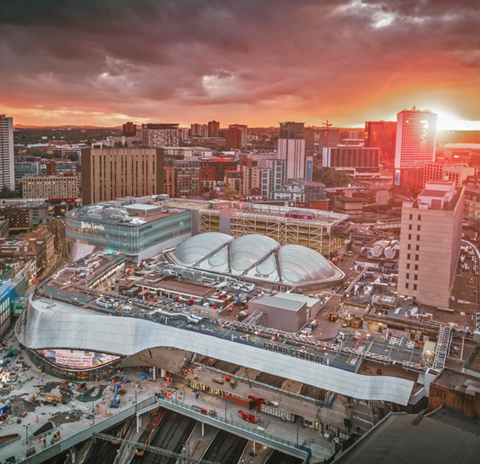 The firm bought the building in an off-market deal in 2011, when Birmingham, as Simon Ringer, head of property funds says, was "still feeling the effect of the economic downturn".
"There wasn't much interest in regional commercial property, and this particular building had been lying empty and unloved for some time – despite its excellent location in the heart of the business district," he says.
Legal & General has also invested in the area, last year spending £87.3m and £14.5m in Colmore Row and Temple Row, respectively. The former was bought at a net 4% yield, in line with central London office yields.
Mark Russell, senior fund manager of L&G's Managed Property Fund, says the area is considered a prime location within Birmingham's central core and benefits from "close proximity to good transport links".
Legal & General last year also invested £69.5m in a Birmingham hotel and office for its long-lease fund.
The investment manager bought the 95,000sqft headquarters of brewery Mitchells & Butlers and an adjacent Ibis Styles hotel at a 3.94% net initial yield.
The asset is close to Argent and Hermes Real Estate's Paradise scheme, which Derek Gilby, senior fund manager at Legal & General Property, hopes will benefit its purchase.
Gilby says Birmingham will reap the rewards of "a number of significant infrastructure projects already under way".
Hammerson director of retail development, Robin Dobson, agrees: "Birmingham has the best infrastructure of any city outside of London," he says. "And that's before the much-anticipated arrival of HS2."
Those two letters and digit, or high-speed 2, to give it its full moniker, have much to answer for. Curzon Street – once Birmingham's first railway link to London more than 150 years ago – will become another major hub for the second city. Although the high-speed rail link, which will connect London, Birmingham, Leeds and Manchester, is not due for completion until 2025, its construction is already having an effect on sentiment.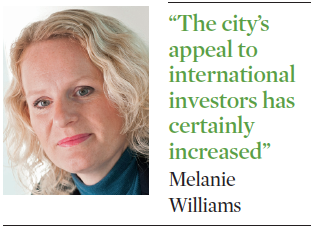 "It may feel some time away, but the advent of HS2 has, without doubt, created euphoria of confidence around the city," Dobson says. "It's also enabled the city council to take some tough and bold decisions."
Melanie Williams, Birmingham-based partner in the real estate team of law firm DWF, agrees. "The city's appeal to international investors has certainly increased," she says. "That's really off the back of infrastructure improvements and the professional nature of new firms moving staff in."
Just a few minutes' walk from Williams' One Snowhill office is another train station and important hub. Falling under Birmingham's Colmore Business District scheme, Snow Hill station will be improved, along with its surrounding streets.
The completed, £750m redevelopment of another rail station, described as a previously "unwelcoming and decrepit" place by Network Rail project manager, Chris Montgomery, has also injected life into Birmingham.
Above New Street station, the 200,000sqft Grand Central retail scheme, formerly the Pallasades, opened its doors in September last year. "The council have done a great job to change the front door of the city," Darroch says.
Hammerson recently said it would pay £335m for the mall, which includes a John Lewis department store, from Birmingham City Council and Network Rail.
Alongside the Canada Pension Plan Investment Board, Hammerson is already invested in Birmingham's Bull Ring centre.
Dobson says the 1.3m sqft mall – completed in late 2003 – can benefit from its position, equidistant to Grand Central and HS2's Curzon Street terminal. "The Bull Ring is well-positioned between the station and HS2," he says. "We certainly see the potential for strong growth."
Williams says that as a city centre, Birmingham's office and retail offer is still "far too small" when compared with its catchment area. "There's still a mismatch between the size of the city and its population," she says.
Such large-scale transformation in so short a space of time – much of it overseen by former council leader Albert Bore – might seem excessive. But the ever-changing Birmingham is used to that.
Birmingham: An investor's paradise
1

Currently reading

Birmingham: An investor's paradise

2

3