Falling costs, technological innovation and the rise of ESG are making renewable energy on-trend for investors, writes Christopher O'Dea
Renewable energy is in fashion – literally. Vivienne Westwood named her Winter 2018 show at London Fashion Week 'Ecotricity' to spotlight the company that supplies her eponymous shops in the UK with energy from green sources. Ecotricity generates electricity primarily from wind – an abundant if intermittent source of energy in the UK.
Westwood is known for bringing punk and new-wave fashion into the mainstream, and renewable energy is undergoing a similar crossover, from an expensive couture source of power to something corporate and retail consumers are demanding.
The renewable energy sector has reached a tipping point, which is good news for investors. The biggest factor is that generation technology for wind and solar power, the largest renewable sources, has made many projects in developed economies cost-competitive with traditional generation sources – without government subsidies, which are starting to be scaled back.
"Over the past decade, technological progress has so lowered the price of renewable power – specifically wind and solar – that in many places it is now cost-competitive with coal and natural gas, even absent government subsidies," says Serkan Bahçeciby, JP Morgan Asset Management's head of infrastructure research. "We expect the cost of installing renewable energy projects to continue falling over the next decade, while renewables' role in the supply stack grows."
Lower costs, in turn, have accelerated demand for electricity from renewable sources just as companies, consumers and governments are striving to meet the carbon-reduction goals of the Paris Climate Accord. To meet rising demand for clean energy, investors can expect a steady increase in the supply of new renewable assets – which will increase the range of options in the real assets spectrum, providing additional sources of sustainable income, as well as diversification relative to equity and fixed-income holdings.
"The energy sector has seen a real transition in recent years," says Rory O'Connor, head of the European renewables business for BlackRock, which manages a $4.9bn (€4bn) global portfolio of more than 160 wind and solar projects, including more than 100 in Europe. O'Connor estimates that in recent years over 50% of newly built electricity generation capacity worldwide has come from renewables, and this trend will continue. "Whereas that historically may have been more driven by policy and regulatory support, currently it's very much driven by cost-competitiveness of renewables," he says. "The renewables sector has really evolved, and is very well positioned in terms of cost."
The increase in the amount of renewable energy is also transforming the structure of electricity markets, affecting power pricing and business models. It is all about moving power generation closer to electricity users. This has sparked the creation of new distributed generation business models, which replace centralised traditional-energy plants with wind and solar assets dispersed over ever-wider geographies.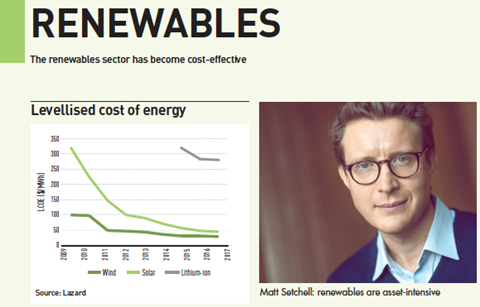 "We're seeing power generation move closer to end users," says Andy Deihl, managing director and head of private infrastructure at Nuveen. "Rather than having large steam-generation plants or nuclear or coal generation plants in a central location to supply the base load, we're starting to see distributed generation, such as combined heat and power, or solar installations at end-user locations."
Technology companies with heavy power requirements, he says, such as Google, Apple and Amazon, employ these new generation approaches to run their massive data centres.
The pace of investment in those new business models is intertwined with the pace of progress on solving two technical challenges. Supply and demand for distributed generation assets will rarely be balanced, and the intermittent nature of wind and solar energy makes it unreliable as a major source of power for electrical grids, which must be managed to maintain a stable load while accommodating fluctuations in demand. What needs to be done sounds like alchemy – use pension fund capital to create an asset that can transform variable sunlight into a steady series of long-term cash flows.
Technical and financial innovations might make it possible. Digital engineers who previously invented technologies that led to the smartphone revolution have reconceived grid management as a communications challenge. The task is as much about receiving information from consumers about where and when they want power than it is managing electrons.
Designed to bring consumers power generated at central plants, existing electricity grids are not set up to operate efficiently in a world where power enters the supply base from dozens of generation sources connecting to the grid at innumerable nodes, says Matt Setchell, head of Octopus Energy Investments, which with 1.2 gigawatts of solar generation capacity and £2.6bn (€3bn) of energy assets under management is the largest owner of solar assets in the UK. It is also the third-largest owner of solar and onshore wind energy in the UK.
"You can't have a period of time where there's more generation than demand, or vice versa," he says. "If a cloud goes over or the wind stops blowing, that suddenly takes a lot of electricity from the system, which causes problems for the people who have to balance the power grid minute by minute, every day of the year."
To help reduce imbalances, Octopus invested in Reactive Technologies, which produces software that co-ordinates generation plants, energy storage units, and user demand to maintain a constant frequency on a grid increasingly fed by wind and solar power. Its technology was developed by former Nokia engineers based in Finland, who re-conceptualised the electricity grid as a communications network through which users and generators engage information about how much power they need, and where they need it.
Such an exchange could be revolutionary for power generators, grid managers and investors. Last year, the UK's National Grid confirmed that Reactive was able to measure the stability of the country's grid, believed to be the first time in the world that the frequency balance of a national system was measured instead of estimated. Grid managers call on power generators to increase or decrease the amount of energy sent to the grid as the frequency fluctuates. More precise measurement can reduce the 'balancing risk' inherent in today's power grids – the amount by which generators need to vary supply to maintain frequency – allowing them to run more efficiently.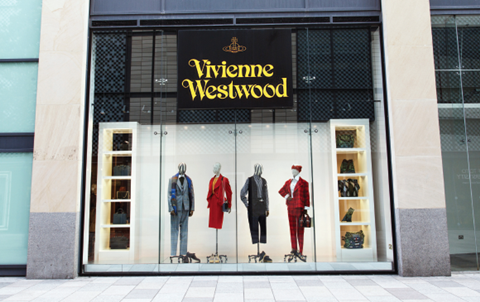 A reduction in systemic risk holds significant implications for investors. Setchell expects that renewable generators such as Octopus will be able to reduce the price discount they extend to utilities that take on balancing risk when they buy wind or solar power. "With Reactive alongside us providing forecasting technology to the utility, they take less of a cut because there's less balancing risk," he says. "This can add incrementally better return and reduce risk for investors."
According to So Yeun Lim, global head of infrastructure research at Willis Towers Watson, the key factor in establishing an investor's appetite for renewables is whether they are investing in operational assets for which power pricing is contracted over a long period, thus providing a core level of income, or investing in assets that pose some degree of technology, development or construction risk, and thus higher yield. "It comes down to the risk and return metrics," she says.
Pension funds typically achieve exposure to renewable energy through the illiquid real assets bucket, Lim says, most often through global infrastructure funds that invest in renewables. "Pension funds typically will not have an allocation to renewable energy, because renewable energy is still a very new asset class," Lim says. That said, "renewable energy has become a much bigger proportion of investments with infrastructure portfolios, and we can definitely see that in the pipeline of future investments when we talk to fund managers."
The UK is the most mature renewables market, "so the returns are slowly coming down", Lim says, while some European markets offer slightly higher returns for similar operational assets. Returns are also compressing in the Australian market, where renewables have become a major source of power. Opportunities in the US, she adds, centre on the evolution of electricity prices and contract durations in light of the low price of natural gas and the reduction of state and federal subsidies.
On the business side, contracting models for renewable energy are changing: subsidies in the UK and indirect subsidies through tax breaks in the US are being phased out. Investors say long-term power purchase agreements – a common method of assuring a buyer for power in the US – are being adopted around the world, a method that will provide a revenue baseline as subsidies decline. But overall that leaves more projects in the merchant power business, in which projects sell energy at wholesale market prices, exposing investors to price and thus income risk.
To mitigate the exposure that results from an energy mix comprised of more, smaller renewable projects, energy companies are consolidating wind and solar assets into platforms that replicate the economies of scale found in large traditional power plants. Such platforms offer investors the characteristics of utility-scale core assets, such as very long-term income secured by power supply contracts, often with inflation protection. Investors are also teaming up with energy companies and private equity firms specialised in renewables, which have the technical development and operating expertise to build wind and solar farms that institutions can own long-term.
"We're seeing the scale of projects come down as we move more towards smaller distributed generation projects, which makes deploying capital more challenging," Deihl says. To make meaningful allocations to renewables that take advantage of the distributed generation trend, he adds, investors need to look towards energy platforms "which provide a way to aggregate those projects and so you can invest and manage the assets in scale".
Renewable energy "is quite asset-intensive", says Setchell. Octopus recently bought a £350m wind portfolio across four sites. "Renewables are going to be owned by very large aggregators that can originate and manage the assets," he says.
The platform approach presents an opportunity for pension investors. A large US wind project called Capistrano, Deihl says, involved a strategic venture with the renewables team of California-based utility Edison Mission Energy, now a part of NRG. Nuveen took a similar approach in the solar sector, tapping the development and operational expertise of EDF Renewables, while providing long-term capital. "We're a buy-and-hold investor," Deihl says.
Declining costs are just one tailwind to renewable energy. A second is the desire to reduce carbon footprints. Renewables help businesses satisfy consumer and regulatory pressure, while helping investors reach carbon and emissions reduction targets for their portfolios. "There is a clear trend by pension funds and other large institutional investors, globally, to be concerned about their carbon footprints and global warming," says Deihl. Those institutions are "making decisions that take into account how the underlying companies or projects they are invested in impact the overall carbon and energy mix".
The transition is set to continue. O'Connor says renewable sources are likely to account for over 40% of Europe's electricity mix by 2025, up from about 30% in 2016, which implies that about €250bn will be needed to finance wind and solar capacity in the region by 2025.
"The scale of the investment opportunity is very large," O'Connor says. "That will be a similar theme across many markets, either in Europe or the US or globally, as we transition the energy mix away from older fossil fuel generation and towards new-build renewable power generation."