An ageing population clearly supports investment in UK retirement assets. But deploying capital into the sector is far from straightforward, writes Maha Khan Phillips
By the year 2025, one in five people in the UK will be over 65. By 2050, that figure will become one in four.
This shift in demographics will have significant implications for the future of retirement provision and care and, by extension, the investment opportunities around the sector. Many retirees want to live in comfortable retirement housing, but there is a serious undersupply of high-quality options available in the right locations, according to JLL, the real estate services firm.
JLL estimates that there could be a need for as much as 725,000 additional 'housing with care' units by 2025 – accommodation that provides manageable care and allows elderly people to stay at home for as long as possible. That would equate to nearly 50% of all new homes built at the current rate. It is this lack of supply that makes retirement real estate assets attractive to institutional investors.
"It's a small segment of the market, but it's growing because the customer base is growing as we have more of an ageing population," says Paul Jayasingha, global head of real assets manager research at Willis Towers Watson.
But Jayasingha is more neutral on the sector today than he was a few years ago. "It's been a fairly resilient sector over time, and more stable than offices and retail. But even though the thematics are attractive, pricing has become much more competitive, and tenants can be high risk," he says.
In April, one high-profile care-home provider, Four Seasons Health Care, went into administration, a reminder that investing in real estate retirement assets is not straightforward. The asset class, particularly care homes, are operationally intensive, and fund managers are aware they have a duty to residents.
"The asset needs to be wisely chosen," says Kenneth Mackenzie, chief executive of Target Fund Managers. "Of the 460,000 beds in the UK, only some 100,000 are truly modern and purpose-built, being fit for purpose of the resident. These would always have en-suite wet rooms for all bedrooms."
He points out that 250,000 bedrooms of the existing available stock have unsuitable en suites, with a toilet and hand-wash basin only. "The remaining rooms in the sector have no en suite of any kind and are not fit for purpose. Carers in the sector comment on the sadness of seeing a line-up of wheelchairs outside the common bathroom facility in the morning as the resident has to wait his turn," Mackenzie says.
Andrew Ovey, head of healthcare at AXA Investment Managers–Real Assets, believes investors will need to put people first. "Care is about looking after people," he says. "As a landlord, the value of our investment depends on the quality of the business that is carried out inside, so partnering with the right operators and supporting them to deliver care is something we are very focused on."
Last year, AXA IM–Real Assets purchased Retirement Villages Group in the UK, providing it with a portfolio of 14 retirement village properties, with a total of 1,274 purpose-built independent units, and 402 care beds, located mostly in the south east and south west of the UK. The purchase extended the firm's managed healthcare portfolio to over €1bn of assets across Europe. "Residents can receive the care they need in their own home, helping them to live independently in a much lower cost environment [than a residential care home]," says Ovey.
Retirement homes and care homes fall broadly in the category of the UK healthcare real estate sector, which encompasses care homes, primary care, retirement living, hospitals, and specialists, according to CBRE. Housing with care, or housing that can be adapted and modified to meet the evolving needs of residents, has become the fastest growing portion of the retirement market, according to JLL's 2017 Report, Retirement Living: Where's the Opportunity? However, the overall size of the existing market remains small.

Industry participants say retirement villages are more attractive to institutional capital. AXA IM–Real Assets is not the only company to see potential in retirement villages. Legal & General entered the retirement housing sector in 2017, with the establishment of Inspired Villages Group, formed out of English Care Villages.
"Care homes are more specialist, so most investors will target retirement living due to the scale of the opportunity," says James Kingdom, research associate at JLL.
Although Legal & General and AXA IM–Real Assets have entered the market, Kingdom believes it is still about developing new supply. "ARCO, the trade body for the sector, has ambitious plans, but it takes time to deliver," he says.
Rob Martin, director of research at LGIM Real Assets, says investors may want to look beyond care homes. He points out that care homes are becoming more like medical facilities, with a need for more highly trained staff. "I think for me there's some question mark over the attractiveness of the care-home sector thematically for many institutional investors," he says. "Specialist investors may want to embrace the complexity, but there are some fundamental pressures that cannot be managed away. At the same time, the area that remains hugely underserved in the UK is retirement housing. There's an opportunity there to create an asset class in the UK that has good financial prospects, as well as a significant wider social benefit."
But are investors convinced? Kingdom says there is good potential in the sector, but that investors may find it challenging to access. "There's a huge wave of capital looking to get into the sectors, but the challenge is that the opportunities and the platforms they would like to acquire are limited. Institutions are used to supplying $100m (€89m) in one go, but most of the platforms they can buy are more piecemeal. They want an oven-ready, income-producing, living operator in place."
Then there is concern about models. "Institutions want a steady cash flow, but the UK retirement model is long leasehold," Kingdom says. "The customers purchase these properties and are there for six to 10 years, and then it goes to resale. From an investor point of view, you only get the capital ingestions when the properties are turned around and sold."
Kevin Beirne, director, retirement communities at Octopus Real Estate, says more work needs to be done to raise the profile of these types of assets. "When I speak to institutional investors, it's clear that the appetite is only growing," he says. "However, at the same time, I have conversations with pension funds or insurance companies, and quite often the reason they give for not having invested to date, despite the opportunities, is not understanding the market, or having the expertise within their own organisations."
In May, Octopus merged its specialist healthcare business Octopus Healthcare with its property lender business Octopus Property, creating Octopus Real Estate, with £2bn (€2.2bn) under management. Beirne says the firm is working on a "significant" partnership with an institutional investor, and is planning to bring "a new stream of investment" into the market.
Investment yields have hardened in the sector, falling from 6% six years ago to 4.5-5% today, on average, according to Jayasingha. For investors, therefore, the long-term potential needs to be weighed up against risk factors and performance. Compared with other markets, the UK has the largest ageing population proportionally, both now and in the long-term future, according to JLL.
Demand for healthcare residential real estate is not going away. "Older people who are coming through now are baby boomers, and they have a completely different outlook on retirement to previous cohorts of people," says Beirne. "In the past, many of the care-home population were older people who lived through the war or post-war austerity, and who lived in one home all of their lives. Now, people in retirement communities are slightly younger and are actively planning to enjoy their lifestyle, and are much more fluid in their consumption and choice and in how they manage their finance."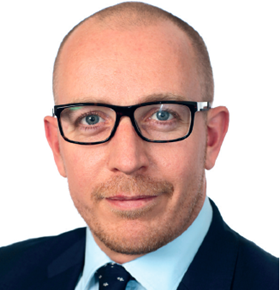 And, he says, those baby boomers have purchasing power. "People don't want to buy undersized, two-bedroom flats. They want great storage, attractive real estate, and easy-access kitchens and bathrooms that can double up if care is ever required. Downsizing doesn't mean downgrading. Older people actually want to downsize property but upgrade the quality." When that quality is there, he suggests, the market is strong. "When it's not present, people don't buy. But when it is present, you only have to look at the sales track record of some of the well-established operators to see that there are incredibly buoyant premium vales and sales values that are maintained as those properties are sold and resold."
For investors, therefore, there are opportunities, as well as challenges, to navigate before making allocations to the sector.