With a growing weight of capital bearing down on senior debt, investors may be tempted by mezzanine investments. Christopher O'Dea reports
There is no shortage of institutional capital targeting investment-grade senior debt for infrastructure projects, with most investors seeking higher income. While pricing discipline is being maintained, and loan-to-value ratios are modest, the influx of capital is compressing senior debt yields and spreads over benchmark rates. That is prompting some investment managers to move towards the mezzanine sector. But caution prevails, and with institutional capital allocations rising globally, some are sticking with the safer, if lower-yielding, senior debt sector for clients seeking an alternative to corporate bonds.
"The infrastructure debt sector remains competitive, with numerous life insurance companies and other institutions putting more capital into the space in the search for yield," says Bob Cantey, senior director, private placements at TIAA Global Asset Management.
The capital inflows have been to funds, as well as large institutions making direct investments, with "most of the capital being allocated to the senior debt space for assets with investment-grade characteristics", says Ian Simes, senior vice-president at Brookfield Infrastructure Group.
"We are seeing discipline in the senior debt space in terms of leverage," Simes says. "Banks and investors have been quite disciplined on the quantity of debt they're willing to provide as a senior lender," he adds. The caution "is driven by needing to maintain investment-grade metrics for the loans they're making, given all the regulatory rules – there's a very steep increase in capital they need to hold against the position if it moves from investment grade to non-investment grade".
"Despite historically tight spreads, we continue to find value in infrastructure debt compared to US public and private corporate bonds"
Bob Cantey
The influx of capital has driven absolute yields on infrastructure debt lower, and compressed the spread between infrastructure debt and benchmark rates. In the middle of December, investors could expect yields of between 200bps and 300bps over LIBOR for US infrastructure debt, for a return of between 3.5% and 4.5%, says David Cooper, executive director of debt investments at IFM Investors.
Yields are "a bit lower in the euro world", he says, due to slower economic growth in the region. "In the European market, you're looking at something closer to about 150bps to 275bps over EURIBOR, and that would equate to about 200bps to 325bps points all-in."
Brookfield says the compression of senior yields is an opportunity. Simes is part of a new transatlantic team at the Toronto-based firm targeting the mezzanine tranche of infrastructure finance.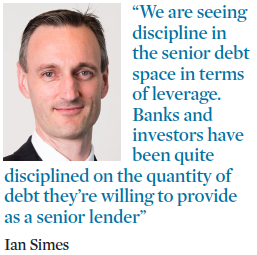 "It's an area we think allows us to put money to work at returns that seem attractive for the risk," he says. "There's a large market of infrastructure assets, but not all of them match the profile of what our equity funds are looking to invest in. That doesn't mean we don't like those other assets [and] mezzanine debt is the obvious alternative."
Brookfield believes the mezzanine sector plays to the company's strengths. "It's the part of the capital structure where you've got to be more concerned about what could go wrong," Simes says. "That speaks to our strengths as owners and operators of assets in this sector, where we can bring that knowledge to bear and get ourselves comfortable with the risks that we're taking."
Mezzanine debt holders accept the risk that cash flows used for paying debt are controlled at the asset level; infrastructure assets must meet various financial targets in order to be allowed to transfer cash up to the holding company that usually issues mezzanine debt. Mezzanine lenders must assess the security of those transfers. "One part of the analysis focuses on the restrictions on cash coming out," says Simes. "How reliable is that dividend flow? What's the volatility of that cash flow? Do we need to build in some flexibility in the mezzanine debt terms to cater for a restriction on dividends for a period of time?"
Strong institutional appetite for senior debt is curtailing demand for mezzanine loans. Cooper says: "We see a lot of appetite, from institutional investors but also from banks, from multilateral agencies and development banks. That often means there's no room in the structure for mezzanine or subordinated debt in the traditional sense."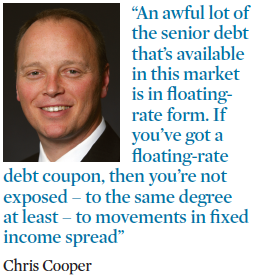 Instead, managers say, equity investors may decide the challenges of negotiating a satisfactory intercreditor position between mezzanine and senior lenders may not be warranted, and inject a additional equity capital to lower the overall leverage sufficiently to allow senior debt providers to increase loan sizes while maintaining credit metrics.
Institutional investors are set to allocate more capital to infrastructure debt strategies, says Patrick Thomson, head of international institutional business at JP Morgan Asset Management. Investors globally are seeking stable long-term returns and protection against rising rates that many infrastructure assets provide through inflation-indexed rate agreements with users, while governments are realising the importance of making infrastructure more attractive to private capital. "It's a happy confluence of events," Thomson says.
In the senior debt sector, for example, "the majority of investment-grade deals have had long-term [power purchase agreements] for renewable power projects or availability payments for P3 [public/private partnerships] transactions", says Cantey. "We expect a stronger start to 2017 compared to what we saw at the outset of 2016, with more Australian and Canadian issuers looking to increase exposure to the US private-placement market."
Yields are the main draw. "Despite historically tight spreads, we continue to find value in infrastructure debt compared to US public and private corporate bonds," says Cantey. In addition, he adds, "the recent post-election widening in US Treasuries has moved yields into an area that is more attractive for long-term investors".
That edge is likely to hold up as rates rise. "An awful lot of the senior debt that's available in this market is in floating-rate form," says Cooper. "If you've got a floating-rate debt coupon, then you're not exposed – to the same degree at least – to movements in fixed-income spread. Your interest rate will increase in conjunction with LIBOR or EURIBOR."
Private Debt: Time to take the stairs?
1

Currently reading

Private Debt: Time to take the stairs?

2

3