Real estate and infrastructure debt is a fast-growing asset class among global investors, but for more than one reason, write Peter Hobbs, Niels Bodenheim and Sam Gervaise-Jones
Among the 485 investors studied for Bfinance's new asset owner survey, 18% have either recently entered real estate debt for the first time (within the past three years) or plan to do so in the coming year. Meanwhile, 21% have recently started or are about to start investing in infrastructure debt.
The changing pattern of investor usage is most evident in one region above all others – the UK, where those figures rise to 39% and 48%, respectively. These 'new users' of real assets debt are dominated by defined benefit (DB) pension schemes. The Canadian numbers are also slightly above average, with 25% of all respondents proving to be new users of infrastructure debt and 21% new users of real estate debt.
From an allocation perspective, there are several different trends in play. The first is a 'fixed income replacement' story – a post-global financial crisis theme stemming from low interest rates, which have underpinned broader increases in exposure to private debt (and alternative credit more broadly) through the past decade. Indeed, the volume of investors that we would classify as new entrants to corporate private debt – 40% – significantly exceeds those aforementioned real asset debt figures. This shift from traditional fixed income to private debt has been strongly oriented towards the corporate sector as opposed to real estate or infrastructure, in part because the available risk-adjusted returns were significantly more attractive. Yet that balance has shifted somewhat during the past couple of years as the opportunities have evolved.
The second, more recent, driving force is 'real asset diversification'. As the market enters definitive late-cycle territory, participants are increasingly looking to gain exposure to real assets at less risky parts of the capital structure. They are also facing declining returns in core and core-plus real estate and infrastructure, and broadly attempting to increase allocations to real assets – also evidenced by the high volume of new entrants to infrastructure and real estate on the equity side.
In short, investors have been moving from traditional forms of real asset exposure towards niche real assets, value-added or opportunistic strategies, real assets debt, listed infrastructure, or a combination of these four areas – for example, the addition of opportunistic real estate for improved capital appreciation and debt for income. Among UK DB pension schemes, where the proportion of new entrants is at its highest, real asset diversification appears to be the primary motivation. Investment consultants, who have largely been slow to encourage clients towards the asset class, are now enthusiastic supporters of the move.
The third theme, which only applies to a small proportion of the overall asset owner universe, is the regulatory story. Under Solvency II, the asset-backed nature of real estate debt and infrastructure debt implies significant potential accounting advantages for insurance companies and other investors.
While many of these issues are global, in the UK there has been a rapid rise of opportunities.
We see a variety of UK-only funds developing, as well as European solutions with sterling-based investment sleeves.
It is worth noting that the US real estate debt market is large and many pension funds, endowments and other investors in this region have long invested in the sector – hence the relatively low number of new entrants (figure 2). Yet it is heavily dominated by commercial mortgage-backed securities (CMBS) and REIT bonds. In the US, as in Europe, the more private debt-like vehicles are still developing.

Changing menu
The real estate and infrastructure debt markets are becoming more varied and complex, with strategies ranging from classic mortgages to the expanding range of private debt-like vehicles. Expected net internal rates of return on real estate debt can now sit anywhere between 2% and 12%, not far shy of the 5-15% now targeted by corporate private debt strategies. In infrastructure debt, the figures are somewhat lower at 2-9%. Over the past five years there have been significant changes in terms of the types of loans available and the variety of asset managers offering funds.
One notable change in real estate is the development of 'whole loan' structures – a type of lending that has similarities to unitranche in private debt, allowing for higher yields (and higher debt multiples/loan-to-value ratios) on what are technically senior loans. While the 200-300bps offered by super-senio r real estate in the UK might be attractive for some cases, such as the insurer moving away from government bonds, much of today's demand comes from pension funds seeking to replace core real estate exposure with something else that offers 6-8% – whole loans are helping to meet that demand. Today, whole loans can also be split into further risk tranches, creating a super-senior position and a second-ranking position of that single senior-loan facility.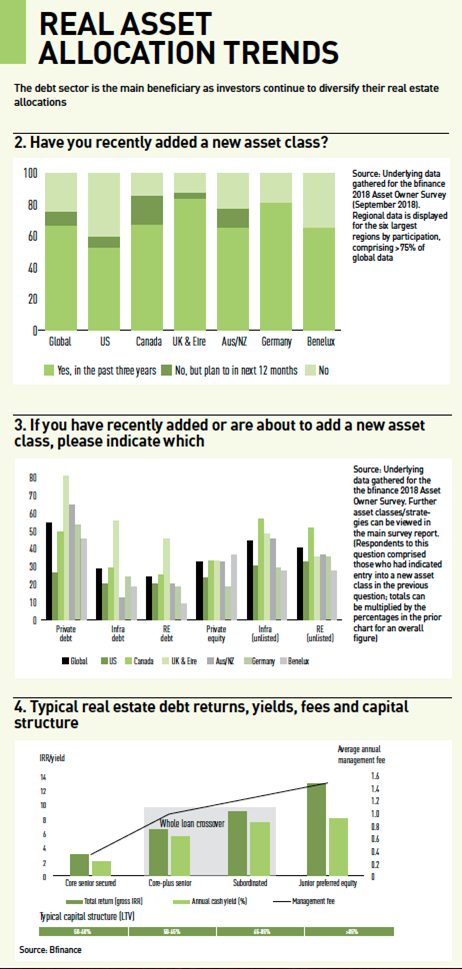 In Europe, today's real estate debt opportunities vary significantly by country. While post-crisis regulations encouraged banks to retrench from real estate lending in Europe, in much the same way that they reduced corporate direct lending activity, the withdrawal was more patchy and market-specific. German banks continued to be active in real estate, making this market less appealing for so-called 'alternative' lenders. Yet it is the UK which – Brexit notwithstanding – appears to be the most attractive market in Europe for the more private debt-like real estate strategies. Among the advantages is a foreclosure regime that is more in line with the US system than many of its European neighbours, facilitating recovery of investor capital.
The story is rather different in infrastructure debt, where competition from banks has remained stronger. That being said, opportunities to invest on the debt side have grown considerably as rapidly rising volumes of capital have flown towards the equity side, including mezzanine tranches that are used to plug the gap between senior debt and equity. It is still difficult to open and run funds focusing on infrastructure mezzanine debt, owing to the difficulty in guaranteeing deal flow. There are considerably fewer mezzanine-focused offerings than one would find in real estate debt or corporate debt. Strategies tend to be more concentrated and investors often prefer to access this sector through separate accounts and partnership arrangements, so that opportunities can be seized when they arise.
Alongside the development of lending arrangements and structures, we have observed significant changes in the availability of funds. There has been a large increase in managers offering strategies in real estate debt, largely through closed-ended structures. There has also been an increase in fund size – although these are still modest relative to corporate private debt. For interested investors, there are a variety of business models to consider (figure 3).
Due to recent developments, many managers in these two sectors have short track records; many teams have been formed relatively recently. Key requirements that investors should look for include the ability to maintain an experienced team, access to necessary resources, stability, and strong alignment with client interests.
Given prevailing forces, we expect to see strong appetite for real asset debt persisting for the rest of this year and beyond as the newer strategy types become more established and dry powder continues to compress real returns on the equity side. Yet investors should keep an eye on the true risks of the loans to which they are exposed and carefully scrutinise managers' capabilities.
In an increasingly complex marketplace, careful analysis and selection will be key to successful implementation.
Peter Hobbs is managing director of private markets, Niels Bodenheim is senior director of private markets, and Sam Gervaise-Jones is senior director, head of client consulting UK & Ireland at Bfinance