Dynamics in the UK public-private-partnership market are changing – and they are favouring institutional investors, writes Lauren Parr
Public-private partnerships (PPPs) should be perfect for risk-averse institutional investors. Although market pricing has been a challenge in recent years, there is some good news for insurers and pension funds.
Banks, on the whole, are retreating from typical 25-to-30-year PPP lending. Basel III regulation has made it more expensive to hold the loans – and the swaps attached to them – on their balance sheets. UK insurers and some investment managers are taking advantage of the opportunity to finance the construction of roads, schools and hospitals.
"We did very little in the primary PPP space in the first couple of years," says Kit Hamilton, head of the investment team at Macquarie Infrastructure Debt Investment Solutions (MIDIS), which was set up in 2012. "The risk-return didn't add up," he says, recalling that wo years ago loans were being priced at about 120bps over the risk-free rate.
PPP returns have been moving up, driven by bank views on the sector." Hamilton estimates that pricing has widened by at least 50bps over the past two years.
One of the main causes behind the shift in favour of non-bank lenders is the change in the treatment of swaps. Banks enter into swaps to avoid exposure to interest rate changes over the life of a long-term, floating-rate loan. Banks' funding and credit charges against these swaps, particularly long-dated swaps required for PPPs, can be quite high.
"It's not a universal truth, but there are signs that a number of banks are approaching swaps a bit differently in response to changing regulatory capital treatment," says Hamilton.
Some banks moved quickly to address the impact of regulatory changes in 2010 and 2011. Others are still catching up. Smaller banks, especially, are working through their derivatives exposure, having tackled loan books first.
David Cooper, IFM Investors' head of infrastructure debt for EMEA, says the effects of Basel III were underestimated. "The world of regulatory capital is slow-moving, and some thought 'it might be less of an issue than we anticipate'," he says. Others hoped the industry could "lobby its way out of things", and avoid, for example, the net stable funding ratio requirements. "About 12 months ago it seems people realised this isn't going away."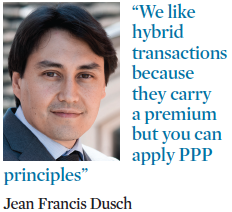 John Mayhew, head of infrastructure finance at M&G Investments, acknowledges that "banks have put a lot more focus on the capital they must set aside against swap books over the last 12-24 months – not just on new, but existing, deals".
The requirement that banks hold more capital against swap positions means they have to charge sponsors more. While there are still cases where banks can be very aggressive, this helps give non-bank lenders a competitive edge.
"When a borrower switches to an institutional investor, it doesn't face swap counterparty risk," says Mayhew. "Given where some bank credit ratings have moved, that can be an important point. A lot of PPPs have index-linked underlying payment streams which are ideal for pension funds and insurance clients. So the fact you can do that naturally, rather than synthetically using a derivative, has always been positive characteristic."
The supply of new infrastructure projects in the UK has been limited over the past five years. But increasingly banks are looking to sell secondary positions.
"Large European banks have got a lot of stable, low-risk infrastructure stuff on balance sheet which, from a credit perspective is excellent, but because it's long dated is less compelling to hold so they're exiting on a single name and portfolio basis," says Hamilton.
French and Spanish banks, along with German and Japanese lenders, were a dominant source of liquidity in the UK PPP market up until a year ago. Some of these investors, says Cooper, are "seemingly less interested in it now as a result of increased swap costs and a possible reduced appetite for sterling post-Brexit".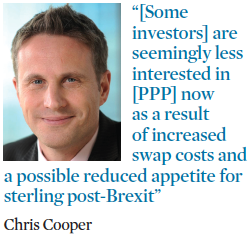 Laurence Monnier, head of strategy and research, alternative assets at Aviva Investors, says: "It's becoming quite expensive for banks to keep these assets on balance sheet – particularly the swaps. Banks are more interested if we say we can do a deal and take exposures off their books, or to work with investors from the start."
In addition, there is a fair bit of refinancing activity as borrowers seek to benefit from low interest rates. This is a particular sweet spot for fixed-rate investors like insurers, which are not ideally set up to take on secondary bank loans.
AMP Capital refinances mezzanine debt that has become less attractive for banks to hold under Basel III. It has also seen a number of opportunities to provide second-lien debt. Emma Haight-Cheng, principal in AMP Capital's infrastructure debt business, says: "Direct lending from insurers and pension funds is done on an investment-grade basis so, when looking at core infrastructure assets they have a narrow definition. If you bring senior debt leverage down, you can make senior debt so secure there's a low risk of default and that creates an opening for us."
Another financing opportunity across Europe is trading the assets of funds that are coming to the end of their life. Hamilton says there has been "a marked increase" in the number of potential PPP deals for MIDIS. "By volume, probably more than one-third of our existing pipeline," he says. "A couple of years ago this would have been less than 10%."
The PPP sector is just a small part of the infrastructure debt market. "We're definitely seeing a lot more opportunities this year – not just in PPP but wider project finance," says Cooper, pointing out that the biggest UK deals at the moment relate to offshore wind.
Edmond de Rothschild Asset Management participated in the £900m (€1.05bn) financing of a BBB-rated Teesside biomass transaction with a £55m bridging loan in July. "We like hybrid transactions because they carry a premium but you can apply PPP principles," says Jean Francis Dusch, managing director and the company's global head of infrastructure, real assets and structured finance. He cites the telecoms sector as an example.
So-called 'Basel IV' proposals, which go further than Basel III, are "likely to place greater restriction on banks", says Dusch. "If we start to see banks having less liquidity available, that could create more space for institutions. We're betting on a 20bps to 40bps pick up in margins in the next 12 to 24 months based on a similar trend we saw in the renewable sector last year."
And the UK market might not be awash with primary deals, but institutions are poised to soak up transactions as they come through. The UK government will set out a pipeline of Project Finance 2 (PF2) projects early this year, in total worth more than £500bn (over half to be funded by the private sector).
"There is a need for infrastructure spending and has been for the last several years. The potential is vast," says Hamilton.
Private Debt: Time to take the stairs?
1

2

Currently reading

Private Debt: A best friend in Basel

3