Institutional investors continue to back real estate debt funds despite looming risks. Christopher O'Dea assesses the situation
Despite a high-profile warning that looming risks in the US commercial property market could send asset prices as much as 5% lower over the next three quarters, institutional investors are continuing to back funds dedicated to deploying capital through a variety of debt and credit strategies offering high current income.
In fact, far from curtailing asset flows to property debt strategies, the prospect of more volatile markets is helping to fuel fundraising. Institutions are committing capital to managers seeking to capitalise on the ongoing retreat of traditional property lenders.
The red flag was raised by John Murray and Anthony Clarke PIMCO. They argue that US property prices could drop in the months ahead as a financing gap helps to bring an end to the current US property cycle. Provision of fresh capital is critical, they argue, because capital flows have been the primary driver of US commercial property gains. Since the fourth quarter of 2009, office prices have doubled, yet US office rents have risen only about 15%, according the Moody's/RCA US Commercial Property index. "The primary price driver for US CRE assets instead has been capital flows," they say.
The potential for property owners to face difficulties refinancing debt in the 12-18 months ahead is increasing as well. Murray and Clarke note that more than $200bn (€178bn) of 10-year CMBS loans will mature over the next three years, while over the same period more than $50bn of 10-year CRE debt and equity funds will wind down.
Some of those loans may encounter trouble from two sources that were not threats two years ago when analysts began focusing on the refinancing bulge – the prospect the rising interest rates will increase debt service burdens, and the extent of the drop in capital from banks and CMBS conduits.
At the same time, capital flows are being destabilised by uncertainty about interest rate hikes, weaker growth in China, lower oil prices, ever-tighter limits on bank lending, and volatility in public equity markets that has turned many listed property vehicles from net buyers to net sellers of property. "For nimble investment platforms, however, these swirling winds should create attractive opportunities over the secular horizon," Murray and Clarke say.
Institutions are eager to fund managers taking aim at those opportunities. Some funds are conducting soft re-openings, taking new capital into existing funds instead of launching new fund vehicles. Some major debt platforms are raising new funds, and some experienced property equity managers are seizing the opportunity presented by banks' retreat to launch debt funds for the first time.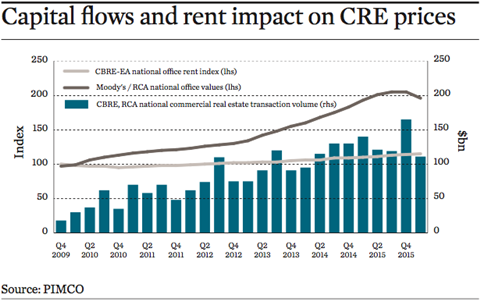 Strategies being pursued include new loans, new originations and secondary-market purchases of outstanding loan balances, and financing for banks' legacy property exposure, with an emphasis on stabilised, cash-flowing properties. Because the dislocation of traditional lending sources is occurring across the property market, debt and credit managers are looking to supply capital across the size spectrum, from small-balance property loans to large assets and portfolio transactions.
Among the opportunities, Murray and Clarke cite "attractive entry points for nimble capital that understands CMBS structure". Such conduits had raised just $27.3bn by mid-year, down 47.3% from 2015 to the lowest quarterly pace since 2012, according to Trepp.
"The anaemic issuance numbers coupled with pending risk-retention rules, which could upend the sector, have prompted most industry professionals to sharply scale back their projections for full-year issuance," Trepp says, with few expecting much more than $55bn to be issued in 2016 compared with $95.1bn for 2015. Fresh capital will be required to make up the shortfall as loans within the CMBS vehicles come due.
Debt managers are readying dry powder. Värde Partners, for example, is seeking an additional $300m of capital from investors in its Värde Scratch and Dent Fund, according to investment documents from the Pennsylvania Public School Employees Retirement System, PSERS, an existing investor.
The fund closed in June 2015 with $500m in committed capital, focusing on performing and sub-performing loans with unpaid principal
balances below $50m, where the manager believes there is a scarcity of capital. For managers, such a topping-up avoids the time and expense of launching a new fund into a highly competitive market – where Preqin says a record 514 funds were targeting $173bn in institutional capital at the end of July. For investors, capital can be deployed more quickly into a proven strategy, avoiding the blind-pool risk of a new fund.
Walton Street Capital, a property investment firm in Chicago that has raised seven equity property funds, recently raised $654m for its first real estate debt fund. Walton Street Real Estate Debt will target floating-rate loans on high-quality income-generating properties and by mid-year had committed more than $220m of the funds to office, hotel and retail properties in markets including Chicago, Dallas and Washington, according to a company statement.
Despite market volatility and high prices for US assets, institutions are continuing to allocate more capital to property, with public pension funds showing one of the strongest increases in demand for property investment in the 12 months ended in July, according to Preqin.
One of the major real estate debt platforms, Blackstone Real Estate Debt Strategies (BREDS) is currently raising capital from investors for a third fund. BREDS is Blackstone's global debt strategy to capitalise on the dislocation of traditional real estate lenders from the market. The new fund will focus on providing liquidity to new borrowers, banks with legacy commercial real estate exposure, and liquid real estate debt investments.
The attraction is yield – BREDS II, which is partially realised, has generated a 10% Net IRR with limited legacy issues and no realised losses as of September 2015, according to a New Jersey Division of Investment memorandum in January 2016 proposing that the State Investment Council allocate $100m to BREDS III. The New Jersey memo indicated that BREDS II generated income of approximately 9% to limited partners. BREDS investments "typically produce immediate current income and nearly 100% of the projected returns are expected to come from current income," according to the memo.
BREDS III, which has a global investment remit, use hedges against currency risk and focuses on large portfolio transactions. The management fee is 1.5%, assessed on invested capital only. Investors have responded well: a source familiar with the fund said BREDS III raised $4.5bn. While turbulence may lie ahead, institutions are betting their managers will weather the storm.
Debt markets: Real assets - One small sliver of sunlight
1

2

3

4

Currently reading

Debt markets: United States - Waving the red flag