The Brexit vote gives new entrants to the debt sector a further opportunity to build loan books, as traditional lenders regress, writes Russell Handy
Uncertainty created by the UK's vote in June to leave the European Union could present opportunities for less established lenders, as traditional players pause for thought. While there have been no 'closed for business' signs appearing in the windows of traditional UK lenders, the 23 June referendum has affected sentiment.
"The vote to leave undoubtedly caused uncertainty around the outlook for certain sectors of the real estate market and as a result. Lenders are tending to err on the side of caution," says Steve Williamson, head of debt and structured finance at CBRE.
More caution from senior lenders in response to uncertainty over property values makes perfect sense, says Kevin Cooper, co-head of London-based debt fund manager, ICG-Longbow. "With greater uncertainty in the economy we are more cautious on income underwriting – but we've been wary of valuation levels for a while, so have not really changed approach post referendum."
The volatility caused by the Brexit vote, has, says Hermes Investment head of real estate debt, Vincent Nobel, been a "disturbance to the market". More caution has been particularly noticeable among foreign banks, says Nobel.
"The immediate impact has been that foreign banks have become a lot more cautious," he says. "Some have pulled out of transactions, and others are pricing themselves out. It makes it harder for foreign investors to invest in the senior debt space."
Nobel says he knows of "at least one large investment mandate" that pulled out of the market as a result of the Brexit vote. "It will possibly be harder to raise funds in Europe for UK-based strategies, but for domestic investors this should provide good value."
UK-domiciled banks, says Nobel, are not facing the same currency pressures. "But they have seen their share prices hit hard and that has impacted lending appetite," he says.
However, the adjustment is, he says, "largely a capital-driven change", with the occupier market yet to feel the real effects of the Brexit vote. "Following the vote, we saw margins move out slightly, by around 25bps," says Williamson.
Amy Aznar, LaSalle Investment Management's head of debt and special situations, says that slight post-referendum rises in margins for senior debt have been "largely offset" by a reduction in UK base and swap rates.
"Therefore, the all-in cost for borrowers has remained similar," she says.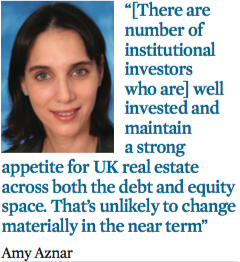 Some sense of harmony has returned to the UK real estate sector – based largely around underlying fundamentals – and there has been no sign of further margin movement.
"It wasn't a significant move – the market finds itself," says Stuart Hoare, managing director of new capital advisory services at CR.
Loan-to-value ratios felt the Brexit effect. Williamson says that lenders have "heeded the lessons of previous periods of economic uncertainty by reducing LTVs on commercial real estate debt".
Aznar says that typically, LaSalle's LTV levels are about 70% to 80%. "Post-referendum, the general trend in the market has been a combination of lower LTVs at similar returns to those prior to the referendum, and opportunities at similar LTV's to prior the referendum – but at slightly higher returns," she says.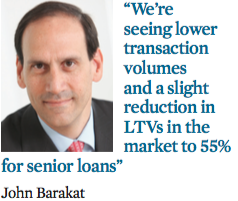 In the lead up to the global financial crisis, banks were lending at about 80%, falling in recent years to around 60% to 65%.
"We're seeing lower transaction volumes and a slight reduction in LTVs in the market to 55% for senior loans," says John Barakat, head of real estate finance at M&G Investments. "Margins are generally 25% wider for good stock. Transitional assets, where something good has to happen – or where there's what I call a 'story' loan – are trading wider."
Williamson says there is the possibility that LTVs will fall back "even further as lenders attempt to reduce default risk".
According to CBRE's debt-pricing model, by cutting senior lending LTV from 65% to 55%, the probability of default would fall by about two thirds.
"I hear of some people lowering their LTV appetite and others maintaining it," says Nobel. "Our own portfolio provides very conservative leverage and therefore, we see no need to lower this further at present."
The underlying characteristics of an asset – location, tenant and lease length, are key, says Hoare. "More than ever, it's about working on a deal-by-deal basis," he says.
Paying closer attention to a property's characteristics is no doubt a consequence of this year's uncertainty. Hoare says lenders who focus on a property's fundamentals will stand to benefit.
Opportunity knocks
Paul House, managing partner of Venn Partners, says the referendum has given the firm an opportunity "across the board, whether it's senior or junior".
"By early 2016, things definitely began to cool," he says. "But there's increased interest from the market for debt funds. We are being approached more now than we were in the second half of 2015."
House says the referendum has "set the clock back to 2013". Hoare, meanwhile, who joined CR from Citi's European real estate finance team just weeks after the UK's Brexit vote, says the vote caused a "short-term drift" but "there are wonderful trades to be done".
Anthony Shayle, head of global real estate and UK debt and portfolio manager at UBS Asset Management, says the firm continues to see a high level of potential deals.
Shayle says the firm's Participating Real Estate Mortgage Fund (PREMF) is "very much open for business" following the outcome of the UK's referendum on EU membership. Shayle says the firm expects opportunities for alternative lenders to emerge following the outcome of June's vote.
Williamson agrees. "The underlying fundamentals of the UK economy are sound," he says. "There is still appetite from investors to borrow finance and invest in commercial real estate."
Aznar says there are number of institutional investors who are "well invested and maintain a strong appetite for UK real estate across both the debt and equity space. That's unlikely to change materially in the near term, although some investors may well be more discerning with whom they invest and in which part of the capital structure they see value."
For Hermes, debt still looks attractive, given the wider low-yield environment, says Nobel. "Most institutional non-bank lenders that I know of are keen to continue lending," he says. "But they will also take into account a tougher underlying economy."
Barakat says there's "no question that the risk premia has to be bigger now than pre-Brexit vote. We continue to lend, but overall market volumes are lower," he says. "We have the luxury of being more picky."
The firm, Barakat says, was "extremely active" in the final quarter of last year. "But clearly, since the referendum, volume has fallen by design," he says.
One area of lending which serves well as a barometer of current sentiment, is refinancing. Chris Holmes, head of UK debt at JLL, says that prospects now for refinancing "remain good".
"The availability of lender capital is deep," he says. "The banking sector remains very well-funded at a cheap cost, so the opportunities to refinance are good at competitive terms."
As Holmes points out, the cost of funds represented by the five-year swap rate are at all-time lows in both sterling and euros.
"The all-in cost of borrowing is around 3% – which historically remains very low," he says.
With a fall in Gilt yields pushing commercial real estate lending returns to an 18-month high versus Gilts, the former is now an "even more attractive asset class than it was before the referendum", says Williamson, with the premium over Gilts having widened to 2.7%.
Downside risk for lenders could be "more elevated if political uncertainty becomes more protracted", cautions Standard Life Investments' head of real estate forecasting, Simon Kinnie.
Prior to the EU referendum, the UK commercial real estate lending market had stabilised and lending was far more cautious than was witnessed in the last market downturn, says Kinnie. "Lenders should therefore be in a better position to sustain some of the expected post-EU referendum decline in capital values," he says.
"Relatively robust economic fundamentals will also mean that debt interest will continue to be paid, although some loans may technically breach loan-to-value covenants."
Given wider market uncertainty, it is anticipated that a decline in capital values resulting from Brexit should be modest compared with the 2007-09 period, he says.
Peter Cosmetatos, chief executive at
CREFC Europe, says the Brexit vote gives new entrants a further opportunity to build their loan books as traditional lenders take stock.
"It's a chance to build relationships at a time when the so-called 'big boys' are feeling uncertain again," he says. "Not all will take or find those opportunities, but for those who want it, it's there."
Debt markets: Real assets - One small sliver of sunlight
1

2

3

Currently reading

Debt markets: UK - Loaning back the years

4