Debt funds are becoming a sizeable component of the global real estate fundraising market. Andrew Moylan looks at the data
As institutional investors grow and become more sophisticated, real estate fund managers have created products that can more effectively balance the needs of the institution and provide greater diversification within their real estate portfolios. Private real estate debt vehicles are one such product – in 2010, real estate debt vehicles represented 7% of aggregate capital raised, but in 2016 so far they represent 24% of capital raised.
Since 2006, 320 private real estate debt funds have reached a final close globally, securing $130bn (€116bn) in commitments. Fundraising for these types of fund has grown significantly recently – $17.8bn was raised in 2013, $25.2bn in 2014 and $15.3bn in 2015, vastly surpassing the average capital raised between 2006 and 2012 ($8.1bn, figure 1).
While fundraising levels fell from 2014 to 2015, the $15bn secured from the 21 vehicles that have reached a final close in 2016 so far suggests that full-year figures will be comfortably above those seen in 2013 and 2015.
Two-thirds of real estate debt funds closed since 2006 primarily target North America, while the region represents a slightly larger proportion (69%) of aggregate capital raised in the period. While Europe-focused debt funds represent only 18% of funds closed, they have secured a quarter of total capital raised.
Furthermore, with investors becoming more accustomed to debt vehicles and allocating more capital to them, fund managers are able to increase fund sizes. The average size of a debt fund closed in 2010 was just $199m, compared with $715m in 2016.
Large funds closing in 2016 include Blackstone Real Estate Debt Strategies III. Blackstone Group raised $4.5bn for the fund, which focuses primarily on high-yield lending on commercial real estate through new loan originations and purchases of legacy loans and securities. AB raised $1.55bn for its Commercial Real Estate Debt Fund II, which will directly originate and purchase senior whole loans secured by transitional commercial real estate assets across the US.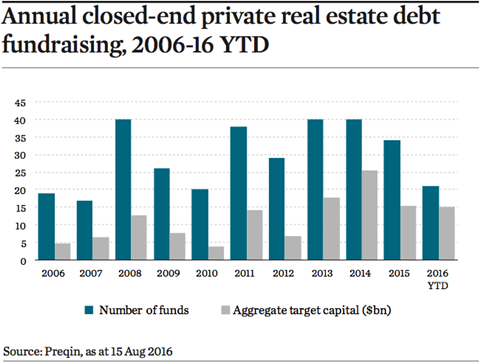 As investors invest more capital in these funds, managers are bringing more debt vehicles to market: both the number and target capital of private real estate debt funds have increased since July 2014. Currently, 65 vehicles are targeting $31.9bn in commitments, compared with 52 funds targeting $22.7bn in 2015.
In terms of all private real estate funds currently raising capital, debt strategies account for 13% of funds in market and 18% of capital targeted. Europe-focused private real estate debt funds in market represent a larger proportion of aggregate target capital than funds that have closed; the $13bn targeted by 20 Europe-focused funds in market accounts for 41% of all real estate debt target capital, more than the 25% seen for funds closed since 2006. However, North America remains the primary geographic focus for the majority (52%) of debt capital targeted.
The largest offerings in market include PIMCO Bravo Fund III, with PIMCO seeking $3.5bn for its opportunistic residential and commercial credit strategy. Colony Capital is targeting $2.5bn for Colony Distressed Credit & Special Situations Fund IV and Kildare Partners $2bn for its second fund, which will make distressed debt investments in the UK, Germany, the Netherlands, Portugal and Italy.
Pension funds represent the largest proportion (44%) of institutional real estate investors with a preference for debt vehicles, followed by foundations (16%) and endowment plans (10%). However, when looking at which group of institutions are most likely to invest in debt, we see that a third of all of sovereign wealth funds actively investing in real estate target debt strategies – the largest proportion of any investor type. Just under a quarter of all public pension funds active in real estate seek debt opportunities, followed by superannuation schemes (22%), and private-sector pension funds (18%).
Using the PrEQIn Quarterly index, which captures the money-weighted return earned by investors on average in their private capital fund portfolios, since 2007 private real estate debt strategies have outperformed higher-risk value-added and opportunistic strategies.
Although debt strategies were not immune to the downturn in the real estate market after 2008, since the second quarter of 2010 the PrEQIn Real Estate Debt index, showed 18 consecutive quarters of growth. The PrEQIn debt index (rebased to 100 as of 31 December 2007) stood at 118.5 in December 2007, compared with the PrEQIN Value Added index which stood at 80.9 and the Opportunistic index which stood at 89.4. This outperformance has helped to drive greater amounts of capital secured by debt funds launched since 2012, as investors sought exposure to the debt segment of the market.
With many investors yet to make their maiden commitment to real estate debt, fundraising looks ready to grow in the years to come.
Many institutional investors are making their initial forays into the sector, or increasing exposure. Demand for these strategies has, no doubt, driven the increase in the number of private real estate debt funds seeking capital, with 25% more funds currently in market than in July 2015. This increased activity in the real estate debt segment from both investors and fund managers appears to be propelling debt strategies to the forefront of the private real estate marketplace.

Andrew Moylan is head of real assets products at Preqin
Debt markets: Real assets - One small sliver of sunlight
1

2

Currently reading

Debt funds: No longer niche

3

4