Hong Kong, which has long been a shopping mecca, has been hit by a double-whammy of COVID-19 and political protests. Florence Chong reports
Asia's best-known shopping mecca, Hong Kong, is facing devastation on two fronts: the withering impact of the COVID-19 pandemic, and attrition from ongoing political instability.
"No-one would have thought it would come to this," laments one long-term Hong Kong resident, reflecting widespread frustration. "Hong Kong was always a live-and-let-live place. Today, it is haemorrhaging. You realise how bad the situation is when you walk the street to see row after row of shops boarded up. They have been closed since the street protests turned violent last year. People are afraid to go out to shop. They don't want to be caught up in the protests."
Hong Kong has long been known as a shoppers' paradise, and not just because of the enviable range of luxury goods on display in its fancy shopping malls – it also boasts myriad numbers of little shops.
In recent months, big global names, including Louis Vuitton, Prada, Valentino and Burberry, have closed their flagship stores and/or reduced their presence. In March, Tiffany, the New York-based jeweller, closed its impressive store in Tsimshatsui.
The bright lights of affluence, of joie de vivre, have dimmed.
Tiffany's closure comes amid reports that luxury watch brands Omega, Longines, Rado and Mido have already, or are planning, to close some outlets.
Cushman & Wakefield's director and head of research, Reed Hatcher, says Hong Kong's retail vacancy rate in the first quarter climbed to an average of 10.9% – the highest level in recent years. "Retail rents fell by an average of 15.8% in the first quarter, in the steepest drop since 2008," he says. "Since their peak in the first half of last year, rents on average have fallen by 28.2%."
Hatcher is forecasting rents to fall in key shopping districts: by 35-40% in Causeway Bay on Hong Kong Island; 35-40% in Central; 20-25% in Tsimshatsui; and 20-25% in Mongkok.
It is not surprising that vacancies are high and rental falls steep in these districts. They have been the battlegrounds between protesters and police. But Hatcher is hopeful that rents should begin to stabilise in the second half of the year. "Clearly, though, the timing will depend on when the borders are re-opened and we see start to see the return of mainland tourists," he says.
Asked if Hong Kong is losing its title as the shopping mecca of Asia? "The answer is obvious," says Iris Pang, chief economist for Greater China at ING Institutional Bank. "Just ask the retailers."
She says 30% of retailers, including restaurants, have closed temporarily, or gone out of business. For hundreds, if not thousands, of small Hong Kong stores, which collectively create Hong Kong's image as a shoppers' haven, the current pain is extreme.
Annie Yau Tse, chair of the Hong Kong Retail Management Association (HKMRA), wrote an open letter to Hong Kong's chief executive, Carrie Lam, in May, stating: "The retail industry is facing a critical moment of life and death." Without relief from the government, Yau warned that 15,000 of Hong Kong's 64,000 shops might close.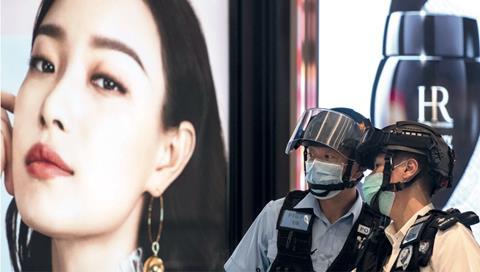 Pang says average monthly retail sales in Hong Kong reached HK$40bn in 2018. In the first three months of this year, the monthly average was HK$28bn. There are two reasons: tourists have stopped arriving because Hong Kong quarantines all foreign arrivals; and the economy has slipped into recession for the first time in a decade. Unemployment has risen to 5.1%, compared to 1% before Hong Kong's current problems.
February is the peak month for Chinese tourists, who have become the lifeblood of Hong Kong's retail sector. But this year, there were only 200,000 arrivals during the month – down 97.8% on-year, according to government statistics.
John Lam, head of China and Hong Kong real estate, at UBS, says: "Half of Hong Kong's retail sales come from tourist spending. That is gone. People cannot travel because of restrictions."
Chinese tourists have also stayed away because of the street protests in Hong Kong.
Hong Kong landlords are trying to adapt to the slowdown in tourism by servicing local needs. "Local shoppers do not need so many luxury stores, so malls have to start to remix their tenancies," says Lam. "I am bearish of retail because of the high reliance on tourist spending in the past. No one knows how long the social unrest will continue."
Han Zhi, director of retail at Swire Properties, says: "It's a tough time for the Hong Kong retail industry – the retail sector is experiencing unprecedented disruption due to the COVID-19 pandemic. Social distancing measures to prevent the spread of the virus have dealt another blow to multiple sectors. Some retailers, like fitness centres, cinemas and beauty parlours, have had to temporarily close, whilst F&B tenants have had to adopt more extensive precautionary measures."
Social unrest and protest activities have further dampened domestic consumption.
Swire Properties manages three of Hong Kong's high-profile malls: Pacific Place in Admiralty, Cityplaza in Taikoo Shing, and Citygate in Tung Chung. "As a shopping mall operator during this critical time, it is important to act fast and take proactive measures to support our tenants," Han says.
Swire Properties was one of the first landlords to offer rental concessions to support tenants from the summer of 2019 – at the onset of social unrest. Such measures have continued into 2020. "We are committed to continue offering tailored support, with the aim of helping tenants keep their operations afloat until the situation stabilises," he says. "Robust occupancy rates in our malls reflect the effectiveness of our efforts."
Han says maintaining close communication with tenants has been vital over the past few months. Government figures for Hong Kong retail sales in the first quarter of 2020 marked an historical low, he says, plunging 36.9% by volume from the same period a year ago.
A Hong Kong government spokesperson points to a long list of government measures implemented or proposed to assist the retail sector. As of 8 April 2020, the government had pledged HK$288bn – or about 10% of GDP – to help offset economic fallout from COVID-19. The measures include subsidies and grants to businesses.
Pang says: "Even with wage subsidies from government and a reopening of retail from social distancing measures, retailers, especially those in malls, will continue to suffer from a low level of sales, although it should go up a bit… shops in malls are usually chain stores, so their survival rate should be higher, even with protests. But if there are protests almost every day in the malls, they won't survive easily."
Pang remains hopeful of a quick recovery if peace returns to Hong Kong streets and fear of COVID-19 infections recedes. But only if, she qualifies, "these things happen".
A foreign bank executive, who relocated back to Hong Kong more than 20 years ago and wished to remain anonymous, says: "People will come back here for holidays, and tourism will revive – although it may not be as busy as before this pandemic."
He adds: "But I do not think HK will regain its former vibrancy, efficiency and brilliance. It will just be another Chinese city after the dust has settled. It will fall behind other Chinese cities, like Shenzhen, Beijing and even Hainan, which used to look up to Hong Kong."
Retail: How will consumers respond as lockdowns ease?
1

2

3

4

5

6

7

8

9

Currently reading

Retail: Will Hong Kong recover?