Asia-Pacific has felt the effects of lockdown ahead of Europe and the US. Florence Chong reports on the malls on the frontline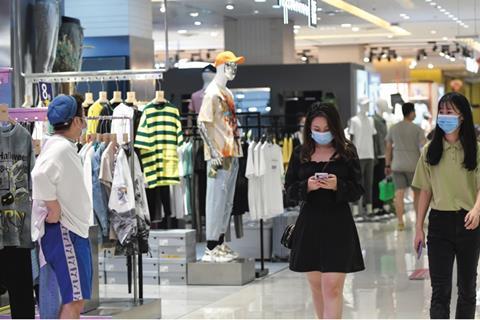 Shopping malls – a core hub of social activity throughout the Asia-Pacific region – fell silent for much of the first half of this year. In some countries, such as Singapore and Australia, the only foot traffic came from people going to supermarkets, medical centres, pharmacies and bank branches.
Upscale malls devoted to high-end consumption – luxury goods, high fashion, jewellery and upmarket restaurants – were eerily quiet. Authorities had tagged these 'non-essential', and forced them to close during the COVID-19 pandemic.
Singapore's largest retail landlord, CapitaLand, says only 25% of its tenants in Singapore were categorised as essential services and allowed to open during the country's lockdown from 7 April to 1 June. Local neighbourhood centres, like many of those owned by the Hong Kong-listed Link REIT, continue to trade quietly, catering to discretionary spending.
Upheaval caused by the government-mandated shutdown of shopping malls is going to take time to work through, with the pain borne by owners and tenants. Legal fights over contractual agreements on issues – like payment of rent arrears, indexed rent increases, tenant demands for rent abatement or rent holidays – might continue to be fought out in courts long after the pandemic is gone. Outgoings in rental assistance have increased for shopping centre owners during the Covid-19 lockdowns.
The past few months have reaffirmed that the most resilient retail assets are neighbourhood centres that offer grocery and key services. As an example, South Koreans, fearing that the corona-virus will be around for a long time, are now choosing their local supermarkets, shunning large malls and discount retailers, according to analysts.
Clothing, high fashion and luxury goods have suffered most as deteriorating economies point to reduced spending power in coming months. The Japan Department Stores Association has released figures showing that sales of apparel and accessories dropped 40% in March, and that department-store revenue that month was down to ¥97.5bn (€7.95bn) from ¥244bn for March last year.
When announcing its full-year results in June, Link REIT, the world's second-largest listed retail trust, says 2019-20 was a challenging year, with several unprecedented events including the social upheaval in Hong Kong, COVID-19 and the US-China trade war. "As our Hong Kong portfolio is non-discretionary focused, the portfolio has shown resilience and growth in early 2019-20. However, the COVID-19 outbreak starting from the first quarter of 2020 has some negative impact to our business," the company said.
Plummeting sales have hastened the demise of retail chains worldwide, and Asia-Pacific has not been spared. In Singapore, the 162-year-old department-store operator Robinsons will close its Jurong East branch in August.
Australia's second-largest discount department store, Target, will close or rebrand its 167 stores in coming months. Such department stores are anchor tenants of large malls, or 'super-regionals' as they are known in Australia, and many mall owners and managers will be recalibrating their tenant mix.
Travel restrictions have halted tourism, which has had a devastating impact, particularly in Hong Kong and Singapore. With tourist arrivals decreasing sharply and people advised to stay at home, CBRE Seoul says bricks-and-mortar retail has been hit hardest. In February, duty-free and department store sales fell by 36.7% and 21.1% year-on-year, respectively. Emerging trends include a steep decline in new entrants to South Korea as international retailers postpone entry plans and move to a "wait and see mode", says CBRE.
Recovery in retail sales, and therefore the health of shopping malls, will vary from country to country. Much will depend on the speed of economic recovery and the shopping malls themselves. China was the first country to shut down its economy, and how Chinese shopping malls trade out of the crisis could provide a guide for the region's retail sector in coming months.
CapitaLand was among those closing its shopping malls in China to comply with a government-mandated nationwide shutdown in February. China has since gradually relaxed what was the biggest quarantine in history – reportedly 760m Chinese were confined to their homes.
More than 85% of tenants at its Chinese shopping malls were back in operation by 19 April,
CapitaLand told investors in May. It said that month-on-month footfall and sales rebounded 189% and 105%, respectively, between February and March.
Han Zhi, director for retail at Swire Properties, one of Hong Kong's oldest and biggest property groups, says: "As the pandemic stabilises, visitors and customers are returning, and sales and footfall in our malls in mainland China are picking up."
Swire Properties kept its six mainland malls open throughout the COVID-19 pandemic, with operating hours adjusted in line with the local situation, meaning that certain businesses, including entertainment, gymnasiums, education and training, were not open to the public. With the lockdown gradually being lifted, Han says all of the group's shopping malls in China have experienced a steady increase in footfall and sales.
John Lam, head of Hong Kong and China real estate research at UBS in Hong Kong, says Chinese malls have benefited from a repatriation of luxury retail sales back to China. He says travel restrictions have – for now – stopped Chinese tourists from spending their money outside of the country.
Australian malls, which started to open from late May, might have weathered the storm marginally better than some of their overseas counterparts. Sholto Maconochie, head of Australia real estate at global brokerage firm Jefferies, says: "We have much more non-discretionary spending in our malls in Australia by virtue of supermarkets, fresh food and essentials, resulting in higher visitation and traffic but generally less average spend the more convenience you have.
"The culture and mix is different in Asia. In Singapore or Hong Kong, people go to malls to socialise and eat out because their apartments are typically smaller and it's more accepted to eat out in a mall. We still have a large proportion of discretionary spending from specialties which pay the lion's share of rent [more than 75%] for regional malls, but generally contribute less than a third of sales. The old anchors of department stores are losing lustre as the malls [themselves] become the department store via increased brands, food and experiences."
In the months leading up to the COVID-19 outbreak, shopping centres had been striving to increase the amount of experiential retail they contain, but this has exposed them more to the COVID-19 fallout, says Maconochie. Scentre Australia's largest shopping centre owner, "has done a good job of remixing, with 43% of stores across its platform now experience-based", he says. "Unfortunately, this has been an Achilles heel during COVID-19 from government-mandated closures and social distancing. But it should bounce back over time."
Maconochie estimates that the level of non-discretionary spending in Australian shopping malls ranges from 20-30% for regional/super-regional centres, and up to 85% for neighbourhood centres. "Shopping centres will always have a place in society," he says. "But rents especially will have to come down by 20-30% [in Australia], in line with other asset classes."
He describes Australia's retail rental structure as "antiquated", having been designed 35 years ago with fixed increases of 4-5% a year. Unlike office, retail rents have not adjusted to the same extent through cycles. "Rents will be re-rated, and this means increased pain [for owners and managers]. There will be increased vacancy and the value of shopping centres will fall commensurately."
Some retailers that looked precarious before COVID-19 will not survive, Maconochie says. "Some secondary malls will also face pressure and struggle to survive, similar to what we have seen in the US and UK. But quality prime malls will
prevail, just at reduced rents and valuations, with increased defensive capital expenditure to keep them relevant."
Historically, he says, malls have delivered high total returns with low yields and high growth, but those returns will now disappear. Malls are now low yield with no growth – or even negative growth.
Maconochie says the public market has already priced in lower returns and asset repricing, pointing to retail A-REITs trading at big discounts to their net tangible asset values – Scentre Group (45%), Vicinity (41%), and Charter Hall Retail (14%).
But, he says, once the sector has been re-rated via reduced and more sustainable rents over the next one to three years, rents should be able to grow at a "more sustainable, normalised level". He says: "Remixing of tenancies will continue, with increased defensive capex and incentives to remain relevant."
Privately-held shopping centres in Australia, however, have not yet adjusted their values to the new reality. Most of these large centres, last valued at a total of A$32bn (€19.5bn) are owned by Australian superannuation funds in wholesale funds. For 25 years or more, Australian shopping centres had delivered returns in the high single digits to low double digits. And they have come to be known as 'fortress' malls because of their dominant positions.
The A$11-12bn of shopping malls earmarked for sale in Australia at the beginning of 2019 has fallen by about half, says Jacob Swan, JLL's joint head of retail investments, Australia. Some large centres, like the 50% stake in Marion Westfield in south Australia, have been sold, and others withdrawn from sale.
Sam Hatcher, joint head of retail investments at JLL in Australia, says: "While liquidity for larger regional shopping centres has been limited, assets that are coming to market with a grocery/supermarket anchor are still being received really well by investors. Private investors and syndicators are seeking investments within the defensive segments of retail."
Sub-regional assets with significant landholdings are also appealing to buyers with long-term development plans – not necessarily as retail but for other uses, such as residential, offices or hotels.
Swan says the underlying land value of centres in metropolitan areas of capital cities underpins shopping-centre asset values. He does not believe that any Australian shopping centre will become redundant. "We will head into a period of limited supply of physical retail malls as constraints around development increase the cost of building them," he says.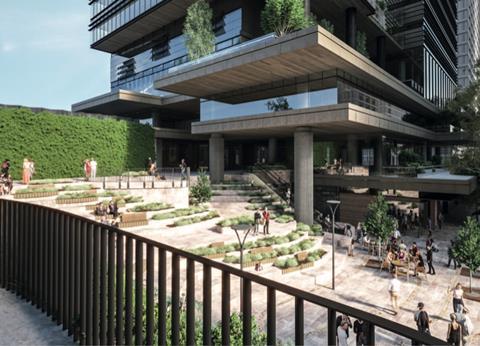 Vicinity reimagines the mall
The shopping-centre owner is fighting back against declining mall use
Vicinity, Australia's second-largest shopping centre owner, is attempting to turn the tide against retail by broadening its interests to include mixed-use assets, apartments, offices and hotels.
CEO Grant Kelley, who joined Vicinity in 2018 after running Singapore international property group CDL for several years, is breathing new life into some of Vicinity's 63 centres across Australia.
The portfolio was valued at A$26.3bn (€16.0bn) at the end of 2019. So far, Vicinity has sold about A$3.3bn in assets. A plan to transfer more into a billion-dollar joint-venture with Singapore's Keppel Land was aborted last year.
Undeterred, Vicinity is pressing ahead to reimagine selected centres, including a recently-unveiled master plan to create a futuristic precinct at Box Hill, 15km east of central Melbourne.
In what will be a decade-long project, the 5.5 hectare site will house a 25-level office tower, a 48-storey residential building with 366 apartments, new public space featuring a town-square amphitheatre – and, of course, a shopping centre.
Carolyn Viney, Vicinity's chief development officer, says Box Hill is Victoria's fastest-growing suburb outside Melbourne's CBD, and that it will continue to grow as a key business, residential and retail destination.
"Our plans are about capitalising on our prime location, our unique 5.5 hectare landholding in the heart of Box Hill's town centre, to meet changing consumer preferences to live, work and play close to home," she says.
Some estimate that the project will cost about A$2bn. "We are still in the early stages of planning," says Viney. "The two lodged [development applications] are the first step. It's too early to discuss project financials. We will determine final funding of the project prior to commencement.
"The project has been deliberately set up to provide flexibility for Vicinity to participate in a variety of different ways. This may involve Vicinity management and equity participation and other funding mechanisms, should we so choose."
Asked if Box Hill will be a template to reposition other Vicinity centres, Viney says: "We're continuing to actively consider mixed-use additions, like offices, hotels and residential, to complement our existing retail offer, especially in locations with good transport connections."
She adds that it will be necessary to take into account the changing environment, and that Vicinity will be closely scrutinising all projects before proceeding.
At a centre in the densely populated suburb of Bankstown, in Sydney's south-west, Vicinity has another ambitious plan to add 300,000m of additional 'developable' mixed-use area over multiple stages to take advantage of a central location.
Bankstown Central connects to major New South Wales Government infrastructure investment projects, including rail, planned health and education services, technology and innovation precincts, and a new commercial airport.
Vicinity is also looking at options for site use at other centres. At Emporium Melbourne, the plan is to develop co-working facilities, while Sunshine Marketplace In Melbourne is set to have a serviced apartment block.
While Vicinity is seeking or has had approvals from some local authorities, Viney says: "Proposed projects will be closely scrutinised before any decision is made to proceed."
Swan believes that existing centres are positioned to recapture lost ground in the sector over the past five to seven years. Just as Vicinity is finding ways to reimagine its shopping centres, investor/owner Swire Properties is not shying away from more investment in retail in Asia-Pacific either.
Han Zhi says: "We are interested in expanding our retail footprint, and we are open to opportunities that fit our business strategy in both Hong Kong and mainland China."
In the mainland the group's focus remains on tier-one cities, including the Greater Bay Area, "where we see great long-term potential." The group's development team is "actively exploring opportunities in the region", Han Zhi says.
Retail: How will consumers respond as lockdowns ease?
1

2

3

4

5

6

7

8

Currently reading

Retail: Asia-Pacific first in line

9