China's largest online company has been opening physical stores, suggesting that the future of retail will not be exclusively digital. Florence Chong reports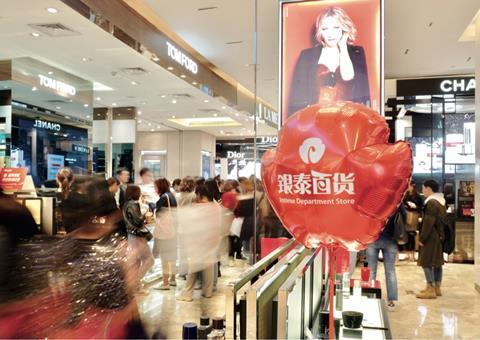 In August 2019, to much fanfare, a new department store opened in Madrid's Intu Xanadu shopping complex, which is jointly owned by Nuveen Real Estate and Intu. It was no ordinary tenant; it was AliExpress, a subsidiary of Alibaba, China's largest online company. The Madrid store – AliExpress's first physical store in Europe – comprises 740sqm and showcases 1,000 products from more than 60 brands.
It is also not your run-of-the-mill department store. It bristles with cutting-edge innovation, and is driven by consumer analytics. While a novel development for Europe, for Alibaba the Madrid store is the latest example of its move into the world of bricks-and-mortar retail.
Shoppers in China have long been used to supermarkets, department stores and hypermarkets owned and operated by the Alibaba Group. Now Alibaba is leading its competitors in expanding into what it calls 'new retailing', a development that gives rise to cautious hope that the retail wheel might be starting to turn.
Some analysts see Alibaba's push into the in-store customer experience as a clue to the future of retailing. At about 28% of the retail market, online shopping has penetrated the market more deeply in China than in any other country. The penetration rate is about 20% in key cities in the UK or the US. In Australia, it is less than 10%.
But retail analysts are asking whether Alibaba thinks growth in online sales might start to slow from current levels? Is this the time to seek a slice of that remaining 72% of yuan still spent in-store?
Alibaba first went into bricks-and-mortar stores in 2015, with the introduction of Freshippo supermarkets (known in China as Hema outlets). In 2017, Alibaba took a stake in China's InTime department-stores group before taking over the company in 2017. Now privatised, InTime runs 65 stores across China. Within months of the InTime deal, Alibaba bought into China's largest hyper-market chain, Sun Art Retail Group, for HK$22.4bn (€2.56bn). Alibaba was reported to have invested some US$9.3bn (€8.3bn) in brick-and-mortar ventures in 2017.
"Physical stores serve an indispensable role during the consumer journey, and should be enhanced through data-driven technology and personalised services in the digital economy," says Alibaba CEO Daniel Zhang when closing the Sun Art deal. By the end of 2019, Sun Art Retail had 486 outlets in China.
Alibaba sees itself as "a platform-based economy", says the spokesman for Alibaba. He says that by digitising bricks-and-mortar businesses to operate online, the customer base and reach is expanded, enhancing customer-experience and options, and making operations more efficient. Essentially, it is merging online and offline sales channels and inventory, logistics and payment, he says.
"Your store houses offline operations, online operations and warehousing," he says. "It becomes a fulfilment centre, a starting point for delivery, and so on. In some outlines, there is a restaurant. Customers can stay in and dine on fresh seafood they select themselves from in-store tanks.
Essentially, what we are saying is that digitisation makes operations more efficient, and that you get better yield while the shopper gets a better experience."
Digitisation increases efficiency. Turnover at a Freshippo store can be four to five times that of a traditional supermarket per square metre, says the spokesman.
During the COVID-19 lockdown, older Chinese people who traditionally shopped in wet-markets discovered that they could get what they wanted online and have it delivered to their homes. "We are not trying to compete with retailers," the Alibaba spokesman says. "We are showing them that it is not about two different channels. It is omni-channel. Under new retail, the store becomes a showcase, rather than just having merchandise on the racks. We view the Taobao select store at AliMall, for example, as a place where you can touch and feel what you see online, in the app, and either buy it in-store or order it on the app and have it delivered to your home or business.
"In all Alibaba physical stores, even if an item is not in-store, it is online, and the customer can take delivery of the merchandise as soon as 60 minutes if they live within a 3km radius. I can go shopping during my lunch break and buy groceries. I don't have to take them back to my office. My purchase can be sent to my home or where I want it to go."
When the COVID-19 lockdown caused 65 InTime stores to close for several weeks, InTime turned to live streaming and online sales to continue trading.
The Alibaba group, which passed US$1trn in gross merchandise value (GMV) this year, says Freshippo's revenue recorded strong growth in February and March, through an increase in online customers, higher purchase frequency and larger order sizes.
During the first three months of 2020, online purchases represented about 60% of Freshippo's GMV, up by 10 percentage points year-on-year.
Alibaba has also gone beyond merchandise retail, venturing into the hotel experience. Adjacent to its campus in Hangzhou sits a futuristic, technology-anchored hotel called Flyzoo. All services, from check-in, room entry and room service, can be delivered through an app and other technology. Several international hotel groups have visited the Hangzhou hotel, interested in seeing the technology first hand.
Alibaba has set an example for other pure e-commerce platforms, such as Singapore's online fashion brand, Love, Bontino, which has now opened three physical stores. Another joining the trend is Line Friends, described as one of the world's fastest-growing global character brands. In June 2019, Line Friends opened its second US store, and it now operates more than 140 physical stores in 12 markets, including New York, Los Angeles, Tokyo, Seoul and Shanghai.
Retail consultants say such groups have found that having physical stores improves sales for the pure e-commerce platforms, and that the omni-channel approach is more successful than having just an online presence.
Founder Jack Ma, who has since retired, conceived of the new retail strategy as a shopping experience without boundaries, merging online and offline commerce. Central to his belief was that the future of retail was not about channels but experience.
Retail: How will consumers respond as lockdowns ease?
1

2

3

4

5

6

7

Currently reading

Retail: All aboard the AliExpress

8

9