Will developers and investors in an already battered European retail sector begin to see opportunities or just a spiralling decline? Mark Faithfull reports.
Few investors can be unaware that retail has been reeling from an long period of transformation, staring down multiple challenges. Yet surely no one was prepared for a global event that effectively closed down all but grocery retailers and pharmacies over a sustained period and then brought them into a new, uncertain world of consumer health and wealth insecurity. New developments have been stopped or delayed, transactions have been cancelled and store groups are lining up to renegotiate rents.
If physical retail was already in a perfect storm as 2020 began, then quite how to summarise the impact of the pandemic probably requires Biblical descriptors. The second half of the year remains full of uncertainty and some shopping centre deals have already collapsed.
UK and Spanish landlord and developer Intu Properties entered the lockdown with its share price in freefall after it was rebutted in a cash call from existing investors to prop up its balance sheet, with a number of its centres threatening to breach covenants.
In May, Intu Properties' second-biggest shareholder, South African fund manager Coronation Asset Management. As IPE Real Assets went to press, Intu had just filed for administration, having failed to reach an agreement with its lenders to defer payments.
Intu said it has received only 40% of rents due for the first quarter of this year, compared with 77% in the same period last year. Intu has appointed former PwC and EY restructuring officer David Hargrave to help it restructure the business. The first step in this was to complete the sale of Spain's largest shopping centre to Spanish investment group Generali Shopping Centre Fund for €475m.
Intu Puerto Venecia in Zaragoza, north-east Spain, has an annual footfall of 19m people and Intu will bank €238m, with the rest of the sale's value going to co-owner Canada Pension Plan Investment Board.
At the end of 2017, UK REIT Hammerson had been in pursuit of Intu, after it had rebuffed an acquisition offer from French retail giant Klepierre, but Hammerson has since faced its own funding issues. In May, Orion European Real Estate fund abandoned its pursuit of Hammerson's portfolio of seven retail parks, deciding to lose a committed £21m (€23.3m) rather than take possession and invest a further £380m. Orion had agreed to buy the seven Hammerson retail parks across the UK for a 22% discount to last June's book value.
Given its travails, it was not surprising that Hammerson CEO David Atkins announced in May that he will step down by spring 2021. Paid only 37% of rents billed on the last quarter day in March, and with fears the tally is likely to be worse in June, Hammerson has a £2.8bn net debt and might ask investors for additional funds, with Tom Musson of investment bank Liberum telling clients: "We think Hammerson requires an equity cure potentially in excess of £500m. Given the near freeze in investment markets, we think opportunities for disposals are limited, highlighted by Orion not proceeding with the transaction. Management might need to act sooner rather than later to protect against covenant breaches in the current market."
Tom Leahy, senior director EMEA analytics at Real Capital Analytics (RCA), says European investment deals were down 75% in March compared with the same month in 2019, with transactions of below €100m hit particularly hard. Retail and office properties accounted for two-thirds of terminated deals, and the UK had 16 failed deals compared with just one in Germany.
Leahy says the crisis is "exposing and amplifying" existing weaknesses. "The retail market is becoming increasingly polarised across the board, and in western Europe we've also seen a sharp divergence between the prices for the very large and smaller-to-medium-sized shopping centres in the past few years," he says. "We think it's likely that smaller shopping centres will, on the whole, bear the brunt of store closures."
While RCA typically registers 1,000-1,200 unique buyers in a quarter in Europe, during April it registered only 150, with the fall particularly acute for cross-border investors. On the flip side, after years of being outbid by global competitors, that could mean more domestic investors and international players with a local presence making a comeback, particularly in larger, structurally more liquid, core markets.
Ian Sandford, president at Madrid-based Eurofund Group, is keen to point out that real estate markets with higher average liquidity typically recover quicker. With debt levels lower than in the 2008 financial crisis, and many lenders wellcapitalised and subdued new space development, there are some grounds for optimism, especially in an ultra-low interest-rate environment.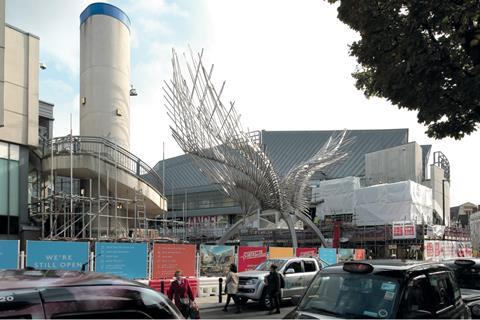 "The big difference between now and the last financial crisis is liquidity," he says. "Interest rates are at near zero and will be for the long term. And there are big walls of capital being assembled to be deployed in real estate. But where I see a difference is that shopping centres and retail will no longer be considered as part of mainstream investment – where generalists manage the portfolios – but as alternative assets, such as hotels for example. Because I think there is a growing appreciation that highly specialist skills are needed to manage retail and we may well see investment and specialist management combining to direct the strategies for shopping centres."
However, he is more concerned that smaller, less well-funded centres may struggle with the capital required to introduce new safety systems.
Volker Kraft, managing partner, ECE Real Estate Partners, says: "Inevitably, a crisis will bring opportunities, although right now is very early. But we will be looking for investment and acquisition opportunities in perhaps the next six to 12 months. We can foresee some value but if a scheme is robust and sustainable then it won't be offered at distress levels. Those that are available at distressed prices will probably be in that situation for a reason."
Even major projects have been affected. Constrained supply is not just about the possible extinction of secondary centres, but also the mothballing of flagship schemes. In April, Unibail-
Rodamco-Westfield quietly cut funding for its proposed mega-shopping centre in Segrate, announcing: "URW had divided its pipeline and removed €3.2bn from the projects. Following the outbreak of COVID-19, the group further reviewed its pipeline and announced that it will remove an additional €1.6bn from the controlled projects, including Westfield Milano."
It has subsequently stressed that the joint-venture with Stilo Immobiliare Finanziaria has not been cancelled but suspended. Work will continue on its ambitious Mall of the Netherlands, in the Hague, and the mixed-use quarter in Hamburg.
Major European developments are comparatively thin on the ground, with Hines' Cherrywood in Dublin, the urban Saint-Jean by Apsys in Bordeaux and Intu Costa del Sol among only a handful of significant ongoing schemes.
Meanwhile, Nuveen's Edinburgh St James mixed-use project in the Scottish capital has been delayed and is thought unlikely to open before Christmas, as construction was delayed by the UK lockdown.
Gunnar Herm, head of real estate research & strategy – Europe, UBS, says in the company's latest Real Estate Outlook report: "Overall, we expect the outlook for the retail sector to remain weak as we see more administrations and more rationalisation of portfolios. It is no surprise that prime rents began to fall in Q1, with further reductions very likely over the course of the year We are very unlikely to see significant development; however, as vacancy rates across Europe are expected to increase – especially in the shopping centre and retail warehouse sectors – and construction activity remains depressed. We expect the UK and Italy to be most negatively affected, while CEE countries may prove to be more defensive."
Also concerning for specialist developers is the potential impact on designer outlets, hit by both the retail lockdown and what are likely to be lengthy restrictions on travel, especially given the reliance on Chinese spenders for many schemes. Designer outlets have typically bucked the negative shopping-centre retail trends recently, but the prevailing dynamics post-Covid-19 make for an uncertain and undoubtedly changed near future, particularly given possible international travel restrictions. That said, they could see a short-term boost as fashion retailers attempt to sell large quantities of excess spring-summer inventory.
What remains to be seen is whether landlords and retailers can create a more collaborative business model. The early days of the crisis were punctuated by a fractious rent dispute between tenants and landlords, with little agreement over who should carry the financial load for the lockdown period. By contrast, Brookfield, one of the largest owners of retail properties in the US, has launched a $5bn (€4.4bn) Retail Revitalisation Fund, targeting retail businesses with yearly revenue above $250m.
Ron Bloom, the former manufacturing adviser for President Barack Obama, will be at the helm of the new fund. He says: "This initiative is being designed to assist medium-sized enterprises in getting back on their feet. We believe this is a critical component in getting the economy moving again, and we would like to partner with companies and entrepreneurs that can draw on our capital and expertise to stabilise and grow their business."
It remains to be seen whether European developers follow suit, but the seeds of Brookfield's initiative pre-date COVID-19 – it joined a partnership that included Simon Properties and Authentic Brands to acquire fast fashion retailer Forever 21 from bankruptcy.
Today, if shopping centres are to survive and move forward, that sort of silo-busting creative thinking will be needed more than ever.
Retail: How will consumers respond as lockdowns ease?
1

2

3

4

5

6

Currently reading

Retail: A year of shopping dangerously in Europe

7

8

9