International real estate investors will continue to invest in London despite warnings that the market could be nearing a peak, delegates at this week's Expo Real in Munich heard.
During a panel session, Mike Sales, managing director for Europe at TIAA Henderson Real Estate, said investors should "have a big eye on the exit" as the weight of capital pushed yields to unnatural levels.
But Christina Gaw of Gaw Capital Partners and Richard Kolb of Canada Pension Plan Investment Board, both on the panel moderated by IP Real Estate's Russell Handy, revealed there was still appetite among Asian and Canadian investors to invest in the UK capital.
Sales said: "London has been a very attractive destination for capital, and I'm not saying it's at an end but there is a cautionary sign in the market with the influx of foreign capital driving yields down to what might be abnormal levels in six months' time."
He told investors "we are now pretty close to the peak in the City of London investment market".
Sales added: "There may be a little bit more in it but we are definitely towards the top of the hill."
But Gaw, managing principal at Hong Kong-based Gaw Capital Partners, said some investors still considered yields of 5% attractive.
"Asian investors have only just begun to invest in London", she pointed out and added that in their home countries yields were down to 3.5% or 4%.
Other factors welcomed by Asian investors are liquidity, a transparent legal system and a friendly tax situation.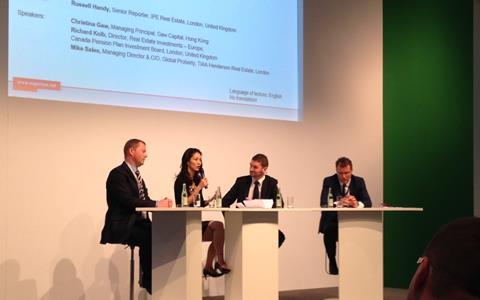 She noted 2013 was the first entrance of an Asian insurer buying the Lloyds building and only in 2014 so far there were six transactions.
Gaw said she expected "a lot of inflow from Asia", particularly as Taiwanese insurers "only started" to invest this year.
She said she was advising investors to look into alternative sectors in London, such as student housing or residential developments. But she added this was difficult because large Asian institutions starting to build a London portfolio prefer landmark assets.
Kolb, director of European real estate investments, said the CND230bn (€154bn) Canadian institution was "not investing in London as aggressively as it used to" and is focusing more on "stock selection".
He added: "For a large Canadian pension plan, London is an obvious place to invest in, with high quality professional infrastructure and tax as a positive feature – we have been invested since 2005."
Kolb remarked that trophy buildings such as the Gherkin were being sold in 2007 at the top of the market at 4.3% yields and this was happening this year. But he said he did not want to guess whether the market had reached a peak again.
He observed a "secular change" in London market over the past seven years, as the city has "grown in stature as a global investment destination". There is now "more equity on the planet chasing real estate" which means yields will be fundamentally lower than they used to be, he said.
Kolb expected yields to be "at a similar level" in 2015, but he said "the uncertainty will be the election" as "certain outcomes might be unfavourable" for the real estate business.
"The rate of growth in prime residential will not go on forever, but I am not sure when it will stop", Kolb said.
He warned "too many people called the residential market over the last years and got it wrong", because "there are just too many global economic dynamics feeding into this market".
Sales stressed that "London is not one market" and less traditional investment areas in the city, such as Shoreditch and King's Cross, offered more opportunities, especially with tenants becoming more flexible, moving to different areas in London.
"These fringes offer a diverse tenant mix the financial district lacks", he said.
CPPIB has been targeting office properties in areas such as the Southbank and Victoria.
The pension fund is funding a mixed-use development in the latter in joint venture with Land Securities, and Kolb said this would be "the new corporate hub for the Westend of London".
International investors have begun to look outside of London for opportunities in recent months – at least in the retail sector where, for example, CPPIB is invested in Scotland and Birmingham.
"There is an increase in demand for regions which shows in decreasing yields, but it is much harder to invest in the regions," Kolb said.
However, Gaw stressed that Asian investors would rather go to different sectors within London than into traditional commercial property in provincial UK markets.