As a global powerhouse in information and communications technology (ICT), it is hardly surprising that the South Korea's government would aim to fashion its capital into a smart city showcasing the country's technological edge.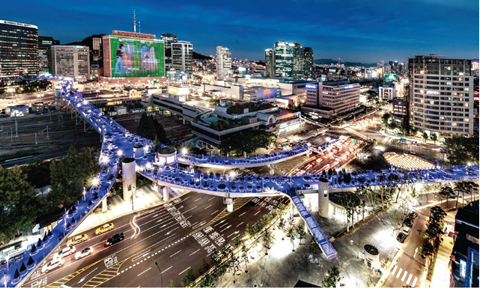 Technology permeates nearly every facet of life in Seoul, whether ordering food from a small café with scant human intervention or interacting with government departments. City authorities have leveraged the benefits of emerging technology into systems that allow better management of the complexities that running a city presents.
The city government harnesses big data to deliver public services that range from efficient transport networks to e-voting. As an example, data was curated from 3bn phone calls to determine where night transport services were most needed. Seoul now has nine Night Owl bus routes.
South Korea's ubiquitous, super-fast internet connectivity – four times faster than the world average of seven megabytes per second – has facilitated the 'digitalisation' of Seoul. Virtually every Korean household (99.2%) is connected to the internet (the country average according to the Organisation for Economic Co-operation and Development (OECD) is 78%). The OECD also points out that South Korea has 112.6 mobile subscriptions per 100 inhabitants.
Korea is home to Samsung, LG, SK, and KT, among the world's biggest names in ICT. Korean ICT exports were US$220m (€199m) in 2018. Daniel Oh, assistant professor of architecture at Korea University, says these companies, supported by government, are pushing to move into supplying the 'smart city sector' at home and abroad.
Korea created what it calls a 'test bed' for an intelligent city when it built Songdo, dubbed 'the city of the future' on the outskirts of Incheon, 36km south of Seoul, an ongoing project started last decade. Oh says there are also many 'smart' neighbourhoods, streets and urban interventions within Seoul. "Seoul is not yet a smart city," he says, "but it is actively testing and implementing various technologies and infrastructures to become a smart city." The "smart city idea" is more about turning cities into service-oriented infrastructure, he says.
"We are switching to a knowledge-based and service economy," adds Myounggu Kang, professor of urban and regional planning at the University of Seoul. Korean authorities are in the throes of implementing the Seoul 2030 master plan, a blueprint for the capital, which Kang says is about micro-management of the city rather than major change. Much of the effort involved is being channelled into actually maintaining the city.
After Seoul 2030, he says, the next blueprint, Seoul Plan 2040, will be very different. While a preliminary version of the plan is not expected for a year or two, it is expected that technology will play an even greater role.
Kang, an MIT alumni and senior urban specialist with the World Bank in Washington, says: "New technologies and artificial intelligence (AI) will drive the new trend. "These technologies have a lot of potential – some good and some bad – in the way they impact our lives."
Kang admits that, for the average (older) Korean, a big change in mindset is required to accept an AI future. Increasingly, he says, there are concerns that technology should support and not ruin the life of citizens. "We want to be able to control our lives, we want balance," he says. "The talking point is how to strike that balance. We know the application of new technologies can change city life. But we need to find a balance."
Oh says his students are immersed in the new technologies. "Young people want to live the experience, and they find it very easy to live in that environment. It is a generational thing."
Technology as a sector has served South Korea well. With a per capita income of US$40,096, Seoul is one of the wealthiest cities in the world, according to OECD data. Yet Korea's measure of 'life satisfaction', at 5.89, is lower than the world average of 6.8. Seoul faces the same urban issues as other major metropolises around the world. The most pressing concerns are housing affordability, equality and sustainability.
Perhaps unsurprisingly, a new generation of political leaders – led by President Moon Jae-in and Seoul Mayor, Park Won-soon – both with backgrounds as human-rights lawyers and involvement in activism – have taken office.
Oh says that when President Moon came to office in 2017, his government identified 70 sites for urban regeneration and expects 300 urban regeneration projects by 2022. However, it appears the scope was too wide for practical application. "Most people in academia and public sector involved in these projects quickly realised the difficulty in trying to match capability with an understanding of the projects, as well as including public input through citizen participation," he says. "They saw the limitations. Given five years to implement each project, the programmes were going to have hardly any long-lasting impact on the neighbourhoods they were intended to improve."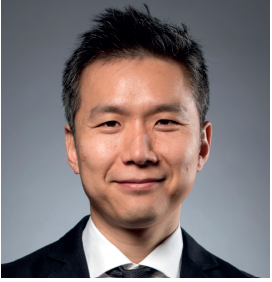 But Seoul's metropolitan government is leading the way in urban regeneration projects, he says. Mayor Park named well-known architect Seung Hyo Sang as Seoul's City Architect to advise him not about buildings per se but on key public projects geared towards open spaces and public infrastructure.
Oh says Park sets a very different narrative to his predecessor, Oh Se-hoon, whose vision was to create impressive buildings like Dongdaemun Design Plaza by Zaha Hadid, hoping to replicate the success of Guggenheim Museum, Bilbao in Seoul. Park has veered towards public and social projects.
"About two years ago, the city of Seoul planned and executed 20 public-space projects scattered around the city," says Oh. Among these were Seoullo 7017 and Oil Tank Culture Park, an oil depot converted into a park. Both are now promoted as cultural attractions to the citizens of Seoul as well as for tourists.
Joseph Lee, joint CEO and president of IGIS Asset Management, Korea's largest fund manager, says Park has "humanised" the city. "Our mayor is a person with vision, and his vision is to regenerate the city. His drive is to deliver projects that will improve the overall image and livability of the city."
Lee says the city has changed dramatically over the past few decades. He points to the development of Seoul's answer to Wall Street, Yeouido. Housing the International Finance Centre. It was completed in 2012 and has "internationalised" the city, he says. Gangnam has evolved into a business district.
"Together, Yeoudio and Gangnam have helped increase the visibility of Seoul," says Lee. Seoul, he adds, has become a destination of growing interest to global investors. M&G Real Estate paid KRW1trn (€778m) for the twin-tower Centropolis last year.
Lee says sustainability is another key focus. Hyundai, a global car manufacturer, plays a key role in electrifying the city's car fleet, installing storage batteries and charging pods.
Kang says: "There has been more sustainable development – embracing the green, social and economic aspects of sustainability."
Seoul's transformation is based on three pillars – business, technology and public infrastructure. Kang recalls how, 20 years ago, the city was a highly congested. It has been transformed into a liveable megacity with smart mobility and green lungs.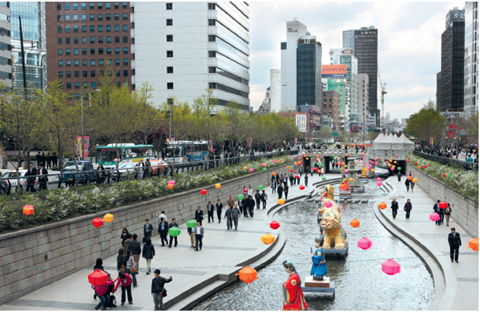 Rather than a functional utilitarian city that worked more like a machine, today's Seoul is a living, breathing, smart city where people work, play and produce. The city itself has become very much part of their lives.
The centrepiece is the Cheonggyecheon stream project, a US$400m restoration of the 6km stream running through the heart of Seoul's central business district. Kang says the project entailed the removal of 16 of the 20 lanes of surface road and elevated highway that cut across the city. "At the time, downtown Seoul was congested and polluted, so people moved out into the suburbs to live," he says. "The stream project has revived the entire downtown area, bringing life back to the city."
Cheonggyecheon has also created further momentum to regenerate downtown Seoul, he says. But an unintended consequence is that the much-improved environment has become a catalyst for soaring real estate prices, exacerbating the issue of housing affordability.
To understand growing public concern over affordability, Mayor Park himself moved briefly into a 30sqm rooftop apartment in Gangbuk-gu, one of 25 districts that make up the city of Seoul. For a month he lived in cramped conditions without air-conditioning – the typical affordable housing available to lower-income earners, including young students and the elderly.
Affordability is one part of the social problem facing Seoul. The other is the new economy. The new industrial revolution is based on knowledge, and that destroys jobs. "We worry about how young people can find good quality jobs," Kang says.
One of Park's initiatives was to set up Seongsu-dong, Seoul's Centre of Social Ventures, to foster high-tech start-ups and various social ventures. Seongsu-dong, which occupies former industry sites, has attracted over 200 social enterprises.
Oh says: "Young people in social ventures are trying to address the livability problem in Korea. That is why I try to help them. Because I am in academia, I can always act as a bridge between larger companies and the local or central governments and young social venturers – because I think that this is one of the ways the young generation can have a chance to make a difference in a hyper-competitive environment like South Korea. I am sure it is the same in other developed cities.
"We have to give more opportunity to the younger generations. As I grew up with hardcore capitalism, I don't fully agree with social ventures and the sharing economy, but I do believe in giving them more opportunity. After all, they should be shaping their own world, not inherit the old one from us. Seoul is transforming incredibly fast, and it will look and feel very different in 10 years from now."