Value-add funds are very popular today, but they tend to be dwarfed by opportunistic mega-funds. Hines has ambitions to encroach on their space
Institutional real estate investors seem to be climbing back up the risk curve. Investment intentions surveys from regional real estate associations PREA, INREV and ANREV suggest high-returning strategies are flavour of the month.
This is particularly true of North American investors, 37% of which cited 'opportunity' as the preferred investment style for 2020. The equivalent figure for European investors was lower at 20%, but this is the highest it has been since 2009 (figure 1) and twice what it was last year (9.8%).
This might be reassuring for Blackstone which, according to Preqin, is seeking to raise $10bn (€9bn) for its latest opportunistic European real estate fund, having closed its latest global opportunity fund last year at $20bn. Blackstone European Partners Europe VI has the largest capital-raising target among real estate funds today.
Other than in 2018, core is at its lowest level of preference among European investors since 2009. But value-add continues to be the most preferred investment style, a trend that started in 2016.
According to Preqin, there are 59 European value-add real estate funds in the market today (figure 2), seeking to raise an aggregate of €20.6bn of capital. Eight of these have targets of at least €1bn, and the top three – BlackRock European Property Fund V, Hines European Value Fund 2 and NREP Nordic Strategies Fund IV – are aiming for €1.25bn each.
BlackRock announced that its fund had held a first close last summer and was more than halfway to its fundraising target. Meanwhile, NREP has raised $106m from three US pension funds: the Los Angles City Employees' Retirement System, Los Angeles Fire and Police Pensions, and the Sacramento County Employees' Retirement System.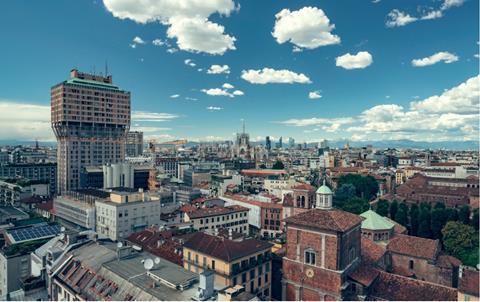 Hines, meanwhile, is more than halfway to reaching its €1.25bn target, securing €637m – already close to the €721m it raised in total for its previous European value-add fund in 2018. And it had ambitions to increase the size of future funds.
Hines, which started life as a US developer in the 1950s has evolved into global fund management group. It has been active in Europe for 30 years and running funds and separate accounts for the past 15 years. Today it has 66 core-plus and value-add projects on the go in the region.
In 2016, Hines decided to set up a new series of discretionary value-add funds for the region. "After working in that space through a variety of global vehicles and separate accounts, we decided the time was right to create a new commingled discretionary fund vehicle rather than all these different channels we've been using," says fund manager Paul White.
Hines deliberately kept the first fund small "relative to our size", he says, with the "intention we would invest that quickly and well… and then move to bigger things with subsequent funds.
"Launching a new fund series is not always easy – there are a lot of investors that simply say we don't do first-time funds, you need a track record within this series," White says. "So relative to our size we aimed low, I would say."
The aim was to raise €500m of equity. "As it turned out, we were oversubscribed," White says, closing with €721m of equity. "We slammed the door at that point, despite having others that were interested."
The first fund was oversubscribed and committed all of its capital in just over two years, making nine investments in Germany, the UK, Denmark, Spain, Italy and Poland. Its most recent acquisition was 27-storey, mixed-use Torre Velasca tower in the centre of Milan.
Hines has secured two seed assets for the new fund: an office in Munich and a residential asset in Madrid. A third asset, a West End office/retail project is also under exclusivity. With leverage and 5% co-investment from Hines, the new fund is expected to have purchasing power close to €3bn.
But future funds in Hines's European Value Fund series could get even larger, according to White, who says Hines has the long-term "aspiration to have the flexibility to have more complex and larger portfolio and platform deals" more commonly associated with large opportunity funds.
Value-add funds tend to be smaller than opportunity funds because the former are more management-intensive and the latter often rely on scale to make larger portfolio or corporate acquisitions. But White says Hines has already "dipped its toe" in the space, with its first value-add fund having made a €300m portfolio acquisition in Germany.
He says the new fund would have the capacity to make further inroads into an area where opportunity funds "are perhaps less determined to drive all of the asset-level value creation that might be possible in the underlying real estate".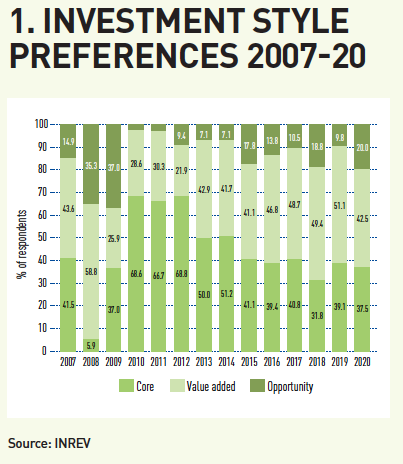 He adds: "They may be moving assets out more quickly for the IRR, whereas our core skillset is at the asset level with our hands on the buildings optimising their value. I definitely see the future of this value-fund series encroaching on that space and… bringing more competition into that realm."
Development DNA
Investors in Hines's first value-add funds were almost exclusively European. The fund manager tends to market regional funds to investors from that region first – in part, so they can show to other jurisdictions that local investors had underwritten the strategy.
"We marketed it to Europe first with the intention of going to the US and Asia and second, and it went so well in Europe that… we were oversubscribed by European investors," White says.
"Only the last investor that came in was an Asian pension fund. This time around we are following a similar sequence, but we have taken all European investors for the first close and the next few months will have more roadshowing and focus on our Asian and US partners."
White attributes the demand for the strategy of the two funds to Hines's unique position of being a global fund manager with vertically integrated developer and operator at the core of the business. Other private equity-style fund managers are often investing through networks of operating and execution partners in different countries.
"There are other vertically-integrated-model businesses that are very good at what they do, but they tend to have a narrower footprint – they don't have depth of local-team capacity in as many markets and cities as we do," he says. "So I believe that we – especially in the current phase of the market cycle where there is more competition than ever for every available marketed deal – the strength of that local platform… is what gives us the advantage and the ability to put more money to work in [a short] timeframe.
"Every deal in a value-add fund tends to be management-intensive, both because of the market-accepted duration of an investment period, which is rarely more than four years… and the level of competition in the market and the intensity of execution."
The appeal of value-add strategies is in part due to the situation facing investors: a continuing lower-for-longer-interest-rate environment. "It's very hard to think of a good reason why in the foreseeable few years we can expect a strong uplift in macroeconomic growth and therefore a strong uplift in interest rates and therefore sudden change in yield pricing in real estate and other real assets," White says. "In that environment it's a lot harder, in our opinion, for those managers who rely on spotting big structural or cyclical opportunities to place bets, to find a place to do so.
He adds: "We are more and more in a phase of the cycle where old fashioned asset management and real estate execution is what will drive value creation and drive returns above the level of just core income. And I think investors are recognising that having all of that real estate value-creation skillset in-house is a massive differentiator… to deliver value-add returns for real estate in the coming years. I believe that is why investors are coming our way for this series."

Editorial: Addressing homelessness and pension liabilities together
1

2

Currently reading

Value-add funds: Hines brings ambitions of scale