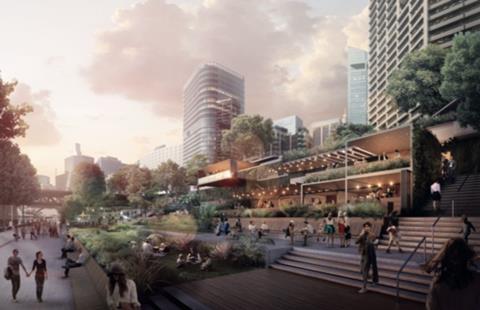 Australian REITs are having the strongest year for capital raising in nearly a decade
When Australia's oldest real estate investment trust (REIT), the GPT Group, went to the market in the summer to raise A$800m (€496m) to finance a large acquisition, the order book was filled within four hours. GPT could probably have raised twice the amount, given the level of oversubscription.
The company is not alone. Other recent so-called mega-institutional raisings of A$900m and A$750m have been snapped up on the day of launch. So far this year, the number and value of raisings in Australia has already exceeded what took place in the aftermath of the 2008-09 global financial crisis. To date, A-REITs have raised close to A$4.5bn – the bulk of it in May and June.
Bob Johnston, GPT's CEO, says he was "pleased but not surprised" that demand from investors was so strong. "Real estate yield remains very attractive for investors," he says. "We did the raising on a 4.4% distribution yield. Globally, we have seen interest rates go lower in the last six months. If you look at the yield of [Australian] 10-year bonds, they have fallen to 1.3% – with 15-year bonds at 1.5%.
"In such a low-interest environment, we offer a reliable and predictable income stream. The fundamentals of the property sector remain strong, even in retail. We are still getting strong cash flow from our shopping centres."
GPT is a diversified REIT, capitalised at A$11.97bn with 40% of its assets in retail, and balance made up of office and industrial.
So why stop at A$800m? Johnston says: "We have been judicious in our raising. We only raise what we can put to good use."
GPT went to the market to raise capital for its A$553m purchase of Brookfield Asset Management's interest in Darling Park, an office complex, along with a retail building, Cockle Bay Wharf, on the western fringes of Sydney's CBD. It was a strategic acquisition, giving GPT full control of a proposed A$1bn project known as the Cockle Bay Wharf Development. GPT's wholesale fund already had a majority interest in the precinct.
GPT's capital raising more than covered the cost of the purchase. Johnston said GPT's intent had been to raise the acquisition cost but, given the strength of demand, the group accepted a total of A$800m. The balance will be used to finance GPT's deep development pipeline.
For many, Australia's public property trusts are now an investment of choice. This explains the outperformance of the sector against the broader Australian share market.
In the 12-months to June, ASX200 REITs returned 17%, outperforming the broader index by 5.9%, according to JP Morgan's Australian REIT team, which is tipping A-REITs to trade higher.
JP Morgan says that, over the past 10 years, Australia's 10-year (bond) yield has dropped by 4%, and that this is a significant factor in the rate-sensitive REIT sector, which has gained 134% in market value over that period.
Total market cap of the ASX S&P 30 A-REITs index – the benchmark for Australia's listed trusts universe – rose from A$124.6bn in December 2018 to A$143.2bn in July.
Winston Sammut, head of property securities with Charter Hall Group, believes A-REITS have entered uncharted waters. "I do not see this as a short-term phenomenon," he says. "It is going to run for a long while on the back of lower-for-longer interest rates.
"A year ago, you were getting upwards of 3% for 10-year bond rates. It is now less than half that. We have had two cuts in two months and markets are expecting further cuts in coming months. The evidence is that rates are not going to go up. If the economy is slowing, and that is why rates are falling, then the expected profits of industrial equities are going to become even more difficult to attain."
Over the past decade many Australian REITs have transformed themselves. Lessons learned from the 2008 financial crisis have led to impr oved capital management, with reduced gearing in what is an expanded fund management sector.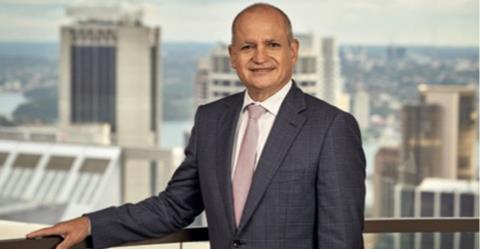 Australian listed trusts are not merely rent collectors. Many have integrated business models, ranging from development, to funds and asset management. Rapid growth in fund management in recent years has given these vehicles both a source of third-party capital to reduce reliance on borrowing and a new stream of recurring income.
Grant McCasker, head of Asia-Pacific real estate securities with UBS, says groups like Goodman, Charter Hall, Dexus, Mirvac and GPT have significantly expanded their fund management platforms. Goodman and Charter Hall, he says, are rare examples of A-REITs with a highly developed model of this form of funding strategy.
In its June note on Charter Hall, JP Morgan's research team wrote: "Over the next five years we forecast [Charter Hall] to reach A$51-52bn AUM." Charter Hall's current AUM is A$28.6bn
Charter Hall acquired Folkestone, a mid-sized funds manager, for A$205m last year to broaden its fund management base. The JP Morgan team wrote: "We estimate that 13 of [Charter Hall's] 39 funds under management are in the money, which positions the group to earn material performance fees over the next five years. [Charter Hall] is well-positioned and has read the cycle well, we believe."
JP Morgan's analysts said Charter Hall's income from performance fees alone is forecast to reach A$200m in the current financial year.
"Australian REITs are staple securities and they operate more like companies," says McCasker. "The difference between REITs in Australia and those in Singapore or Japan is that A-REITs are internally managed, and they undertake development. In Japan and Singapore, the REITs are externally managed. They may do a small amount of development, but they are basically rent collectors."
Andrew Parsons, executive director at Resolution Capital, repeatedly warned against high gearing and financial engineering in the lead up to a meltdown of the A-REIT sector in 2009-10. Today, Parsons manages A$850m in Australian property securities for institutions. "They are no longer doing financial engineering," he says.
"A-REITs have much improved balance sheets. There are challenges, particularly for retail property, but the REITs are delivering good-quality earnings with relative growth. Earnings will prove to be more resilient than in other industries."
James Maydew, head of global listed real estate at AMP Capital, says: "We are seeing a lot of equity investors looking for more defensive exposure in their portfolios."
A key part of this demand, Maydew says, comes from equities investors looking for exposure to A-REITs – particularly those that do not have a dominant retail portfolio. "This demand will continue," he says. "And it will not only be equities investors. Globally, investors are looking for more balanced exposure in our portfolio. We want to have a defensive angle to everything that we are investing in. Australia plays that function."
Parsons says there is a bifurcation in the market with office, evidenced by industrial and office trusts doing "extraordinarily well". He cites the performance of trusts such as Goodman Group and Dexus.
On the flipside, retail REITs are facing big challenges, especially in relation to valuations. "People have limited appetite for these trusts," Parsons says. "Some believe their assets may be overvalued by as much as 20% to 30%."
Even with shopping centre trusts, there is a divide between grocery-based convenience centres catering to daily essentials and middle-of-the range suburban shopping centres. At a time when sentiment has turned against retail assets, Charter Hall Retail Trust, which owns supermarket-based centres, recently issued a A$160m placement to fund the purchase a Sydney shopping centre for A$142m.
High-end centres known as super-regionals remain tightly held and continue to trade reasonably well. It is those in between the super-regionals and neighbourhood convenience shopping centres that are bearing the brunt of structural changes in retailing.
The main criticism of the Australian market – which is the second-largest REIT market in Asia-Pacific by market capitalisation – is its concentration. Investors say they have few choices when it comes to A-REITs, because the top eight stocks account for almost 80% of the sector's total market cap of A$143bn. Anyone who invests on the ASX-300 A-REIT index is, in effect, investing in the top eight stocks.
Choices are also limited mainly to office retail and industrial. Few trusts offer alternative asset classes, such as manufactured homes, childcare, hotels and storage facilities. Those that do are small, with a market capitalisation of about A$1bn, says an industry analyst.
Maydew says a fundamental shift is taking place in investors' portfolios, because of how investors view real estate and what exposure they want to it. "We believe the likes of build-to-rent, manufactured housing, storage, healthcare, aged care, childcare, data centres and a host of other sectors which are currently nascent will, in time, become investment options," he says.
One question that investors are asking is when will the sector run out of steam? Sammut says: "Twelve months out, we think it is still possible to get a 4.5-5% income stream from A-REITs. You would only need a couple of percentage points of capital growth for the sector to deliver a total return of up to 7%, or even 8%. In an environment where the economy is slowing, getting this kind of return has to be attractive on a relative basis."