Kent Robbins explains that when UniSuper invests in public and private markets, it is after the same thing – income streams. Florence Chong reports
The line between private and public markets becomes blurred when one of Australia's largest industry superannuation funds, UniSuper, hunts for investment in real assets. The freedom to switch between listed and unlisted markets, as dictated by market cycles and price points, has allowed UniSuper to build a AUD20bn (€12.5bn) portfolio of high-quality real assets.
The size of its allocation to real assets – 27% of funds under management – and the depth of its in-house investment capability put UniSuper in a class of its own.
At the end of September, UniSuper had AUD71bn under management, making it the second-largest industry super fund after AustralianSuper, and the sixth-largest among all profit-for-member funds.
"Our holding in listed and unlisted property is 11% of our funds under management and we have a further 16% in infrastructure," says Kent Robbins, UniSuper's head of infrastructure and property.
In the accumulation of assets, Robbins sees little difference between the labels of listed versus unlisted. "When evaluating investments, whether they are held in an unlisted pool, listed security or direct ownership, we look straight through to the income from underlying assets. What is important is whether the income stream is sustainable and reliable – and what the growth prospects are from that income stream."
UniSuper's approach has been finessed through years of stock picking, experience that has been sharpened since it brought key asset class investments, including real assets, in-house.
Today, about half of Unisuper's property exposure is held in real estate investment trusts (REITs), 25% in direct holdings, and 25% in funds. The ultimate objective for all three is the same. "Whether we are buying into Sydney's Wynyard Place [its most recent direct investment] or an ISPT [an industry-super-owned fund manager] pooled fund or the listed Scentre Group [a large Australian REIT], we are buying income streams," Robbins says.
"We are conscious of the optimal entry points. Listed properties offer exposure when direct ownership is hard to secure at times when the market is running strongly. At times like this, listed property offers better value than [physical] real estate. At other times, wholesale funds can provide useful entry points."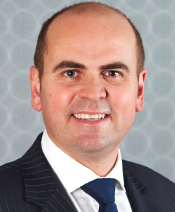 Robbins explains that the market prices assets differently at certain points in a cycle. Sometimes REITs trade at a large premium to direct property; at other times, they trade at steep discounts.
"If you look at Sydney CBD, the cap rate has dropped to an historic low because office vacancies are at a very low level," he says. "After the current rental growth spurt, cap rates will revert to more normal levels. I reckon there was more heat in the market two to three years ago than there is now. At these new value levels, demand is easing off. Fewer people are clamouring for assets."
He notes that an AUD1bn retail portfolio owned by Blackstone is still on the market.
Robbins says it is "probably a realistic prediction" that Sydney CBD rents will continue to grow strongly over the next two to three years. On the strength of this conviction, UniSuper made its largest single direct office investment last year when it paid AUD450m for a 24.9% stake in the AUD2bn Wynyard Place project from Brookfield Property Partners.
It is only its second direct investment in an office building. UniSuper has a clear preference for retail assets. It has large, concentrated positions in listed property groups, including the diversified GPT Group and the country's two largest listed shopping centre owners – Scentre Group and Vicinity Centres. They give the fast-growing fund exposure to some of the Australia's best retail real estate.
This has been bolstered by investment in wholesale funds run by GPT, Lendlease, Goodman Group, ISPT and AMP Capital.
At the core of UniSuper's portfolio are four directly-owned shopping centres: Karrinyup Shopping Centre in Perth; Malvern Centre in Melbourne; Marrickville Metro in Sydney's inner West, and Dapto Mall in Wollongong, south of Sydney.
Karrinyup is the real jewel in the crown. UniSuper took a "tortuous path" – the words of its CIO, John Pearce – to acquire 100% ownership after finding that its interests and those of its then-joint venture partner, Westfield, were not aligned.
UniSuper went to court to wrest control of Karrinyup, which was described as a "fortress" asset located in an affluent and growing catchment area. UniSuper had wished to pursue its own strategy for what was the fund's largest piece of real estate.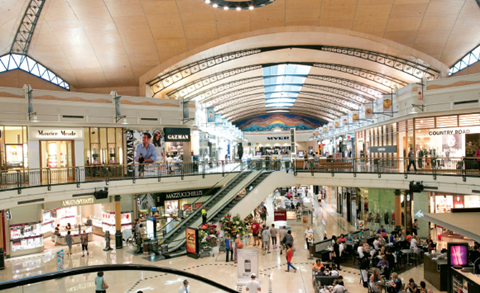 Sentiment on retail property is divided. Strong centres will survive the disruption of technology, but the weak ones might perish over time.
On reflection, however, Pearce says the fortunes of shopping centres have waxed and waned over the years. "Just like there was a time when cinemas were going to go bust and then they boomed. People's shopping patterns change," he says.
"[Shopping] centres are capital-intensive. They are also management-intensive. We need to be more active than we had been in the past in dealing with changeover in tenancies to reflect changing consumer needs."
UniSuper is spending an estimated AUD800m to double the size of Karrinyup, and some AUD140m will be spent to expand Marrackville Metro, with a view to strengthening their positions in their respective markets.
There is no need to diversify into new sectors such as student housing, which he includes as part of a broader housing category, Robbins says. "We are not seeking to increase our residential exposure. We already have a large exposure to the sector through our investment in the four big banks, whose profitability is linked to the domestic housing market. We own timberland plantations linked to new house constructions. And we are big owners of retail malls. These are linked to household wealth which is, in turn, linked to housing."
UniSuper is the second-largest owner of infrastructure assets among Australian super funds. But Robbins says physical assets are hard to come by.
The UniSuper investment team seeks to pick the best assets in the public market, taking large concentrated positions in listed owners of assets such as Transurban, APA Group, Aurizon and Sydney Airport. UniSuper is the single-largest investor in all four.
The AUD29bn Transurban is the largest owner of toll roads in Australia, Aurizon is Australia's largest rail freight operator, and the APA Group is Australia's largest owner of gas and electricity assets.
"If there was a listed port company in Australia, we would also be a substantial shareholder," says Robbins. The fund's only port exposure is through a Macquarie fund that owns the Port of Gdansk in Poland.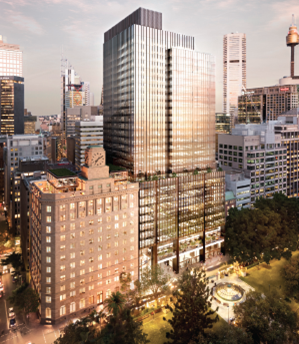 As he sees it, Transurban, Sydney Airport and APA own quality assets that generate sustainable and predictable income. "We are achieving our target returns. If we can map out 80% to 90% of the total returns that we need from the income from these investments, it goes a long way to give us confidence in meeting the returns objectives."
UniSuper complements its holdings of public assets with a portfolio of direct holdings. These include the Victorian Comprehensive Cancer Centre (VCCC), jointly owned with the Melbourne-based Plenary Group and other investors.
Its other direct asset is Axicom, owner of 1,800 wireless towers in Australia. UniSuper was a member of a Macquarie-led consortium which acquired the asset for AUD2bn last year.
It owns a stake in the Sydney Airport Motorway alongside Transurban. The fund also owns two water assets – AquaSure, Victoria's desalination plant, and Prospect Water in New South Wales.
Alongside the publicly listed Sydney Airport, UniSuper also has a direct interest in Brisbane Airport and is a 49% owner of Adelaide Airport. "These assets generally deliver consistent returns linked to GDP growth," Robbins says.
Meanwhile, public-private partnerships (PPPs) like VCCC are not linked to GDP but benefit in a falling-interest-rate environment.
UniSuper is the only Australian super fund to have moved into timberland investment. Its holdings in Taumata and Tiaki Plantations in New Zealand and in Victoria, Australia, are valued at AUD700m.
As with its industry peers in the superannuation industry, UniSuper is suffering an embarrassment of riches. In the wake of scandals revealed in Australia's Banking Royal Commission, inflows into UniSuper and other industry funds have surged as Australians have moved their retirement savings from retail funds into industry funds.
This means having to put many billions in new money to work each year. "But we do manage to find opportunities to invest the money," Robbins says. "For example, Transurban is doing a big capital raising for WestConnex. As its largest single shareholder, we expect to write a reasonable-size cheque for our share."
In August, Transurban led a consortium to buy the Sydney WestConnex toll road for AUD9.3bn from the New South Wales government.
Similarly, says Robbins, ISPT is raising AUD500m from existing investors. UniSuper will participate in that too, not forgetting capital expenditure on existing UniSuper direct real estate assets.
"So you can see, we are not short of opportunities to invest," says Robbins. Not surprisingly, he does not subscribe to the view that the Australian market is constrained because of rapid growth in retirement savings. And he questions a common notion that there is no option for Australian super funds than to turn increasingly to overseas markets for investment opportunities.
"I don't think there is anywhere in the world that we have come across that lacks investor demand for assets. So I don't know that going offshore means you get better returns."