South Korean investors are expanding their alternatives exposure, and overseas real estate debt is a key target. Florence Chong reports
South Korean pension funds are stepping up their exposure to alternative assets, especially in overseas markets. To temper the risk involved, they are seeking assets like debt and core real estate that can generate what they term 'fixed-income-like' returns.
The additional amount of capital poised to flow out of South Korea is estimated at US$15bn (€12bn) – and possibly as high as US$20bn. The South Korean government has told state pension funds to increase their allocations to alternatives and offshore investments by 2-3% annually.
Korea's National Pension Service (NPS) has taken the lead, indicating it will increase its allocation from 11% to 15% over the next few years.
NPS last year handed a mandate for core real estate, allocating KRW280bn (€217m) to IGIS Asset Management and Samsung SRA Asset Management. And it is evaluating proposals from asset managers for two new real estate mandates, expected to be awarded soon. One of these mandates, of KRW400bn, is for a value-add strategy. The second, of KRW200bn, is for a core logistics strategy.
Joseph Lee, head of funding and finance at IGIS, says some big Korean financial institutions will follow. He cites the example of Korea Post, which is selecting fund managers for its overseas investment in debt and equities.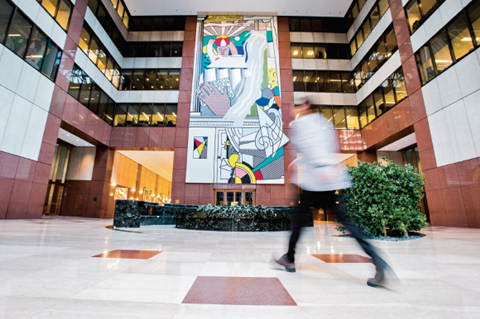 The large Korean Teachers Pension Fund has announced plans to increase its allocation to alternatives to 40% by the end of the decade.
Industry experts say the smaller Korean pension funds have been making higher allocations to alternatives for some time. Many of these have already increased their allocations to alternatives to close to 15%.
Richard Kim, who heads the Korean operations of the US placement agency First Avenue, says: "The investors I have spoken to probably have close to 50% to alternatives."
He says Korean institutions have from 10% to 50% of their alternative assets outside the country. This is because of the superior returns that offshore assets have produced for Korean institutions.
Indicative of the switch to real assets is the rapid growth in real estate funds which, says Lee, have been growing by 20% a year.
According to the Korean Financial Investment Association (KOFIA), the country's real estate mutual fund industry's market size rose from KWR14trn in 2010 to almost KWR60trn – half of that overseas – by the end of 2017.
Lee says this figure does not include direct holdings of both NPS and sovereign wealth fund Korea Investment Corporation.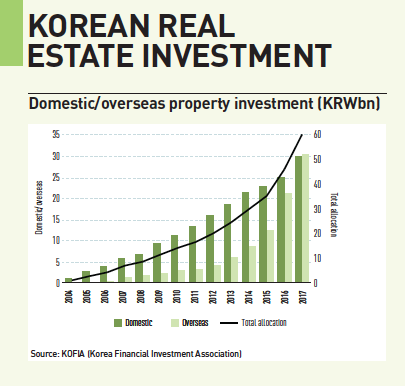 But the KOFIA figures point to a more dramatic rise in overseas investment compared with the domestic market. Between 2013 and 2017, the volume of offshore real estate investment jumped from KRW6trn to just over KRW30trn.
JB Park, who heads the LaSalle Investment Management client capital group in South Korea, says nobody knows for certain the volume of Korean capital available for offshore investment. However, with the increased appetite apparent among investors, he estimates the capital poised to go offshore to be between US$15bn and US$20bn.
Kim agrees, saying that anecdotal evidence points to a growing allocation to overseas investment. "I reckon the volume is anywhere from US$10bn to $15bn per year – probably more likely US$15bn if you are looking at the asset growth of KIC and NPS," he says.
Lee says: "They are going overseas in search of fixed income. They like private debt, and real infrastructure – these have fixed-income features."
Generally, says Lee, Korean investors access their investments through real estate funds. The bigger investors look for co-investment opportunities in gateway cities. "Korea Post and Korea Teachers prefer club deals. They want control over the investment," he says.
Kim believes there are probably 50 Korean institutions primed for offshore investment.
Steven Billiet, Singapore CEO at JP Morgan Asset Management, says the Korean institutional investor universe covers large insurers such as Samsung, Hanwha and Tong Yang. Collectively, they own assets worth over US$100bn.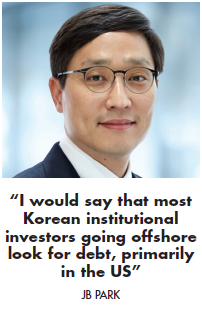 Billiet says it also pays to look out for Korea's mutual aid associations, credit unions and funds catering to public officials, teachers, military, and small local groups. "They have more aggressive return targets and are often willing to invest in somewhat higher-risk real assets with opportunistic and value-add strategies," he says.
"This end of the Korean institutional market is also lifting its exposure to overseas assets and alternatives." They usually have smaller allocations but when aggregated, these groups represent an important segment of the South Korean institutional market, Billiet says.
He adds: "A key trend with major institutions is that they are all searching for higher returns. A key criteria for any investment is cash flow. Korean institutions look for stable return streams from rents or long-term agreements when it comes to infrastructure, like electricity grids, ports and airports."
JB Park says: "I would say that most Korean institutional investors going offshore look for debt, primarily in the US. At this point of the cycle, they want to be conservative. They look for stable income. No one knows when the downturn will come, and risk management teams in these organisations are worried about the timing of a downturn."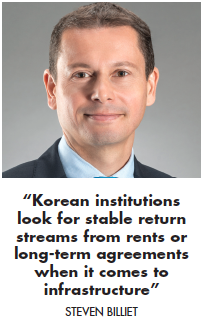 LaSalle Investment Management's Park cites his recent experience with a South Korean institution keen to participate in an offshore real estate equity opportunity. "After exploring that opportunity for several weeks, the team was instructed by its risk department to focus on debt," he says.
Park sits on the investment committees of several institutions – and he expects the preference for debt to continue over the next 12 months.
When LaSalle's latest European real estate debt fund was launched last November, Korean investors, including Employment Insurance Fund (EIF) and Military Mutual Aid Association (MMAA), committed a total of US$110m.
The fund, LaSalle Real Estate Debt Strategies III, is targeting a gross return of about 10%. Parks says: "These investors are not looking for high returns. The interest payment is regarded as fixed income and it carries low risk."
Other managers like AXA Investment Managers and local Korean firms including IGIS and Samsung SRA Asset Management also offer debt products.
IGIS completed what is thought to be South Korea's single-largest debt deal yet when it funded the US$220m acquisition of 787 7th Avenue in New York in 2016 by the California Public Employees' Retirement System.
Samsung SRA has successfully tapped into the demand for debt investment, launching two US mezzanine debt funds within six months. Samsung has raised close to KRW670bn in the two funds investing in six US gateway cities and has engaged JP Morgan Asset Management to place the capital.
In their search for reliable income streams, Korean institutions are more prepared to take some development risk by forward-funding projects which have been preleased to an anchor tenant.
Last year, Hana Investment Securities and Hanwha Investment Securities committed to forward-fund the new headquarters for German insurer Allianz in Berlin. The US$330m project is scheduled for completion next year.
Similarly, Meritz Securities and Capstone Asset Management acquired the new headquarters for Zalando, a German online apparel retailer, in Berlin for US$215m. The building will be completed this year.