Other Taiwanese insurers are likely to follow Cathay and Fubon into overseas real estate. Tsering Namgyal explores their hunger for property yields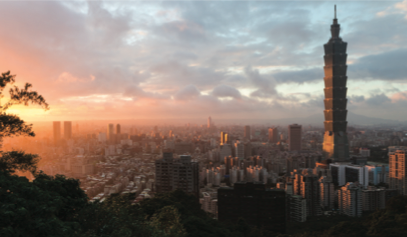 Faced with increasingly low yields and the government's relaxation of the real estate investment ban, Taiwanese firms are scrambling to acquire overseas properties. It was Cathay Life Insurance, Taiwan's biggest life insurance company with over $200bn (€175bn) in assets, that made the first move overseas by buying London's Woolgate Exchange for £311m (€419 bn) in July 2014.
Cathay's bold move overseas has been whipping up a surge of interest in overseas properties among the otherwise conservatively-inclined Taiwanese insurance companies, which had been forced to buy hugely expensive property in Taiwan.
Following closely on the heels of Cathay is its smaller competitor Fubon Life Insurance, the second-largest insurance company, which also purchased property in London.
"The (Cathay's) move has attracted a lot of interest amongst the public, including the Taiwanese institutional investors," says a Hong Kong-based analyst at one leading real estate consultancy.
In what is seen as an attempt to emulate its bigger rival, Fubon Insurance, which had $74bn in assets under management as of March, announced in November 2014 that it had purchased two properties in London in the fourth quarter of 2014. "Once Cathay moved in, Fubon became very aggressive," says the analyst.
The third-largest insurer, Shinkong Life, however, had remained relatively quiet but it is trying to catch up.
One of the key factors forcing Taiwanese insurance companies to take the plunge and invest overseas is simple. It all boils down to pricing. Domestic regulation allows them to buy real estate with a yield of more than 2.875% (it was raised from 1.875% in 2012).
But Taiwanese real estate is probably the most expensive in the world. Before the government deregulation, life insurance companies were caught between a rock and a hard place. Restricted from buying overseas, they had little choice but to purchase real estate in Taiwan, regardless of the price.
Not surprisingly, given the low interest rates and increasingly low return on assets generally, insurance companies are forced to seek higher returns elsewhere. And real estate is one of them.
"After the deregulation, it means that people can look for investments around the world," says the analyst. "This means that they are now like insurance companies from China, or any other place. They can just go and invest in real estate abroad."
The reason they chose London is because of its high liquidity and transparent regulations.
Taiwanese investors are not allowed to invest in US real estate because of local regulation, which does not allow financial holding companies to buy property for other than self-use purpose. Taiwanese life insurance companies are all part of the larger parent financial holding companies with stakes in banks, brokerage houses, among others. Hence, unlike Chinese insurance companies, which have been buying up real estate in cities like New York (most prominently with Anbang Insurance Group's acquisition of Waldorf Astoria hotel), Taiwanese insurance companies are at a relative disadvantage when investing in the US.
Japan, however, is a different story as most of the Taiwanese are – for historical and geographical factors – quite familiar with Japan. Many Taiwanese businessmen are quite fond of Japan and they know the country well, analysts say. Cathay Life had said that it was interested in looking at Tokyo. However, one thing keeping them away from Japan is the rapid compression of cap rate as well as its relatively volatile exchange rate.
Domestically speaking, Taiwanese office rents have remained relatively unchanged over the past decade and the demand for office is not strong compared with Hong Kong or Singapore. Yet, the price kept rising due to the improving cross-strait relations and the inflow of Chinese tourists to Taiwan says the analyst.
Why is Taiwanese real estate so expensive? First, low interest rates mean foreign investors are unable to compete with local investors given the latter's low cost of capital. Yet the insurance companies had little choice but to buy real estate, which explains why insurance companies accounted for nearly 40% of all commercial real estate transactions in Taiwan as they scrambled to find assets to invest premiums collected from their clients.
According to CBRE, domestic insurance companies own around one-third of grade-A offices. Taiwanese insurers' real estate investment has grown at 13% per annum from 2006 to 2012 to a total of $19.8bn. In other words, insurance firms acquired $9bn of real estate between 2006 and 2012 in Taiwan.
Indeed, real estate companies, swimming in cash after years of selling to life insurance companies, are not ready to cut prices. And insurance companies have been buying real estate domestically in Taiwan, which continued to keep commercial real estate prices at dizzyingly high levels, much to the dismay of the authorities.
This finally led to the Financial Supervisory Commission (FSC) in April 2013 lifting the ban on overseas investment. The FSC even recommended that insurers buy properties in New York, London, Toronto, Frankfurt, Shanghai, and Ho Chi Minh City.
Following the deregulation, global property companies have been eyeing Taiwanese insurance companies, analysts say, particularly after the acquisition sprees by Cathay and Fubon – the latter said it plans to invest up to $3bn overseas.
Real estate accounts for 5-10% of the total asset size of Taiwanese insurance companies – a pretty low figure compared with their global peers – which means there is a lot of room for growth. Although it is hard to predict, Taiwanese insurance companies are expected to invest between £300m and £500m in 2015.
So far, it seems they have only decided to take the plunge in London, but analysts say they might be interested in investing in other European cities in countries such as Germany, Spain and Italy.
Clearly, there has been a shift in the strategy following the lifting of the ban. There had been reports that insurance companies have been moving out of commercial property domestically, although this does not seem to indicate a complete move out of Taiwanese real estate. Rather, it is to create a balanced investment strategy by improving their returns through a push into higher-yielding overseas assets, while remaining committed to Taiwan.
Cathay, for one, has been diversifying into other areas, such as hotels – it has launched a new chain, Cozzi, by redeveloping old office buildings – and infrastructure development. Recently, the company signed a deal with the Taiwan High Speed Railway Bureau to invest as much as $100m in two separate development projects near the central Taiwanese city of Taichung.
It has also won a bid from the Ministry of Transportation to develop two projects, tentatively-titled International Commercial Centre and International Business Centre, in northern Taiwan, in partnership with Mercuries Life, an insurance firm, and Gloria Hotel Group, for approximately TWD31bn.
It has been estimated that Taiwanese insurance companies might have a war chest of $10bn to invest in overseas real estate, which seems quite likely given the total assets of $580bn held by the 24 life insurance companies, according to Taiwan's Life Insurance Association.
If this is true, then what we are seeing might be just the tip of the iceberg.
Investor Universe: UK funds look to scale up
1

2

Currently reading

Investor Universe - Taiwan: Insurers whet their appetite

3