The AUD2.2trn superannuation fund industry was an early proponent of real estate and infrastructure investment. Florence Chong profiles five of the biggest constituents
AustralianSuper
Location: Melbourne
Total assets: AUD120bn
Total real estate: AUD12.8bn
Total infrastructure assets: AUD11.9bn
Head of mid–risk assets: Jason Peasley
AustralianSuper returned 12.44% in the 2016-17 financial year, with property retuning 9.51%, and infrastructure 15%. Australia's largest industry super fund has been a consistently strong performer, with an average return of 9.69% over the past seven years.
AustralianSuper's CIO, Mark Delaney, has warned that last year's gains are unlikely to be repeated over the next 12 months because of the uncertain global economic outlook.
AustralianSuper's investment philosophy has evolved over the past 10 years, increasing its exposure to real assets to buffer the volatility of equity markets. Alternatives – property, infrastructure and debt – have long been central to its strategy.
The fund is in an accumulation phase, and will remain so until 2035. Each year, it attracts AUD6bn (€4bn) in fresh capital.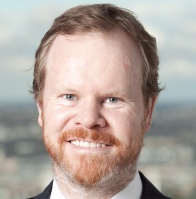 At the turn of this decade, AustralianSuper's total funds under management came in at just AUD32m. This has quadrupled in less than 10 years.
About 75% of the assets of its 2.2m members are invested in the AustralianSuper balanced option fund. The strong and growing capital base allows AustralianSuper to take a long-term view on real asset investments. It is able to invest in multi-year development projects, such as the King's Cross regeneration project in London, to which it has already committed AUD1.4bn.
It has also been buying ports, airports and utilities companies at high multiples for guaranteed cash flows over the next 30 to 40 years and beyond.
AustralianSuper has aggressively built up its infrastructure portfolio in recent times, including its most recent purchase for AUD16.2bn of AusGrid, the largest energy distribution company in NSW.
Partnering with IFM Investors, AustralianSuper submitted an unsolicited bid to acquire a 50.4% stake in AusGrid, which has a 99-year lease from the New South Wales Government to supply electricity to about 1.7m customers in Australia's most populous state.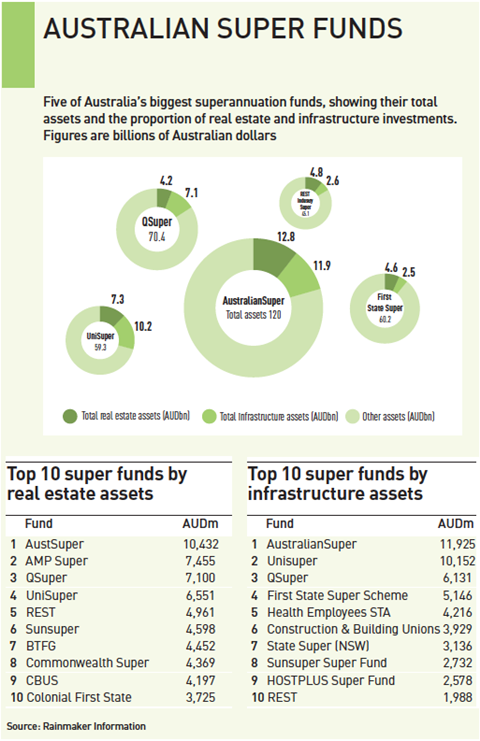 Until 2014, when it implemented a new direct-property strategy, the fund previously invested through fund managers in unlisted trusts. Following an internal review of its property investments, AustralianSuper began stepping up its exposure to direct investment in property – to better control its own destiny.
It has reduced its Australian investment property holdings to those held with two fund managers: ISPT, a Melbourne-based manager owned by industry super funds, and the Queensland state-owned QIC.
When the time is right, AustralianSuper will look to acquire direct property assets in its home market. But given today's spiralling asset prices, the fund has found better value overseas.
AustralianSuper has given mandates to TH Real Estate for the UK, QIC for US retail, Principal Real Estate Investors for US commercial, and Sentinel Real Estate Corp for US multifamily.
But its rapid pace of offshore acquisitions over the past two years appears to have slowed as the fund, with a modest team of in-house investment professionals, pauses to digest its bulging portfolios of real assets.
QSuper
Location: Brisbane
Total assets: AUD70.4bn
Total real estate assets: AUD4.2bn
Total infrastructure assets: AUD7.1bn
Head of funds management: Charles Woodhouse
QSuper has had a "very deliberate" infrastructure and real estate acquisition programme for almost a decade now.
The strategy has contributed to strong returns for members, consistently ranking the fund among the country's top super performers.

"QSuper's investment strategy aims to use diversification to deliver more consistent returns through the cycle, making it less sensitive to any one economic or financial driver," says Charles Woodhouse, head of funds management.
The fund has a diversified portfolio with investments in 37 countries and assets totalling more than AUD72bn (€48bn). QSuper invests in assets including Australian and international equities, fixed interest, cash, real estate, infrastructure and alternative assets.
Its flagship Balanced Fund has a 14.1% weighting to global infrastructure and 7.5% to global real estate. The balanced option has returned 9.5% per annum for the year to June 2017 and 5.9% per annum over 10 years.
Woodhouse expects the fund's exposure to real estate and infrastructure to continue to grow.
One of QSuper' s iconic assets is One Times Square in New York, although most of the building is empty. Retail makes up just 16% of revenue. The real moneymakers are the LED billboards that dominate the site of New York's famous New Year Eve's ball drop.
Most (71%) of QSuper's property assets are located in Australia, followed by the US (13.4%) and the UK (8.7%).
QSuper has real estate mandates with AEW Europe, CIM Group, Invesco , Jamestown Premier GP and QIC.
It owns some of the world's best-known infrastructure assets, including Heathrow Airport, Thames Water, Edinburgh Airport, Brisbane Airport, Port of Brisbane, NSW Ports and Powerco, New Zealand's leading electricity company.
QIC, Alinda Capital Partners and Global Infrastructure Partners are among the external managers looking after infrastructure investment. Woodhouse says the fund has both internal investment capability and external investment managers, depending on need.
First State Super
Location: Sydney
Total assets: AUD60.2bn
Total real estate assets: AUD4.6bn
Total infrastructure assets: AUD2.5bn
Head of income and real assets: Damien Webb
As a public sector fund for New South Wales, the profit-for-member First State Super looks after the retirement needs of the state's firemen, policemen, nurses, teachers and carers.
Given its member base, the fund has what one might call a strong "social conscience". Damien Webb, the fund's head of real assets, uses the term "universal ownership" to describe the investment approach.

First State Super seeks out investments that can make a difference to the living standard of its members or can help lift productivity. It is prepared to invest in social infrastructure, which can range from affordable housing and hospitals to amenities like convention centres and recreational facilities, as well as renewable energy.
One of First State Super's largest undertakings is the funding of construction of the AUD2bn (€1.3bn) Sydney Light Rail. Webb's reasoning is that a transport project such as the light rail will ease traffic congestion, making life better for members while increasing productivity.
First State Super also holds 90% of an unlisted infrastructure trust that owns hospitals in Victoria and Queensland.
Webb has been progressive in his approach to asset selection – for example, buying a land registry business, a non-traditional asset.
The fund has been gradually investing more in infrastructure. Today, 3-4% of total funds are invested in this asset class.
In infrastructure and real assets, First State Super has investments with Brookfield, Morgan Stanley, Equis, and Orion Energy. In real estate, it has invested with other investors in Lendlease's AUD6bn Barangaroo redevelopment project, on Sydney's harbour foreshore.
Its external real estate managers include Altis Property Partners, Goodman Group, GPT Group and Brookfield Asset Management.
First State Super returned 12.3% in the year ending 30 June 2017.
Last year it acquired a financial planning business known as Stateplus, taking its total assets to AUD84bn in accumulation and retirement funds on behalf of more than 800,000 members. The fund's total assets under management are tipped to grow to AUD100bn.
UniSuper
Location: Melbourne
Total assets: AUD59.3bn
Total real estate assets: AUD7.3bn
Total infrastructure assets: AUD10.6bn
Head of property and private markets: Kent Robbins
Creating a resilient investment strategy is the main aim of the UniSuper super fund. Against the backdrop of spiralling property prices in Australia, the fund has remained underweight to property.
It is currently 4% against a strategic asset allocation of 9% in its balanced My Super investment option, its single largest investment pool.

The underweight reflects caution towards the Australian property market, where cap-rate compression has set records in commercial shopping centres and office buildings.
As a precaution, the fund is focusing on making its portfolio resilient. It will invest in 'fortress' assets such as super-regional shopping centres and airports.
Among its largest investments is the Karrinyup Shopping Centre in Western Australia, which is undergoing a AUD700m development.
UniSuper's investment philosophy is to focus on quality assets with little or no leverage.
It has mandates to access direct property with managers that include AMP Capital, the Goodman Group, Lendlease; GPT Group and ISPT.
Its exposure to infrastructure is mainly through listed companies such as Transurban, Australia's largest owner of toll roads and Sydney Airport. These two companies top its list of major holdings.
But it has direct ownership through a consortium that owns Australian airports, including in Brisbane and Adelaide. It also has a stake in the Victorian Comprehensive Cancer Centre in Melbourne and water treatment plants.
In May last year, UniSuper and its partner SUEZ, the French-owned waste management and water treatment company, committed to a further 14 years and more capital to Sydney's Prospect Water Filtration Plant from 2012-35.
Given the uncertainty in the global outlook, UniSuper lowered its return target on a number of its investment options.
In the year ended 30 June 2017, UniSuper delivered 9.6% to its members.
Founded in 2000, UniSuper has about 400,000 members employed in university and research sectors.
REST Industry Super
Location: Sydney
Total assets: AUD45.1bn
Total real estate assets: AUD4.8bn
Total infrastructure assets: AUD2.6bn
General manager investments: Brendan Casey
REST Industry Super has been trimming its allocation to volatile equities to focus on quality real assets that can deliver robust long-term investment returns. Its core strategy has a strategic asset allocation of 6% to infrastructure and 9% to real estate. It is an active manager, currently exploring investment opportunities in the US and Europe.

REST Industry Super's major infrastructure investment is through the Advance Energy consortium, which includes Australia's Macquarie Group and the Qatar Investment Authority. The consortium in May acquired a 50.4% stake in a 99-year lease of the New South Wales electricity distribution company, Endeavour Energy, for AUD7.6bn (€5.1bn). Other REST energy investments are in New Zealand, the US and Germany.
The fund expects its allocation to infrastructure to continue rising.
As it has cut back on exposure to equities, REST has also increased its allocation to credit by 4% to 14%, and to cash by 4% to 10%.
"We lifted our allocation to cash to maintain flexibility in the portfolio, to take advantage of opportunities as they arise," says Brendan Casey, general manager for investments. "REST believes risks to global growth remain, and that these will affect investment markets in the short to medium term."
Casey adds: "Risk factors include China's high debt levels and decelerating economic growth, and Australia's transition from reliance on mining to non-mining sectors, combined with low wage growth and record household debt levels."
Rising US interest rates and their potential impact on asset prices are another concern, along with questions on the effectiveness of monetary policy and the ability of global central banks to support global economic conditions.
REST outsources its real estate investment to Australian managers, including Charter Hall, GPT Group and Super Investment Management, a wholly-owned subsidiary of REST.
Overseas, REST mandates Greystar to invest in multifamily in the US, and is a shareholder in Campus Living Villages, which owns student housing in four countries, including the UK and the US.