The CEO of HESTA has implemented a three-year investment strategy with the aim of doubling the Australian super fund's assets
As an entity that serves people who work in health and community services, leading industry super fund HESTA plays a unique role in the nation's superannuation industry.
It is a pioneer in impact investing, including affordable housing, and has a sharp focus on environment, social and governance (ESG) issues, which are aligned with the values of its members. Its voice will become even more important if, as expected, it doubles funds under management to A$100bn (€62bn) within the next five years.
The A$55bn fund serves some 850,000 members – 80% of whom are women – and is a vocal champion for gender diversity, gender equality and ESG issues. It understands that women have their own challenges in society and that the design of the country's pension system should reflect this.
On ESG, the fund's – and its members' – focus has sharpened because of the Australian bush fires. Its members have firsthand experience in dealing with and supporting the affected communities," says Debby Blakey, chief executive officer of HESTA. "When you look at the sorts of work that our members do – in health and community services – they really do understand both the environmental impact and social issues arising from climate change."
She adds: "I believe we are going to see, increasingly, a desire from our members that companies we invest in are genuine in seeking to reduce [carbon] emissions. But to be clear, we are not telling companies how they should run their businesses. We are engaged with many companies, and not all of them will be carbon-neutral.
"What we are asking them to tell us is how they expect to reduce emissions, and what their targets are in the short term to make sure that, in the longer term, they will achieve those objectives. For example, we're asking how they are aligning their executive remuneration to these objectives."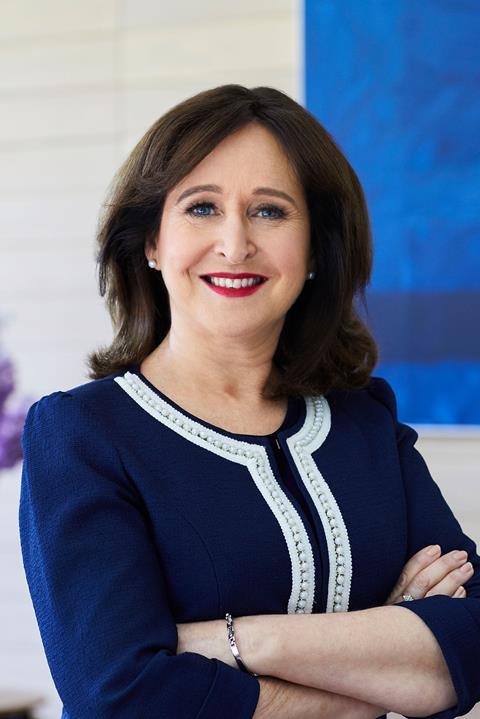 HESTA itself has long recognised the need for its operational footprint to be carbon neutral and is already a certified carbon emission-free workplace.
"Responsible investment is a strategic focus for our fund," Blakey says. "We not only have an opportunity, but we have a responsibility to invest to get great outcomes that improve the financial futures of our members."
HESTA is looking to strong growth in membership and cash inflows. Healthcare and community services are two fast-growing sectors. In 2018, HESTA adopted a broad three-year investment strategy designed to take it into the A$100bn league within five years. HESTA is half way through implementing the strategy – what Blakey describes as "a very ambitious piece of work" – in terms of structure, capability, systems, data and the processes needed to manage money internally.
HESTA is migrating from investing through mandates in asset classes like Australian equities, to more direct investment, and forming strong investment partners. Blakey's background is in financial planning, and she is slowly shifting HESTA to a total portfolio approach. She expects that the total portfolio approach will ensure that HESTA makes the best investment decisions from a return point of view, while also continuing to have the right strategic allocations to further enhance returns.
HESTA investments are now carried out under the HESTA Impact umbrella. Blakey says: "HESTA Impact is much more than impact investment. It is the way we see our whole portfolio, and it brings together three very important pillars of our strategy.
"The first is the way we invest – so we think responsibly, not only about strong investment performance, but also how we can have a positive impact on the world our members retire into.
"The second pillar is that we have an opportunity to lead by example. At HESTA, social corporate responsibility is very important to us. We have led by example to become a carbon-neutral organisation, and we think this amplifies our voice.
"The third pillar is how we advocate on behalf of members. This is incredibly important because advocacy is, of course, about how we take a public position on issues, engage with government on various policies, and actively engage with companies that we invest in."
In December, HESTA was one of the largest investors (with some A$500m invested) to voice concerns over the handling of a money-laundering crisis at Westpac Bank, which resulted in the resignations of both Westpac chairman, Lindsay Maxted, and chief executive, Brian Hartzner.

In April 2019, in the aftermath of a shooting in the New Zealand city of Christchurch, HESTA joined a group of 44 global funds managing a combined A$1.4trn to push for change at Facebook, Twitter and Google-owner Alphabet. HESTA owns shares in all three companies, which were accused of not acting more swiftly to remove violent and hateful content from their platforms in the wake of the attack.
Blakey says that, in both instances investors had taken a position to advocate for change. But, she says, they were careful not to overstep their reach. "We won't achieve best returns over the long term if we do not take into account environmental and social issues. I find it difficult to be overreaching when a fund like HESTA would want to know about the ESG risks of a company."
She says: "I want to make it very clear that we are focused on generating outstanding returns for our members. We never lose that focus. Because they choose to work in the industries they work in, the account balances of our members are quite modest. And we have a deep understanding of the terrific impact that good returns will have on our members. We never lose sight of that fact. We are hungry for the best possible return."
"We won't achieve best returns over the long term if we do not take into account - ESG issues"
More than 80% of HESTA's members invest in its balanced option, which over the 10 years to June 2019 has returned 9.06% annually. The average annual return since inception 32 years ago is 8.78%. "We are passionate about the return," she reiterates, "because we understand what a difference that 9.06% over 10 years makes.
Also a focus, she adds, is gender diversity, hardly a surprise when eight in 10 of its members are women often in lower-paid jobs. HESTA uses the United Nations for Sustainable Development Goals to inform the fund's investments, advocacy and operational sustainability objectives.
On equity in the current super-fund system there are real challenges, some of which are structural. She calls it a question of 'fairness', as the system is being used by the well-to-do for intergenerational wealth transfer when many women struggle to save enough to live with dignity in retirement .
"Women typically have more disrupted work patterns than men, yet our system design is based on continuous full-time employment" she says. "Women are likely to have periods when they are not in paid employment, and they often work part-time as they're generally the primary carer for their family.
"We are a strong believer in the role an organisation like HESTA has to influence and to make sure that we have fairer superannuation for women."
HESTA has also ventured into social housing, leading its peers with an initial investment in 2014. Its latest investment in the sector is in Nightingale Village in the inner Melbourne suburb of Brunswick, where it will provide 185 affordable apartments. HESTA has committed A$20m to the project in partnership with Social Ventures Australia (SVA), a not-for-profit entity. Blakey hopes the project will provide a blueprint to help grow the supply of affordable housing in Australia.
HESTA is invested in multifamily and other sectors overseas through diversified funds run by global managers including Heitman, AEW and Nuveen. Currently the fund has a A$4.9bn real estate portfolio made up of prime office buildings and large shopping centres through managers including ISPT, QIC, Investa and Eureka (now acquired by AXA IM Real Assets). HESTA prefers to invest alongside its managers rather than place its money in blind pools. So far, AXA IM is the only manager to be given a mandate.
In September, HESTA made its first direct investment in an infrastructure asset as part of a consortium. Together with industry super fund Sunsuper, it joined a Macquarie-led consortium to buy part of the land registry business of the Western Australia government for A$1.41bn. This is likely to be the forerunner of HESTA's new consortium approach to acquire large infrastructure assets.
Until the West Australian deal in infrastructure, HESTA invested through Australian managers, including IFM Investors and Morrison & Co and more than a dozen global firms, including KKR.
"For us, firstly the role of real assets has been a key part of our success – with very long-term excellent returns for our members," says Blakey. "And secondly, from a HESTA point of view, we have established fantastic relationships with our external managers.
"We certainly see those relationships continuing and deepening over time. While we're carefully considering internalisation, it's important to note it's only in very select areas. And we see ourselves as having relatively modest allocations under management internally. What we want is very strong partnerships with external managers who continue to deliver in both the listed and unlisted space."