CapitaLand has plans to expand globally and move significantly into third-party fund management. Florence Chong speaks to president and group CEO Lim Ming Yan
CapitaLand, the Singapore-based property developer-owner, is rolling out a new strategy to expand its core businesses of development, investment, ownership and management of retail, commercial and hospitality real estate beyond Asia. But CapitaLand also plans to become more of a manager of assets for institutional real estate investors.
Part-owned by Singapore's sovereign wealth fund Temasek, CapitaLand has sailed through some rough weather recently. Its core businesses were buffeted by a residential property slowdown in Singapore and China, while online shopping has encroached on its 80-plus shopping malls.
But CapitaLand says it has been strengthened by adversity and is moving to reconfigure the key pillars of its businesses. "The future of CapitaLand will be driven by smart investments in selected key cities and the significant global scale of our operating platforms in retail, lodging and commercial operations," says Lim Ming Yan, CapitaLand's president and group CEO.
Lim looks at global expansion through the prism of investment, along with opportunities to grow the group's operating platforms. "We are poised to accelerate our global expansion to achieve total assets under management [AUM] of SGD100bn [€62bn] by 2020," he says.
Lim took charge of the group in 2013, having been chief operating officer since 2011. CapitaLand was born from the merger in 2000 of two blue-chip Singapore property groups, DBS Land and Pidemco Land.
It is backed by several major investors. Temasek is the largest shareholder, with a 39.57% holding. BlackRock and the US financial company, PNC Financial Services Group, are among other substantial shareholders.
"CapitaLand aims to transform city living globally by connecting physical spaces and virtual engagements to build the communities of tomorrow," Lim says. "We continue to leverage our extensive design, development and master planning capabilities, and to make use of new technologies and data to build real estate for the future."
Having cornered the market in Singapore, CapitaLand has since since established a presence in China and is moving into the emerging market of Vietnam.
But although CapitaLand already has a presence in many countries, in 150 cities, Lim says the way forward is to bring the group's key operating platforms physically into many of these markets to help build up more significant holdings.
Today, CapitaLand has more than SGD88bn in AUM, of which SGD18.9bn is held on its balance sheet and in joint ventures, SGD21.5bn in unlisted funds, and SGD18.2bn in properties under management contracts, franchise and corporate leasing.
Its five listed vehicles, which form the backbone of the real estate investment trust (REIT) sector on the Singapore Exchange, have combined AUM of SGD30.2bn.
Most CapitaLand-managed assets are in Asia-Pacific, with a sizeable presence in Singapore (41%) and China (47.5%).
Lim says CapitaLand plans to invest in developed markets, including Europe, the US, Australia and Japan. "We have started deploying capital into serviced-apartment assets in key cities in Europe, Australia and the US in the last few years," he says.
In December 2017, CapitaLand marked its entry into European commercial real estate, buying the Main Airport Center in Frankfurt for €245m. The move came 15 years after CapitaLand's serviced-residence business, Ascott, began operating in Germany. Today, through its Citadines brand, Ascott has a presence in all key German gateway cities.
"The future of CapitaLand will be driven by a deeper investment presence in selected markets," says Lim. "We plan to invest in dominant assets in core city clusters where we already enjoy a competitive advantage."
The second prong of global expansion is the search for opportunities to broaden CapitaLand's operating platforms, says Lim.
Last year, Ascott increased its stake from 20% to 80% in the Australasian group, Quest Apartment Hotels. The AUD180m (€114m) deal positions the Singapore operator as the largest serviced-residence provider in Australasia.
Within days of the deal, Ascott acquired an 80% stake in US group Synergy Global Housing, tripling its US portfolio to about 3,000 apartments.
"These two transactions allowed us to increase significantly the scale of our serviced-apartment platform close to 72,000 units at the end of 2017," says Lim.
Ascott plans to take its global portfolio to 160,000 rooms by 2023 through acquisitions, management contracts, strategic alliances and franchises.
The growth of its lodging business will come partly from partner investors keen to tap into the explosive growth of international tourism.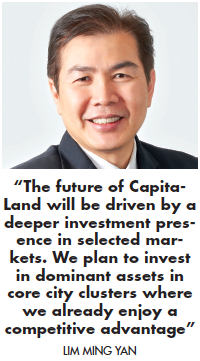 Qatar Investment Authority (QIA) is in joint venture with Ascott in its US$600m Global Serviced Residence Fund. By the end of 2017, the Ascott-QIA partnership had spent US$450m on six acquisitions in London, Jakarta, Paris, Melbourne, Singapore and Tokyo.
Other international partners include sovereign wealth funds and pension funds that have, over the past 15 years, invested in various of the group's projects and funds. Now, however, CapitaLand is putting more effort into sourcing third-party capital.
In November 2017, a new unit, CapitaLand Investment Management, was established to grow the group's private-equity fund management business. "The strategy allows the group to better optimise its resource allocation to build meaningful scale," Lim says. "CapitaLand's growing track record has enabled us to progressively embark on bigger and more sophisticated projects in prime locations of top-tier cities, which offer higher returns on our investments."
Drawing on third-party capital will enable the company to switch to an "asset-light model". CapitaLand has SGD9bn of cash and undrawn facilities and has put in place a programme to recycle and deploy SGD3bn worth of assets annually. Part of what Lim calls an asset "reconstitution" exercise involves the weeding out non-core assets or assets not considered prime locations in top-tier cities.
Through its listed vehicle CapitaLand Commercial Trust (CCT), CapitaLand is Singapore's largest prime office landlord. In September 2017, CCT acquired Asia Square Tower 2 in Singapore from BlackRock for SGD$2.09bn, setting a record purchase price for an office building in Singapore.
In July 2017, CapitaLand, CapitaLand Commercial Trust and Mitsubishi Estate formed a joint venture to redevelop a multi-storey car park in the heart of Singapore's CBD into a 51-storey, 280-metre integrated development at a cost of SGD1.82bn.
The group owns and manages commercial properties in markets such as China, Japan, Singapore and Vietnam, and will continue to look for strategic partners to form joint ventures and club deals or to invest in its vehicles, Lim says.
CapitaLand's private vehicles are closed-ended, mostly development-focused, and run for at least eight years. But CapitaLand "is open" to explore open-ended unlisted or wholesale funds. The timing will depend on market conditions, investor preferences in relation to fund strategy, risk, returns and liquidity.
The geographic focus of future funds will be aligned with CapitaLand's business strategies and investor appetite. So far, of the 15 private vehicles managed by the group, 10 are invested in Chinese real estate. "We were one of the first foreign developers in China 20 years ago," says Lim. "We are now the biggest foreign real estate developer there."
CapitaLand's highly-prized – and priced – Raffles City projects are held in either private vehicles or investment structures. Raffles City China Fund (RCCF), a SGD1.59bn private equity fund, has a portfolio comprising Raffles City Shanghai, Raffles City Beijing, Raffles City Ningbo, Raffles City Hangzhou and Raffles City Chengdu.
In October 2016, CapitaLand closed its US$1.5bn Raffles City China Investment Partners III (RCCIP III), to invest in prime integrated developments in Chinese gateway cities. Canada Pension Plan Investment Board (CPPIB) became a cornerstone investor, paying US$375m for a 25% stake in RCCIPIII. CapitaLand retained 41.7%.
Vietnam, a key growth market, is CapitaLand's third-largest market in Southeast Asia, after Singapore and Malaysia. The group manages the US$300m CapitaLand Vietnam Commercial Fund I, a forerunner to more funds to be set up to invest in commercial grade-A real estate in Vietnam. In March, CapitaLand launched the US$130m CapitaLand Vietnam Commercial Value-Added Fund.
Lim says CapitaLand's focus on growth in new markets will not be at the expense of core markets, which will always be Singapore, China and Vietnam. The group intends to build on its success in China. "China continues to present strong potential for CapitaLand. The Belt and Road Initiative will lead to more infrastructural developments and an increasing demand for real estate from the rising middle class," Lim says.
CapitaLand has been working with the Chinese to "enhance" urbanisation with well-designed, well-built and well-managed integrated developments.
"We aim to maximise the efficient use of space in city centres and to spur the economic development of areas where have our developments," Lim says. "As China further urbanises, we will continue to leverage CapitaLand's track record in building integrated developments, our extensive market network and operational capabilities to expand in China."
CapitaLand has focused its activities in China on core city clusters with a higher GDP than
the rest of the country. They include Beijing/Tianjin, Shanghai/Hangzhou/Suzhou/Ningbo, Guangzhou/Shenzhen, Chengdu/Chongqing/Xi'an, and Wuhan.
"To run a successful business in China, one needs to understand the cultural nuances and to navigate seamlessly in a cross-cultural environment," says Lim. It is important to have a strong local team, with a majority being Chinese nationals.
Facing the retail challenge head-on
CapitaLand is first and foremost a developer of residential apartments. It is also a shopping mall developer/owner/operator. The residential market is starting to revive in both Singapore and China following several years of government intervention to cool overheating.
In 2017, CapitaLand had booked sales totalling SGD3.7bn in its key markets. The order books continue to swell in Singapore, China and Vietnam as buyers return to the market. And while residential cycles come and go, financial strength does offer a buffer in times of downturns.
But as a major owner and operator of shopping malls in Asia-Pacific, CapitaLand faces a more intractable problem – technological disruption. It sees consolidation taking place overseas, as with the Australia-based Westfield group merging its shopping centres in the US, the UK and Europe with Unibail Rodamco in a AUD32bn transaction. The real story in the global retail sector today is the daily churn of tenants unable to cope with the onslaught of e-commerce.
But far from retreating, CapitaLand in 2017 offered close to 1m sqm of retail space across eight developments in three countries.
Lim says CapitaLand's malls continue to perform well. For the year 2017, they registered tenants' sales growth of 1.5% and 19.8% in the company's core markets of Singapore and China, respectively. Same-mall net property income rose by 0.9% and 8.6%.
Against this encouraging performance, Lim confidently outlines measures to "future-proof" the CapitaLand's shopping centres. The group has embraced new technology, he says, and will ensure that it continues to build shopping centres that are exciting destinations in themselves – to protect the level of foot traffic.
Ground-breaking designs and the sheer scale of CapitaLand's Raffles City complexes are atttracting shoppers and visitors. In 2017, CapitaLand malls attracted 1.1bn shoppers who spent a total of SGD12.2bn.
Lim firmly believes shopping is not just about the real estate – rather, it is all about the experience. Demand for real estate remains, but it must involve what he calls experiential content.
This means, for example, giving customers an opportunity to experience "an immersive virtual reality simulation". In downtown Singapore at the Funan showsuite, visitors are able to don specially designed VR goggles to enter another reality. The showsuite is located near Funan, CapitaLand's upcoming integrated development.
Lim is mindful of the demands of Millennials, who make up 50% of CapitaLand customers. "For many of them, the ability to experience 'live, work and play' is very important," he says.
Lim sees CapitaLand malls as "a vital conduit to converge experiences and insights". He says: "We have developed a series of digital tools to help our retailers in their interaction with shoppers in the areas of transactions, rewards and operations – powered by analytics.
"This will provide us with a unified view of the shopper-retailer-mall ecosystem. These insights allow us to increase productivity, improve sales, and better serve our end-customers."
As for e-commerce, Lim is convinced that consumption is going both online and offline. "Online will not dominate," Lim says. "Many of the online platforms are going into physical space. Alibaba has physical retail chains and is working closely with supermarkets as well."
CapitaLand has established partnerships with the likes of both Alibaba and the Southeast Asian platform, Lazada. And Ascott has partnered with Alibaba's online travel service platform, Fliggy and Tujia – China's largest online apartment sharing platform.
Asia is a region with rising spending power and a growing, consuming public, Lim says, which retailers are keen to tap. As Asia's dominant shopping mall owner/operator, CapitaLand has strong relationships with these retailers and consumers. It has started to offer its expertise to manage assets, developed by others, which Lim says will further boost the scale and network of its retail operating platform .
In March, CapitaLand signed on to a major shopping complex in Cambodia's capital of Phnom Penh, bringing the number of malls under its management to eight – there are six in China and one in Singapore.
'Future of urbanism'
Potential investors are offered a vision of CapitaLand's creativity and ambitions when they step into the company's headquarters. On floor 30 of its head office in Singapore's Capital Tower, there is a display of 25 models of current and completed projects in various cities.
Among the most intriguing is The Interlace, an award-winning mega-condo Singapore development that has been described as a "case study for future urbanism". The 31 six-storey blocks are stacked in a hexagonal arrangement to create eight large courtyards. The Interlace houses 1,040 upmarket apartments.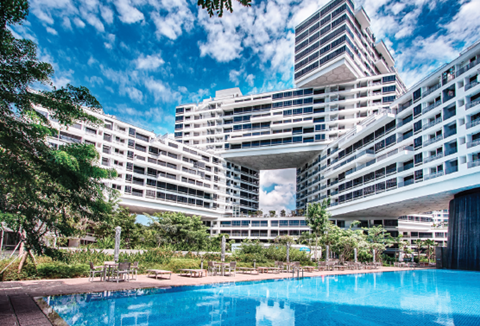 Then there is the gravity-defying Raffles City Chongqing. Canadian architect, Moshe Safdie, has designed a 300-metre-long horizontal skyscraper over four 250m-high towers. The structure is in the shape of an accordion. It has claimed the world record as the development with the highest skybridge linking the largest number of towers.
Lim says Raffles City Chongqing is by far the largest and most complex integrated development that the group has ever undertaken.
The company describes the project as part of its "relentless pursuit to redefine urban living with smart design and innovative technologies".
At Singapore's Changi Airport, CapitaLand is bringing the rainforest inside. Linking three terminals, the climate-controlled glass dome has a five-storey garden costing SGD1.7bn (€1bn). The project is due to open next year.