What next for the largest seller to Chinese capital?

A standout phenomenon in global real estate transactions over the past five years has been the depth of Blackstone's relationship with some of China's largest investors. Between 2012 and 2018, Blackstone and Chinese investors transacted headline-grabbing deals worth a total of US$33bn (€28bn), according to Real Capital Analytics (RCA).
That is perhaps unsurprising, given that Blackstone is one of the world's largest real estate owners – and an active buyer and seller of assets. But what is striking is that Blackstone was the selling party in almost one-third of all outbound Chinese investment transactions over that period.
Between 2012 and 2018, according to CBRE China research, Chinese outbound property investments totalled US$100bn. Through these transactions, the ownership of more than 700 buildings, ranging from trophy hotels and premium office towers to residential apartments across many countries, passed from Blackstone to Chinese groups.
China Investment Corporation (CIC) alone accounted for more than US$15.8bn of the acquisitions. It bought Blackstone's pan-European logistics platform, Logicor, for €12.25bn last year. CIC has a relationship with Blackstone going back to 2007, when it took a 9.9% stake in the US firm for US$3bn. The Chinese sovereign wealth fund sold the balance of that stake in March this year – by which time its interest in Blackstone had dropped to about 4.5%.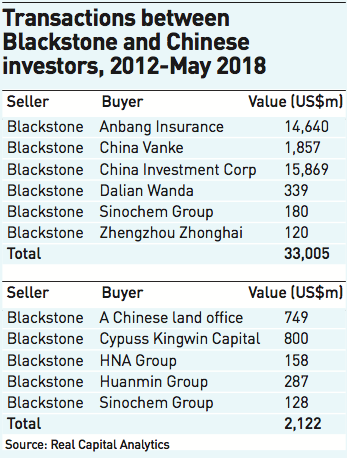 But it is the highly-acquisitive Anbang Insurance, founded and headed by the now-disgraced Wu Xiaohui, that has really stood out among Chinese investors. There were jaw-dropping deals, such as the acquisition from Blackstone of both Strategic Hotels & Resorts (for US$6.5bn) and the iconic Waldorf Astoria in New York. Anbang also acquired four residential apartment blocks from Blackstone in Japan for US$2.3bn.
Equally high-flying was HNA, a group born out of a small regional aviation company based on Hainan Island. It struck several significant deals, including purchasing a 25% stake in Hilton Worldwide for US$6.5bn. It also took a holding in Hilton Vacations.
HNA acquired Blackstone's holding in Hong Kong-listed Tysan Holdings, a developer in China, for HK$2.62bn (€288m). Blackstone bought into the public company in 2014 with the intention of securing control and privatising it. Blackstone ultimately chose to cash out for a tidy profit.
Dalian Wanda was the one major Chinese investor rarely crossing paths with Blackstone during its global buying spree. RCA records one single deal between the two – the purchase of 1 Alfred Street, a tired B-Grade office building on Sydney's harbourfront, for AUD415m (€265m).
Dalian Wanda had an ambitious redevelopment plan to convert the building into a luxury apartment and hotel tower, but recently sold the property to another Chinese group as part of a worldwide asset sell-off.
Today, with Chinese investment groups facing an official clampdown on borrowing – forcing such asset sales to repay debt – there is talk that Blackstone might become a buyer of Chinese assets, some of which it previously owned.
Over the past five years, Blackstone has, in fact, bought assets worth more than US$2.2bn from Chinese groups, according to RCA figures. The most recent was the purchase of 1 York Street, an older office block in central Sydney, for AUD205m in January this year.
Blackstone is reportedly looking at the possibility of buying back the Waldorf Astoria and Strategic Hotels and Resorts. But while it does have a formidable reputation as a 'value' investor, even if the price is right it seems improbable that Blackstone would be prepared to buy back much of the US$33bn in assets it has sold to Chinese buyers over the past five years.
Will China continue to export?
1

2

Currently reading

Blackstone: hey, big vendor