Real estate in Taiwan's capital looks destined for a downturn. Tsering Namgyal searches for bright spots in Taipei's outlook
The outlook for the Taiwanese property sector remains weak with the market seemingly on the cusp of a protracted downturn, thanks to a slowing economy and weak demand. Other factors affecting the market include slowing capital expenditure by multinationals and the unwillingness of international brands to expand their footprint. Amid all the uncertainty, investors remain sidelined, which explains falling transaction volumes.
However, some opportunities are emerging. The economy has ample liquidity and would benefit from potential stimulus measures from the new government and some signs of demand from domestic manufacturers.
Taiwan's property market is at the initial stage of a protracted downward trend, according Billy Yen of DTZ in Taiwan. He expects Taipei real estate prices to continue to drop by another 10-15% before market demand starts to reappear. The magnitude of the drop in prices would depend on the location, with the property outside the downtown Taipei expected to bear the brunt of the weakening demand.
CBRE Taiwan's Joseph Lin also believes that the market is likely to see a similar downward adjustment, although he is slightly more optimistic. "In the next few quarters, the commercial real estate market might see a price correction of 10% to 15% as some landlords look to restructure their property portfolio," he says.
Real estate transaction numbers indicate a lethargic commercial real estate market in Taiwan. As most investors stayed cautious, total investment turnover of commercial properties in Taiwan dropped by 11% year-on-year to NT$8.5bn in the first quarter of 2016. Total commercial real estate trade fell to less than NT$80bn in 2015, its lowest level in seven years.
Regardless, there had been odd deals that have fetched very high prices. In March, a sale of a land in Ximindeng, one of the busiest districts in Taipei, has garnered a record TWD26.08m ($805,261) per ping (which is equal to 3.3sqm). DTZ's Yen believes this is a one-off case and does not really reflect the overall market condition.
CBRE is cautiously optimistic about the commercial real estate market. The market is expected to gradually pick up as the economy bottoms out, says Lin, thanks to an "increase in transaction volume on the back of stronger investor confidence along with the domestic economy gaining momentum".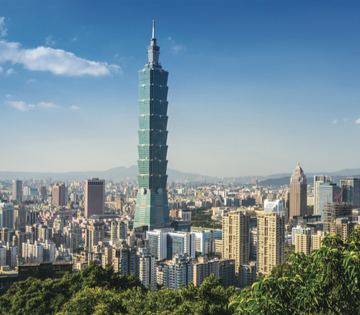 He believes that "owner-occupiers have been in acquisition mode and are expected to dominate investment activity in the quarters ahead". Meanwhile, they have also shown strong interest in industrial properties across Taiwan. And in spite of the weakening economic conditions an increasing number of local technology companies are looking to purchase real estate for future expansion, he says.
Yet Taiwanese real estate continues to remain, by and large, on the bottom of the shopping list for institutional investors. As the yields on domestic real estate remain low at around 2.5%, both institutional and retail investors are leaving to buy property in offshore markets. Institutions, particularly Taiwan's top insurance companies, have been moving to the real estate markets of Europe with acquisition of series of buildings from London to Brussels. Retail investors, Yen says, have also been moving into the neighbouring Southeast Asian countries such as Vietnam, Thailand and Cambodia.
To kick-start the economy, monetary authorities are stepping up their easing measures to pump more liquidity, which some analysts say could be a double-edged sword. Taiwan's central bank last month lowered its policy rate by 12.5bps for the third consecutive quarter. The bank also decided to remove all restrictions on mortgage and land loans, with the exception of loans for luxury homes, which prompted some analysts to interpret as an indication that the markets remain weaker than expected.
The central bank also removed a 60% ceiling on mortgages-to-home value ratios for homebuyers, except for purchases of luxury homes. The central bank has indicated that the speculation in the local property market has been on the decline and the market has stabilised, thanks to a series of cooling measures aimed at the local property market since June 2010.
Yen, however, believes that the rate cuts are only holding back the market from reaching its bottom sooner. "People are taking a wait-and-see attitude," he says, implying that monetary easing is giving people a false sense of optimism. "Transaction volume has been shrinking."
And regardless of low rates, the residential property sales will not rebound significantly in the coming months, analysts say. Most vendors are in no rush to sell, given the low interest rates and easy monetary conditions, while buyers continue to adopt a wait-and-see stance in expectation of changes in property prices.
CBRE is slightly more optimistic. While some Taiwanese investors may become more conservative in response to the rate cut, some are likely to seek investment opportunities in gateway cities of mature markets, says Lin of CBRE. He also believes that the domestic insurance companies, which have so far been investing mainly in Europe, will gradually move to invest in the domestic real estate.
Latest statistics show that the Taiwanese banks have also turned conservative towards the real estate sector. According to statistics compiled by the central bank, outstanding construction loans for February fell year on year for the third consecutive month.
Meanwhile, oversupply in the market is forcing developers to scale back the launch of new real estate, analysts say. Cooling measures announced by the central bank, including tax hikes that went into force in January, are expected to increase the tax burden on some home sellers. Total home mortgage fell by 4.28% year on year to TWD6.12trn in February.
The revised tax law imposes a capital gains tax of up to 45% on people who sell their commercial or residential property within a certain period of time from the date of purchase.
On the whole, analysts believe the uncertainty surrounding Taiwan's economy will continue to weigh on investor sentiment. That, in turn, might also have an adverse impact on the leasing market, including leasing demand, rental income, among others.
As for real estate development, notable projects in Taipei are mostly large-scale and are composed of mix-used functions.
Analysts also expect to see more local investors partner with experienced foreign entities – including developers, investors or operators. Local developers can benefit from the expertise of the foreign entities, they say.
Meanwhile, politics will continue to be a main source of concern before the new government is inaugurated in May.
There are also concerns about whether China might announce policies that could curb Chinese tourists to Taiwan, affecting retail.
The new government might also announce measures to boost the real estate market. However, it is more likely to focus more on the social sector, such as building government-subsidised housing for low-income households.
Overall, the market sentiment continues to be weak on the back of falling exports, and institutional investors are likely to remain relatively conservative in the near term. As a result, everything seems to point to a market that is likely to get a lot worse before it gets better.
Brussels: Capital gains
1

2

3

Currently reading

Taipei: Lacklustre outlook