The relatively high yields of Australia's most populous city is attracting global capital, not least from China. Christopher O'Dea reports
Last year, office vacancy rates in Sydney returned to levels seen during the financial crisis. But the market is recovering as inflows of Chinese and Singaporean capital help the city avoid the ill fortune of Australia's commodity-related property markets. The Asian inflows are supporting both office and residential markets in Sydney, helping to take office space off the market in the face of expected new supply, while speeding the growth of apartment units in high-density urban areas – favoured by wealthy Chinese seeking to establish a foothold in Australia to facilitate university education for their children and, ultimately, residency.
Perhaps the greatest sign of recovery is the recently unveiled trophy penthouse that will top Australian industrialist James Packer's proposed Crown Sydney hotel and casino resort at Barangaroo, located at the southern end of the Sydney Harbour Bridge. Reports suggest the penthouse could be the first Australian property to break the AUD100m (€70.3m) price barrier.
The advent of such a swanky pied-a-terre on the Sydney market has been some time coming. "Australia has come onto the international radar screen over the last five years," says Stephen McNabb, head of research, Australia, in the global research and consulting group of CBRE. As a mature, stable market "Sydney tends to attract the majority of global investment capital in property."
Australia's appeal includes sound underlying economic fundamentals, a sound financial and legal system, as well as the economic fruits of a decade-long boom in mining and commodity investment, says McNabb. That foundation has enabled the country to sustain growth through the recession, to the point where the Australian economy is now 15% larger than it was in 2007, while the EU and US have only recently reached parity with pre-recession levels, he adds. That economic strength has spurred higher interest rates and yields which, in turn, have aided the Australian commercial property market. "We got a couple of hundred basis points on the other major markets," says McNabb. "That difference becomes apparent given the low-growth, low-yield environment we're in now."
Core office property in Singapore and Hong Kong, for example, are yielding between 2% and 4%, while New York and London prime offices yield in the high 4% range, compared with 6-6.5% in Sydney, McNabb says.
Australia is attracting a wide range of institutional investors. Invesco's Australian property unit invested around AUD650m in four deals last year, and now manages around AUD850m, which accounts for 15% of its holdings in Asia Pacific, says Ian Schilling, head of Australian real estate at Invesco. The company, which entered Australia in late 2012, expects a similar volume of transactions this year.
"Global pension and sovereign wealth funds continue to be primarily focused on targeting prime office buildings in Sydney and Melbourne but are now starting to look at other asset classes such as malls and warehouses, and other key Australian markets such as Brisbane and Perth," he says.
"Over the last couple of years, the weight of capital focused on quality Australian opportunities has increased. A lot of clients tend to focus on major office markets in gateway cities, but we see that being diversified as they become comfortable looking at other markets." The expansion beyond the two biggest cities follows a drop of about 50bps in capitalisation rates for premium office towers amid intensifying competition from foreign and local investors, he says.
While competition has driven down capitalisation rates, they remain at "attractive spreads to the borrowing rate", Schilling says. "So the return on equity is still appealing." Professional investors are also looking at opportunities in residential markets, further boosting housing demand.
After an investment in a Melbourne residential development by Grocon, Invesco is seeking similar opportunities this year, Schilling says. "There's a big boom in residential development at the moment. A number of developers want investment to help their funding gap and that's where we can step in."
Investors in residence
Singapore-based Far East Organization has been among the most aggressive purchasers of Australian property in the past year. Far East is controlled by Robert and Philip Ng, who inherited a property empire from their father Ng Teng Fong, who developed more than 700 hotels, malls and apartment blocks in Singapore and Hong Kong. Forbes says the brothers are worth US$11bn (€8.5bn) and valued their private real estate holdings at more than $6bn before most of the recent purchases.
One of their recent purchases in 2014 was the Sydney tower from the New South Wales government, which took their Aussie development pipeline to more than $1bn. Known locally as the Ausgrid tower, the 20,000sqm building sitting opposite Sydney Town Hall is considered a prime candidate for conversion to residential units. The transaction is the latest of several aimed at converting older office stock to residential and hotel use.
All told, Far East has invested about $800m on Australian commercial property and hotel businesses in Australia through early 2014. Other purchases have included two buildings overlooking Sydney's Hyde Park, expected to be converted to residential units, as well as Clocktower Square Shopping Center, a commercial, retail and residential complex.
Far East first entered Australia in 2013 through its listed hospitality arm. Far East Hospitality Holdings operates as a 70-30 joint venture formed in 2013 between Far East Orchard and The Straits Trading Company. In the same year of its formation, Far East Hospitality, through its wholly-owned subsidiary Far East Hospitality Investments (Australia) , completed a 50-50 joint venture with Toga Group, investing AUD25m in the Australian hotel and property concern.
CBD office fundamentals look robust
CBD office returns in Sydney rose 9.8% year-on-year at June 2014, putting it marginally behind Melbourne's 10% rise but well ahead of Perth where returns fell to 5.5%. This is a major turnaround compared with last year when Perth dominated.
Sydney CBD office yields have continued to contract since 2010, when they were close to decade highs, and now stand around the 10-year average. Long-term government bond yields have fallen almost half a percentage point in the first half of 2014, to 3.7% at the end of June. This shift is larger than the fall in Sydney CBD office yields, causing spreads to rise.
Spreads between Sydney real estate and the risk-free rate at the end of June were around three percentage points, a healthy margin and around one percentage point above the 10-year average.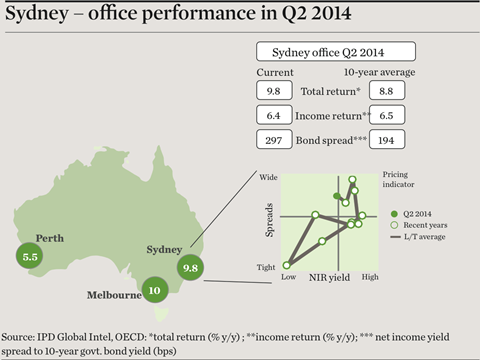 With real estate yields at a long-term average and government bond rates low by historical standards, investors will need to be wary of a potential impact from future rate rises, which would diminish the spread.
However, with measures of Sydney CBD office investment fundamentals looking robust, any future rise in interest rates is unlikely to affect Sydney adversely in relation to other Australian markets.
Other notable activity by Chinese investors spans the office and residential sector. Chinese state-owned development behemoth Greenland Holding Group, based in Shanghai, is preparing to push ahead with its third Australian development – the Leichhardt Green project in Sydney's inner west district, which is awaiting final approval for a planned 228 units at the site. Its current project, Greenland Center tower in central Sydney, has already pre-sold its first phase.
The restructuring of the Arena Office Fund portfolio has also attracted Chinese capital, with a Chinese developer conducting due diligence on its building in Sydney. Morgan Stanley took control of Arena Office Fund in 2011 through a recapitalisation, changing the vehicle's name from Orchard Fund Management, and committing to deliver liquidity to investors.
Arena Office Fund is an open-ended unlisted property fund established in 2005 with exposure to a range of office properties in Australia and New Zealand. The fund had total assets of approximately AUD343m at mid-year, and owns a geographically diverse portfolio with what the company calls "a good mix of tenants and a balanced lease expiry profile". At an investor day meeting in March, Morgan Stanley presented options for achieving liquidity, ranging from asset sales to flotation of the fund.
The fund's portfolio includes office properties in the established commercial centres of Sydney and Melbourne. It includes blue-chip tenants such as Victoria Police, Think Education, Optus, Newcrest Mining, Roadshow Films and QBE. Over the past two years, the strategy has been to position the fund to provide liquidity by stabilising the portfolio, recommencing distributions, and allowing time for a recovery in the property markets. The interest from Chinese investors should be welcome news because time is running short – Morgan Stanley's recap plan called for delivering liquidity within four years.
There may be no better moment for an office fund to shed assets. For one thing "the Asian capital flow story is having a disproportionate impact on Australia", says McNabb. A full 15% of the capital from Asia was invested in Australia in 2013, a market that makes up just 2% of the global economy. "That's a big overweight," he says.
While Sydney office property is yielding 6-6.5% now, vacancy rates are expected to rise from 9% today to perhaps 11-12% in 2015 or 2016. That is modest compared with the 20% vacancy recorded seen in the early 1990s, McNabb says, but the risk of rising vacancy rates means investors remain concentrated on core premium assets.
In Sydney, almost 800,000sqm of office space will be built over the next five years, according to broker Savills. Lend Lease Group's Barangaroo harbour front redevelopment alone will add 280,000sqm in three towers. The potential removal of about 130,000sqm for conversion to residential or hotels over the next three years will moderate the office vacancy rate, Savills says.
For the immediate future, the conversion trade looks set to continue. McNabb says that 45% of the dwelling units being built today are condos, up sharply from a historical average of 20-30%. And of the apartments under way in Australia, 60% are located in 4sqkm areas of the central business districts of Sydney and Melbourne.
"Within residential, there's a skew to apartments, and within apartments, there's a skew to inner-city apartments," McNabb says. "That's where the investment is going."
Warsaw: A victim of its own success
1

2

3

Currently reading

Sydney: Bridging capital