Shanghai has led China's global financial ascent. Combining good planning and proud sophistication, the city is still evolving, writes Florence Chong
The glitzy and throbbing metropolis that is Shanghai encapsulates the remarkable economic transformation of China in the 21st century. But that is where the comparison with the rest of the country ends.
Shanghai is distinct from other Chinese cities, standing above its peers in commerce, culture and wealth, and internationalism. It is known for its collective commercial nous. This historical legacy has given Shanghainese a certain sophistication, which some see as confidence – others as brashness and arrogance.
Shanghainese Patrick Chen says the city is truly the most sophisticated in China. "Shanghai is so different from other Chinese cities. It is full of passion and vibrancy. It has an East-meets-West ambience." Shanghai has been known as the Paris of the Orient since the 1930s, explains Chen, who is deputy director of the international tourism promotion department at Shanghai Municipal Tourism Administration.
The city's business acumen and international outlook showcase the very qualities that appealed to Deng Xiaoping, who ruled China between 1978 and 1989 and opened the country to the world.
Former chairman of the Australian China Chamber of Commerce in Shanghai, Peter Arkell, says Deng understood that commerce, trade and international relations were innate to Shanghai's DNA, and he wanted to release that energy. So Shanghai was able to develop its natural attributes to become the commercial and financial centre of China.
"Beijing is China's capital," says Arkell. "Shanghai is China's capital capital". Most of the major commercial decisions in China are made in Shanghai. It is home to most of China's largest companies, and the key base for most foreign head offices in China.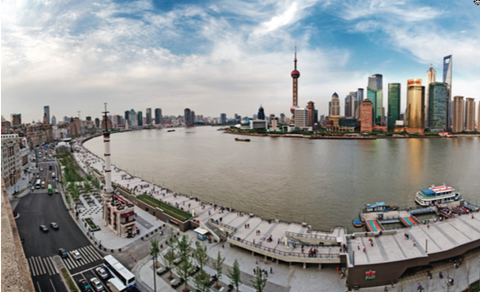 Official data shows that outbound investment from Shanghai jumped 280% in 2015 over 2014 as 45 more multinational corporations joined their peers to open regional headquarters in Shanghai.
Deng's ambition for Shanghai went further. "It was also his vision that China's past and future be reflected across the (Huangpu) river," says Arkell.
Shanghai's historic Bund, fabled in recent history, faces Pudong across the river, reflecting Shanghai's past, its present and its future. Deng encouraged the preservation of the old in juxtaposition to the new, says Arkell. "His vision became the impetus for creating this duality that now exists in Shanghai."
The Bund tells the story of Shanghai's history when various countries, including Britain and France, held land concessions in China.
At one end of the Bund stands Fairmont Peace Hotel, offering what Arkell describes as one of the world's finest examples of Art Déco architecture, and which has been faithfully restored.
Together, with the Peninsula Hotel, developed on the site of the former British Consulate's grounds, the Fairmont Peace Hotel bookends the Bund.
In between is the old Shanghai Club, complete with its famous Long Bar, restored and now part of the Waldorf Astoria Hotel.
The Bund's heritage buildings, including the former head office of HSBC, house financial services firms and banks. They stand alongside high-end restaurants and the flagship stores of global luxury brands.
"Shanghainese are proud of these old western buildings in the Bund. They are a constant reminder of the East-meets-West heritage of this city," says Chen.
For good measure, colonial bungalows along streets lined with plane trees in what is known as the French Concession have also been preserved and restored.
Work started on Pudong in 1993 to create a financial district. One of Shanghai's first residents was the Shanghai Stock Exchange, which now rivals the New York Stock Exchange in terms of trading volumes – and sometimes market capitalisation.
According to some, Shanghai is poised to claim the mantle of China's financial centre from Hong Kong. Shanghai is the largest clearing centre for renminbi transactions. Cross-border trade settlements in yuan increased threefold last year from 2014.
Some of the world's tallest buildings grace Pudong's skyline. These include Shanghai Tower, the second-tallest building in the world, and Jin Mao Tower. The city's most distinctive structure is the Oriental Pearl TV Tower.
While the Bund presents a picture of cosmopolitan lifestyle and affluence, Pudong is testament to China's financial might and its economic achievements over the past three decades.
Certainly, Shanghai is the international gateway to China, says Michael Wadley, a lawyer-turned-business consultant, who started travelling to China on business in the 1980s before deciding to live in Shanghai permanently.
The mega-city is home to 24m people. As well, several cities with populations of 3-5m – including Hangzhou, Ningbo and Suzhou – are within 45 minutes by high-speed rail.
As China's economy boomed during the years of frenetic double-digit growth in the last decade, so did Shanghai.
Joe Zhou, Jones Lang Lasalle's Shanghai-based head of China research, says the spurt of development came as Shanghai prepared to host the World Expo in 2010. "The government began investing heavily on infrastructure, like subways, roads and tunnels," he says.
"Today, Shanghai has the largest metro network in the world with 14 lines over 600km of track in service and, by 2020, there will be another five new lines, bringing the total to more than 20 lines crisscrossing the city to connect its suburbs."
Zhou shares the view of others who believe the city has benefited from good town planning. "I see Shanghai as a very well integrated city – retail, residential and commercial are woven into the fabric of the city," Zhou says.
Pudong is a good example of careful town planning, he adds. Planners ensured that developments included hotels, shopping malls and recreational facilities.
Patrick Chen says the newly opened Disney theme park in Pudong is a draw for tourists and locals.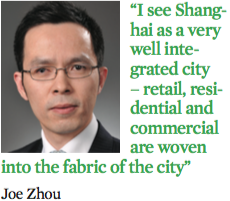 The massive urban renewal that Shanghai has undergone in the past three decades has been carried out "sensitively", says Arkell. "There is nothing haphazard about its evolution. It is well planned and has created little disruption to those living and working in the city."
Wadley said: "It is a city run by engineers. There are engineers in the senior administration of the municipal government [and] they hold great sway over the way the city is developed."
Wadley says, like the rest of the country, Shanghai's development is mapped out in five-yearly economic cycles. What strikes him as particularly impressive is not Shanghai's above-ground developments but rather what is "unseen" by the public eye. He talks about the seamless workings of sewage systems, flood controls and internet connectivity.
"Anything the Shanghainese do, they do faster than other people. It goes back to their sense of pride and a desire to show that they can do it better than others," says Wadley.
Again, despite its claim to internationalism, Wadley senses that the presence of foreigners in Shanghai is declining – something he attributes to the localisation policy of foreign companies. They are replacing expatriates with locals.
Perhaps it also has something to do with the slowdown in China's economy in recent years.
Chen says the slowdown has affected Shanghai – but not to the same extent as some other parts of China.
Shanghai has shifted away from manufacturing into services – a growing sector of the Chinese economy. Shanghai's GDP was about US$378bn in 2015.
Tang Huihao, chief economist with the Shanghai Municipal Government, said at a recent press briefing: "The city's economy grew 6.9% in 2015. We estimate that Shanghai's GDP will continue to grow at a modest rate of 6.5-7% in 2016."
Tang added that the city's fiscal revenues had grown faster than other Chinese cities in 2015. The strength of Shanghai's property market – which is holding up better than other Chinese cities – mirrors Shanghai's relative prosperity. Tang said investment in Shanghai's real estate sector rose 8.2% to ¥346.9bn last year.
Construction of residential space rose by 14.4% in 2015 over the previous year, while the total number of residential houses sold increased 12.8%. The average price of new homes climbed 18.2% and pre-owned homes rose 11.7%.
Joe Zhou says the price of prime office buildings in Shanghai has risen by 15-20% in the past 18 months. "Liquidity has improved and investors are keen to buy into this market," he says. "Office transactions totalled over CNY60bn in 2015."
Zhou believes the Shanghai office market is gaining the same level of transparency that is present in developed markets. The major drivers of the Shanghai economy, he says, are commerce, financial services, shipping and trade.
Shanghai Port is now the busiest in the world, having overtaken ports such as Singapore and Hong Kong.
Many generations of Shanghainese have engaged with international trade, says Wadley. "It started back in the late 1800s or early 1900s when Shanghai developed into a trading hub."
That role has been greatly enhanced following China's accession to the World Trade Organisation in 1995. China's exports boomed as it became the world's largest exporting nation.
To facilitate trade, and later the exponential explosion of onshore and cross-border e-commerce, Shanghai created its own free trade zone in 2014. Shanghai also became one of the first Chinese cities approved by the government to engage in cross-border e-commerce.
Tang said reform and innovation in the Shanghai Free Trade Zone (FTZ) has begun to show results. "Statistics show that the FTZ absorbed 67% of the city's total foreign direct investment committed between January and November of 2015," he said.
Seeking new sources of economic activity, Shanghai has continued to shift its economy towards being more technology innovative to create jobs. "Last year we made some breakthroughs in innovation and reform," said Tang. "We launched an initiative to build a technology innovation centre."
But against prevailing global uncertainty, Tang said Shanghai will have an enormous task to stabilise economic growth, change its product mix, transform its economy, and overcome shortcomings. Mere hiccups for a city that exudes such confidence, Shanghai will take on change in its stride – and with pride.
Dublin: Glass half full
1

2

3

Currently reading

Shanghai: China's capital of capital