B arely a year into the job, Indian prime minister Narendra Modi is going on a second honeymoon, vigorously pressing forward ambitious structural reforms aimed at spurring the subcontinent's growth. Indian investors and business leaders had been frustrated in late 2014 by Modi's lack of action to modernise laws governing acquisition of land, foreign investment and the tax code. But the delay reflected the need to win control over state legislatures that elect representatives to the upper house of Parliament, where opposition to reform was strong.
Emboldened by key electoral victories in October, Modi ushered in 2015 with a wave of executive orders to ease investment restrictions and allow the central and state governments to acquire land to create industrial corridors. It is a risky strategy, as Parliament may yet oppose the reforms when they are put to a vote later this year. But there is a lot at stake – while the IMF recently predicted that India's growth rate will surpass China's sometime next year, India is short of capital and needs foreign investment. But many investors may be reluctant to make major commitments until reforms are final.
Modi is now moving quickly to spark an economic surge during his tenure. Property developers and investors are looking forward to the new approach. There is particularly good news for the property sector in the new government's reform agenda. Relaxed guidelines for foreign investment, implementation of regulations to promote real estate investment trusts (REITs), increased funding for affordable housing and further spending for infrastructure projects are already breathing new vigour into the property sector. And for 2015, a range of further reforms appears likely to be implemented, including easing land acquisition, streamlining the taxation of REITs, establishing a modern real estate regulatory authority, and opening up of the retail sector.
Capital has already started moving. Private equity funds worth $955m (€843m), about Rs5,730 crore, flowed into the Indian real estate sector during the first nine months of 2014, compared with $754m for all of 2013, according to data from Indian research firm VCCEdge. Of the 29 transactions, most were residential real estate projects, as investors positioned for the residential real estate segment to benefit first from a recovery in the economy. "They want to put money in the beginning of the recovery curve rather than at the end of the curve," said Sanjay Dutt, managing director of Cushman & Wakefield.
As in other property markets, all that capital is compressing returns. According to Vijay Wadhwa, chairman of The Wadhwa Group, one of the leading residential developers in Mumbai, private equity investors became more liberal with developers as capital became available in late-2014. As a result, targeted returns slipped from 24-26% to 20-22%. Wadhwa told Indian media he believed returns could decline to 16%.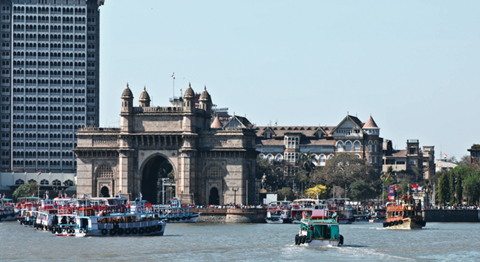 Mumbai's history is a tale of epic real estate development
Private equity funds are scooping up some of the 800,000 unsold apartments in Mumbai, New Delhi and other major Indian cities. Indian investment managers such as Piramal Fund Management, headed by Indian billionaire Ajay Piramal, and Aditya Birla Financial Services Group have formed apartment funds, while Ramesh Jogani, former head of Indiareit, is reportedly raising an opportunity fund that will focus on Mumbai property. Opportunistic funds are the most utilised strategy targeting India, representing 82% of the number of vehicles raised and 85% of the total capital committed to private real estate funds, according to Preqin. Indiareit Apartment Fund, managed by Piramal, has raised more than Rs500 crore since its launch last summer.
That list of investment managers demonstrates that India is a local's market. Preqin says more than 85% of India-focused real estate funds are managed by domestic fund managers. Major institutions have formed alliances to tap into the potential of building property for India's growing middle class, such as Canada Pension Plan Investment Board's 50-50 collaboration with Piramal to launch a rupee debt fund worth $500m to finance residential projects in major Indian cities.
The fundraising activity illustrates the impact of property industry reforms. Capital from funds enables developers to commit substantial numbers of residential units to institutional owners, typically at 25% less than the cost of in-place units in the same areas. Under new laws that require developers to set aside only 50% of funds received for units under construction in an escrow account backing completion of the projects (down from 70% before reform), developers have more cash available to fund new ventures.
Easier than ABD
Residential property in Mumbai would seem a good bet. The city's history is also a tale of property development on an epic scale. Formed from seven islands that once housed colonies of fishermen plying the Indian Ocean, then-Bombay was moulded into a city by the mid-18th century Hornby Vellard Project, which filled the areas between the islands in an engineering feat reminiscent of Dutch efforts to reclaim land from the North Sea. With an estimated city population of 18.4m and a metropolitan area population of nearly 21m, Mumbai is the most populous city and metro area in India, and the eighth most populous city in the world. It is also the wealthiest city in India, and has the highest GDP of any city in South, West or Central Asia.

Today, Mumbai property looks to be the next Indian market to benefit from renewed vigour in the subcontinent's economy, with office space leading the rebound. A multi-year decline in Mumbai office rental rates is slowing, and has reached near bottom-of-trough levels, according to CBRE's third-quarter review of Indian office property markets. In contrast, increases in office rental rates are slowing in New Dehli, Bangalore and Hyderabad, indicating those markets may have seen their best gains.
To track the office rental cycle in India, CBRE watches the trend in prominent grade-A buildings in key micro-markets. Mumbai's commercial office space market consists of a central business district and principal secondary commercial districts, which display rental rates and capital values about twice the level of Mumbai's four emerging office districts. But it is the emerging districts that attract coveted technology and IT services companies as tenants. In fact, CBRE says just two of Mumbai's emerging office districts account for 45% of office transactions in the city.
Mumbai's financial district, the alternative business district, or ABD, has maintained the highest rental level by quarter since 2012. In terms of capital value of property, all four of Mumbai's prime office districts have seen values decline since the fourth quarter of 2012, and the story for the traditional CBD office property has been perhaps the worst – CBD office property value lost its edge over other prime districts during 2014, and now stands slightly lower than the financial district and the consultant-dominated extended business district, or EBD.
Mumbai continues to witness an exodus of tenants towards cost-effective, tech-ready locations. The CBD registered lacklustre performance in transactions in the second half of 2014, with office space demand mainly from tenants seeking small and medium-sized premises in prominent commercial developments. There was no new supply and although vacancy levels increased marginally, rents were stable. Similarly, the EBD saw sluggish activity limited to small or medium office spaces from research and consulting companies. Mumbai's emerging peripheral districts witnessed strong demand and accounted for nearly 50% of the total space leased in the city during the fourth quarter. Demand remained focused on small and medium format spaces from 2,000sqft to 60,000sqft, primarily from companies in the IT and IT services sectors, as well as financial services, engineering and manufacturing.
"Today, Mumbai property looks to be the next Indian market to benefit from renewed vigour in the subcontinent's economy, with office space leading the rebound"
Significant new supply is expected in the suburban and peripheral micro-markets during 2015, as commercial and IT developments launched during 2014 expected to reach completion and become available. While that's expected to keep rent increases in check, recent significant leasing transactions in Mumbai illustrate India's global leadership in all areas related to knowledge process outsourcing (KPO) and business process outsourcing (BPO). The financial district saw leases by Tata Communications in Equinox Tower I and National Bank of Abu Dhabi in the Platina project, while Marubeni-Itochu took a small space in The Capital.
But an IT-district transaction illustrates the way forward for Mumbai. Vuclip, the leading premium mobile video-on-demand service for emerging markets took a sizable space in 247 Park – Phase I, an energy-efficient, multi-tenant office complex tailored to digital business in the heart of the upcoming IT corridor at Vikhroli (West), one of the city's four emerging office districts. The anchor of a 1.8m sqft complex, 247 Park is India's largest standalone LEED Gold-certified green building, designed to lower energy costs by 23%.
Hosting tech companies is big business in Mumbai – so big that property owners constantly seek an edge to attract the best tenants. HCC Real Estate, a wholly-owned subsidiary of Hindustan Construction Company, which develops and markets high-value real estate projects across India, brought in Landor, the world's top branding agency, to name and position 247 Park. The agency decided to capture the "always on" mantra of the digital age – 24/7 – as the building's name and identity.
While branding advice may not be a typical item on the due diligence checklist of most investors, it is an element of promotion that can make or break the financial performance of a Mumbai tech property. And in a city that was once a collection of fishing huts – and is now hurtling along the road to reform – property investors know it is good sense to try anything that might help make for a successful catch.