Japanese investors are returning to global real estate after an extended hiatus. Florence Chong considers whether the level of investment will reach the heights of the 1980s
During the 1980s, Japan was the world's most prolific real estate investor in multiple global markets, before it was eclipsed by Singapore and China. But since 2016, there have been signs of a second coming.
This time there is no speculative buying. No golf courses, trophy hotels or large tracts of land. Today's Japanese investor wants institutional-grade assets, primarily offices that will deliver bond-like returns. And preferably assets located in key cities on the west and east coasts of the US, or – at a push – in Europe and Australia.
Some will invest direct, and others – indeed, most of the large pension funds – will initially invest through an asset manager.
Yukihiko Ito, managing partner of Tokyo's Asterisk Realty & Placement Agency, believes total outbound Japanese real estate could exceed US$10bn (€8.3bn) in 2017 – with 60-70% taking the form of direct acquisitions and the balance investments in real estate funds. It is a figure, he says, that is set to rise quickly from here. In 2018, Ito expects increased focus on Europe, which offers good buying opportunities.
Real Capital Analytics, which tracks direct transactions around the world, captured US$4.4bn of deals in 2017, up from US$4.2bn in 2016.
Reid Mackay, partner with Tokyo-based EastGate EGW Asset Management, says Japanese outbound investment is driven in part by the high level of liquidity in corporate Japan – the highest he has seen in 15 years working there.

"The Japanese economy has entered a period of stable growth and companies are profitable, so they have cash to deploy," he says. "The Japanese REIT market has peaked, prompting investors to look elsewhere." Mackay says Japanese lenders are also "very bullish" about overseas investment.
Brett Himbury, IFM Investors' chief executive, says: "There has been a strategic shift to offshore markets among Japanese institutions, insurance and pension funds for investment in debt, equity, private equity, property and infrastructure."
IFM has several Japanese pension funds and insurers as clients.
Himbury says Japanese institutions have three main objectives: to add to their risk-adjusted return; to better diversify beyond their domestic market; and to improve their asset-liability funding profiles.
Given the dynamics of Japan today, Himbury says Japanese institutions think they are unable to achieve these objectives at home. But while the large groups have their diversification strategies worked out, Himbury says they are yet to start implementing them.
That may be about to change. In December, the Government of Japan Pension Fund (GPIF) awarded its first domestic real estate fund-of-funds mandate to Mitsubishi UFJ Trust. Ito says the market also expects GPIF to make a decision shortly on its overseas fund-of-funds mandate. When this happens, other Japanese pension funds and institutions, which have been hestitating, will follow suit.
Japanese insurer Dai-ichi Life has also gone down the fund-of-funds route. In August it allocated ¥10bn (€75m) for European investments – its first offshore real estate investment in 26 years.
The mandate marked the return of Dai-ichi Life to overseas real estate investing, which reached about ¥600bn in the 1980s. By 2001, Dai-ichi had disposed of all of its offshore property holdings. Dai-ichi has indicated that it will increase its overseas real estate allocation to Europe, and extend to Australia and the US.
While fewer than a third of Japan's major insurance companies have started investing in global real estate, Ito believes that 70-80% of them may allocate to global real estate in 2018.
CBRE Research in Tokyo estimates that Japanese outbound real estate investment through indirect investment could amount to US$15.3bn in the next few years. This compares with a cumulative US$9.1bn in direct real estate investment officially recorded between 2012 and 2016.
"The Japanese have generally been nervous about investing overseas, but that fear has finally disappeared," Mackay says. That wariness was a legacy of the bubble years when Japanese investors overstretched on their offshore acquisitions, resulting in heavy losses, he adds. Hence the caution and use of experienced fund managers.
Today, the names that crop up in overseas property transactions are mostly familiar in Japan. They include leading trading houses and large Japanese construction groups such as Tokyu Land Group, Mitsui, Mitsubishi Estate, Mori Trust, Marubeni and Kajima.
A year ago, real estate developer Mori Trust bought two adjacent buildings in Boston for US$670m, signalling its entry into the US market. But that acquisition is insignificant compared with those of Unizon Holdings, a relative unknown in global property circles. Since 2016, the Tokyo-based company has bought office buildings in Washington, DC and New York worth more than US$1.4bn.
Mackay says private groups are also active. One group is Takaneka Corp, which bought a building, leased to Amazon in Seattle for US$269m in December, a year after acquiring another office, leased to a leading Japanese bank, in San Francisco for US$135m. In 2016, Aso Holdings bought the Google head office in Playa Vista, Los Angeles for about US$300m.
Hideyuki Sato, general manager for Tokyo Land's Asian operations, says Japanese companies are going offshore in search of higher returns. The Bank of Japan's zero interest-rate policy is making it difficult for companies to manage their assets at home.
"As long as the money stays in Japan they cannot make much profit," Sato says. "Therefore, they are looking for better opportunities outside Japan."
Increasingly, he adds, Japanese groups such as Mitsui and Mitsubishi Estate are managing funds for institutional investors. Last year, Mitsubishi Estate announced its intention to create a ¥2bn pan-Asian core real estate fund in four years through a joint venture with CLSA Real Estate Partners.
Tokyu Land could also eventually establish an asset management business for investment in the US, where it first invested in 2012 and is building up the business, including an investment in the redevelopment of 425 Park Avenue in New York.
Sato says, for now, the company is accumulating assets on its balance sheet, while also trying to develop an asset management business to provide investment opportunities for other Japanese investors.
Japanese capital has flowed almost entirely to the US. Sato says this is understandable because foreign-exchange hedging is more cost-effective in the US than it is in Europe.
But in recent months, a trickle of investment has started to flow to Australia and Europe.
Mitsubishi Estate has co-invested with Australia-based developer and fund manager Lendlease and Chinese insurer Ping An in an AUD1.5bn (€980m) office project in Sydney. Mitsubishi Estate has also taken a 50% interest in what will be Australia's largest residential project in Melbourne, known as Melbourne Quarter.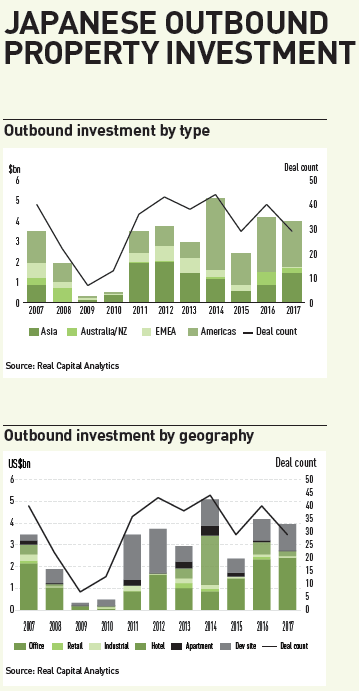 Emerge Capital, a Sydney-based real estate investment advisory group, was instrumental in connecting Mitsubishi Estate with Lendlease. Peter Mitchell, a non-executive director of Emerge Capital, says incoming Japanese investors have different objectives and strategies. "Some look to expand businesses into Australia and, rather than doing it organically, they look to partner with an Australian group or buy into their platform," he says.
Mitchell does not rule out Japanese groups looking for merger and acquisition opportunities in Australia's private and public markets.
In Mackay's experience, the Japanese are keen on core office buildings for reliable income – and they like the tech sector. He points to their purchase of Google and Amazon headquarters – investments that fit the bill on both counts.
Sato estimates that 20% of outbound Japanese investors are looking for core assets, and the remaining 80% are prepared to go into core-plus or even value-added investment for higher returns.
"The majority of investors look for pre-tax returns in the low teens," he says.
CBRE Research notes that Japanese offshore development investment continues to grow. The total cost of projects announced in the first half of 2017 was US$700m – up 35% year-on-year. "Ongoing development projects announced since 2016 have reached about US$1.9bn." Most of these are in Asia-Pacific.
Mitchell says some Japanese construction firms are going offshore for future growth because they believe that opportunities in Japan are going to shrink after the Olympics in 2020 against the background of an ageing population.
"It is easier for Japanese companies to enter the Southeast Asian markets," says Sato.
"Tokyu Land has a 40-year history in Indonesia, and we are one of the top 10 developers there. We are aiming to build 3,000 condominiums a year."
Tokyo Corporation, another subsidiary of the Tokyu Group, has entered Vietnam, Thailand and Australia markets.
Apart from these frontrunners, Japanese investors are still marking their time. But the next two years could see the start of a stronger, consistent capital outflow from Japan.