The likes of Blackstone, GIC, CPPIB and Allianz are building up a major presence in India's real estate market. Foreign investment is in full force, writes Florence Chong
Five of the seven top office owners and developers in India are either foreign-owned or have foreign capital behind them. It underscores the degree of foreign penetration into India's property market. The six largest foreign real estate investors in India have collectively amassed more than US$30bn (€26bn) of assets, across a number of sectors.
Commenting after his first trip to India recently, one portfolio manager for a UK-based company says: "India is truly a market with unrealised potential. When you consider the size of its population, demographics and economic potential, the country is remarkably under-served."
As an example, he points to the retail sector. "India has very few shopping malls of international standard. Elsewhere in the world, investors are wary of shopping malls because of e-commerce. Not so in India."
In April, Canada Pension Plan Investment Board (CPPIB) and Indian developer Phoenix Mill formed Island Star Mall Developers to develop, own and operate retail malls across India, initially investing CAD149m (€101m) before increasing it to CAD300m for a bigger stake.
Per capita, India is under-served in all forms of real estate, according to industry experts. Therein lies its attraction.
"The [investment] volume in real estate is at the highest level this cycle and possibly ever," says Petra Blazkova, head of analytics for Asia Pacific at Real Capital Analytics. "In the last 12 months, we recorded close to US$6bn of income-producing assets and development sites being sold. Most of the growth comes from cross-border investors targeting India."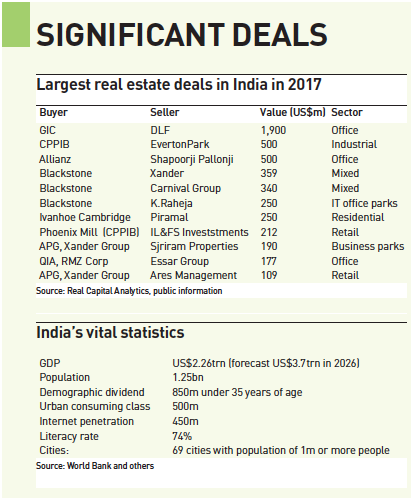 Recent UBS research highlights the dominance of global investors in India's property sector. UBS says Blackstone and its consortium members are now the largest office owners and developers in India, with assets valued at close to US$8bn.
Blackstone recruited Tuhin Parikh to head its Indian operations in 2006, but did not start investing there until 2011. A source familiar with Blackstone's activities says it held back from "the massive real estate boom" prior to the 2008 global financial crisis, when "hedge funds, investment banks and opportunity funds were all looking for real estate deals". When capital became scarce after the crisis, and the public market shut down and foreign opportunity funds left, "Blackstone took the opportunity to acquire income-producing assets at pretty good capital rates", he says.
Blackstone has since continued to buy. This year it bought a 15% stake in K Raheja Corp, an Indian group, for about US$250m and took over a large commercial mixed-use complex in Mumbai from Carnival Group for about US$292m.
UBS ranks Indian developer DLF as the second-largest foreign investor in Indian property. Singapore's sovereign wealth fund, GIC, acquired almost 40% of DLF in August for US$1.9bn, a record for an Indian real estate deal.
Lee Kok Sun, CIO of GIC Real Estate, says DLF's portfolio comprises high-quality, income-generating assets across India's top-tier cities. He says it has "significant" development potential.
"We have been investing in India since the early 1990s, and continue to have confidence in its long-term growth," he says. "It is a key priority for us to forge new partnerships with like-minded leading market players, and to leverage our respective strengths to add value together.
"If you look at our recent market deals, we have been diversified in terms of the investments we made. This is a function of the types of opportunities that have come along."
GIC's portfolio includes a 63.9% stake in the Indian developer, Nirlon, and its Interglobe venture with Accor, the French hotel operator. Interglobe plans to grow to 3,500 hotel rooms across India, Nepal, Sri Lanka and Bangladesh by 2019.
More recently, GIC partnered K Raheja Corp to acquire three acres of land from Siemens for about US$94m.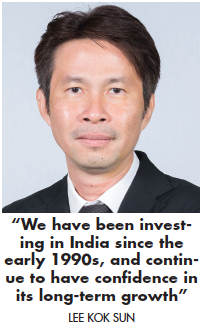 The collective value of GIC's Indian real estate portfolio is "well north of US$6bn today", according to a source. GIC started investing in India in the early 1990s, and has participated in private and public market transactions, funds and asset buyouts.
Lee says India is still a key emerging market destination for GIC.
CPPIB's managing director and head of Asia Pacific Suyi Kim says: "We first invested in India in 2011. Today, our investments total over CAD5.7bn across a range of sectors and asset classes. We invest alongside strong local partners who provide deep local knowledge and operating abilities."
Kim describes India as a significant emerging market for CPPIB, offering several opportunities. "Given the profile of this market, India continues to play a critical role in our regional and emerging markets long-term strategies," she says.
CPPIB's largest single investment – and one of its earliest investments in India – was in financial services. "Over the years, we have built up an investment of CAD1.2bn to acquire 6.1% of Kotak Mahindra Bank," Kim says.
A relative newcomer, Brookfield has been active in India in the past two years. One of its more notable investments is a portfolio office and retail assets acquired from Hiranandani Developers for about US$1bn a year ago.
Ascendas-Singbridge, jointly owned by Temasek Holdings and JTC Corporation, is also a veteran Indian investor, and has a portfolio of more than SGD2bn. "Our first investment in India was through a joint venture for International Tech Park Bangalore in 1994," says Jonathan Yap, group chief financial officer of Ascendas-Singbridge.
Today, Ascndas-Singbridge runs three lines of business in India. Its listed Ascendas India Trust is among the top owners and developers of Indian offices and business parks. The second line is a private fund business, which includes the SGD600m Ascendas India Growth Programme, with GIC as principal investor.
The third line takes the form of balance-sheet investments, including master development projects.
Ascendas-Singbridge and fellow Singaporean company Sembcorp plan to develop a start-up area covering 684 hectares in India's new capital city of Andhra Pradesh. This will be developed in phases over 20 years.
Yap says the group is optimistic on India, and is happy to back up its position using its own balance sheet.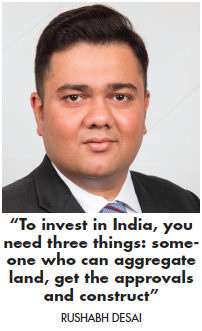 Ascendas-Singbridge manages over 1m sqm of operational business parks and the same amount again in various stages of development. One such investment is a partnership with Indian industrial real estate specialist Firstspace Realty to deliver modern logistics and industrial facilities across major warehousing and manufacturing hubs.
Yap says assets held on the balance sheet will seed future or existing funds. "We are in the midst of exploring the launch of a commercial business parks development fund and a logistics development fund," he says.
In May, CPPIB formed a joint venture, IndoSpace Core, with India's IndoSpace, part of the Everstone group. Kim says CPPIB has initially committed about US$500m. IndoSpace Core is to acquire 13 industrial and logistics parks totalling approximately 14m sqft using current IndoSpace development funds.
LOGOS Group formed LOGOS India with Indian company Assetz in August. The partners promptly raised US$400m from two Canadian pension investors, Ivanhoé Cambridge and QuadReal Property Group, to establish the US$800m LOGOS India Logistics Venture.
German insurer Allianz, a new arrival, in October formed a US$500m platform with Shapoorji Pallonjni to target office investments. Rushabh Desai, CEO for Asia-Pacific at Allianz Real Estate, says: "To invest in India, you need three things: someone who can aggregate land, get the approvals and construct; an operator with relationships to bring in the right tenants; and a patient capital partner."
Desai says Shapoorji brings the necessary ingredients to the partnership. Shapoorji also manages a fund for CPPIB known as SPREF. Desai notes that the Shapoorji team working with CPPIB has been very successful in leasing office space.
He sees India as playing an important part in Allianz Real Estate's Asia-Pacific strategy. "India is a consistent outperformer relative to the rest of the world," he says. "Sixty-five per cent of the population was born after 1980. These millennials and Gen Zs underpin consumption growth."
Through both urbanisation and economic growth, the middle class is expanding. India is projected to be the third-largest economy in the world within a decade. But more important is the current political climate.
Investors speaking to IPE Real Asset's credit the BJP government, led by Modi Narendra, with being business-friendly and reform-minded. Kim says: "The government has made significant progress on the reform front." Changes such as the recent tax reforms "show a willingness to implement long-term positive changes for the benefit of the Indian economy," he says.
Others speak of the emergence of a "more institutionalised market" in India. Yap says: "India is definitely a difficult market [but] most markets are difficult in their own ways. We stayed on – and that has paid off."
There is also need for caution. A leading investor says it is easy to overlook the fact that India is not like other emerging markets. He does not believe Indians will spend as much as the Chinese per capita on goods and services.
"If people invest in India thinking it will catch up with China, they could be disappointed," he says. "India is still a growth economy offering great potential, but it won't be able to catch up to China. It is not another China."
India: International investment in full force
1

Currently reading

India: International investment in full force

2