Close to Shenzhen and Hong Kong, Guangzhou is attracting international tenants and investors. But the mega-city is dependent on export manufacturing. Helen Roxburgh reports
The southern Chinese mega-city of Guangzhou has long been one of the country's top manufacturing and trade hubs. Fast-paced, hectic and modern, it lures domestic migrants from across China, with many travelling thousands of miles in search of work. But the city, formerly known as Canton, has been a landing point for travellers for centuries. Due to an influx of international traders, the city emerged as one of the world's great trading ports by the middle of the 18th century.
Its stellar growth was halted first by the Opium Wars, which led to the British occupation of Gaungzhou in 1841, then the invasion by Japan in 1938, which included substantial bombing. The Nationalist government briefly relocated to Guangzhou, and the fighting between the Communists and Nationalists resulted in further mass destruction. A massive exodus followed as many fled to nearby Hong Kong and Macau, and the provincial capital's international status dwindled.
It was not until the late 1970s that the city began to regain its historic levels of importance. As labour costs increased in Hong Kong, and China liberalised its economy, manufacturers opened hundreds of industrial plants in Guangdong. the city is now the third largest in China with a core population of around 14m, and an extended population on its doorstep of 44m across the Pearl River Delta. The province's GDP almost exceeded that of Mexico last year.
Hong Kong is easily accessible, as is sister tier-one city Shenzhen. Neighbouring urban districts include some of China's most important manufacturing hubs, such Dongguan, whose factories pump out consumer goods to fill stores around the world.
One of the most visible signs of the city's prominence is the Canton Tower, the highest TV tower in China, soaring above the rest of Guangzhou's skyline at 600 metres high. The city's international profile was further improved when it held the 2010 Asian Games, hosting 45 different nations. Guangzhou underwent a mass clean-up for the event, building 11 new sports venues and expanding its train infrastructure. About ¥120bn was invested in the city's infrastructure.
Its key position continues to draw interest from international investors. In June, LOGOS China Investments announced that Ivanhoé Cambridge and CBRE Global Investment Partners had invested in its LOGOS China Logistics Club. The investment vehicle was formed to own and develop modern logistics properties in large Chinese cities, allowing it to make investments up to $400m (€354m).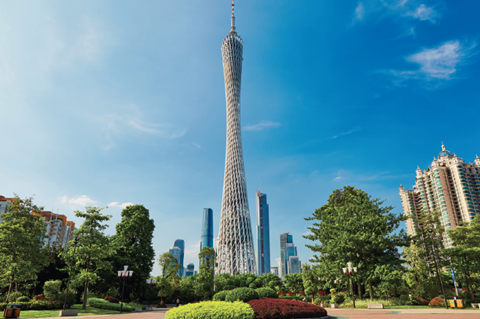 "Southern China is a great opportunity, and it's a very exciting space to be in," says John Marsh, managing director of LOGOS. "The Pearl River Delta is a great base, because in one location you've got two tier-one cities and Hong Kong, all in very close proximity. The population base, and the economy in southern China, is the strongest in China. To invest in that area is something that we're targeting with many more projects because we see great potential.
"A great indication of that is the tenants we're talking to. We're dealing with JD.com, the internet retailer. They've just taken 100,00sqm of space, but they're already talking to us about a 50,000sqm expansion. That's a very strong indication that demand in this area is strong."
As with many cities in China, the government is pushing logistics development out of the centre of the city to the outskirts. But even for other land uses, it is hard to find quality land assets in Guangzhou, despite the mammoth city covering 7,434sqkm – more than Shanghai, London, Paris or Tokyo.
"In both Guangzhou and Shenzhen, the land supply is very limited, because economic development started in the 1980s and a lot of investors and manufacturers have already bought up the land for their own business," says Daniel Cai, chief operating officer at LOGOS.
But Guangzhou's popularity among international companies could present challenges. The Guangdong province, in which Guangzhou is the largest city, is reliant on international investment, more so than any other region in China. But foreign companies are increasingly considering shifting manufacturing from China; this year Microsoft's Nokia division in China announced it was moving production to Vietnam, cutting its Dongguan base and 9,000 employees.
"The city is sensitive in its dependency on export-related manufacturing and industry around global exhibitions," says Alvin Lau, managing director at CBRE, South China. "The level of dependency on exports reached 65% of GDP in the Pearl River Delta last year. In China overall it's just 23%."
Amid subdued global demand, China's exports have faltered, hitting Guangdong hard.
The number of factory jobs in Guangdong fell by nearly five million from last year, and The China Labor Bulletin says there have been 211 strikes this year in Guangdong, mostly over wages owed to laid-off workers. Figures published in August show overseas shipments fell 8.3% from a year earlier.
A new direction for Guangzhou
Looking to refocus from a reliance on international companies, Guangzhou is going through yet another reinvention. "The government has initiated policies to steer the local economy away from over-dependence on export-related economies and towards more domestic demand economies," says Lau.
This also means a shift from industrial output in general. The Caixin China Manufacturing PMI fell to the weakest reading since the 2008 financial crisis in August – with both domestic and external demand weakening.
"It will take a more concerted effort from policymakers to improve business sentiment and improve support from growth industries," says Julia Wang, greater China economist at HSBC.
But despite weak manufacturing data, signs suggest that new tenants are locating to the offices of Guangzhou. According to JLL, the majority proportion of office leasing transactions has switched from 87% foreign companies in 2007 to 75% domestic in 2014.
IT companies, online retailers and telecommunication companies are new occupiers taking space, accounting for about one fifth of new leasings in the first half of the year. As one of the three largest air hubs in China, many third-party logistics companies are also moving to the area.
A question remains over whether the government can provide enough support to Guangzhou, given the strong development pipeline. In the next three to five years, the city's office market is expected to double, having already done so since 2006.
"That will definitely give us some worries about how the market will do in terms of take-up and demand," says Lau. Nonetheless, Guangzhou remains an extremely affordable option – benchmark rents are just half those in Shanghai, and a third of rents in Beijing. Gross yield for offices are about 4-7%.
"The city is sensitive in its dependency on export-related manufacturing and industry around global exhibitions. The level of dependency on exports reached 65% of GDP in the Pearl River Delta last year. In China overall it's just 23%" Alvin Lau
Much future growth will relate to new and emerging submarkets of the city. Zhujiang New Town, for example, is attracting huge levels of investment, including a new K11 art-themed mall, and an influx of office workers from the city's new central business district.
The city's increased levels of domestic spending power also safeguard its future as a centre of importance. Over the past year, retail sales in Guangzhou grew over 15%, and disposable income was up by more than 10%, a trend expected to continue despite a slowdown in the Chinese economy.
This throws up opportunities in areas such as the Tianhe North submarket – Guangzhou's fastest-growing submarket by population. The area has easy access to Metro lines 1 and 3, plus a special urban rail commuter line. A popular retail destination, with both mid-market and high-end properties, this was the area that most international retail brands have chosen in recent years for their Guangzhou debut. The success of landmark malls like Tee Mall, Grandview Plaza, and Taikoo Hui have helped boost Guangzhou's profile as a retail destination. International development has largely been dominated by Hong Kong-based developers, such as Sun Hung Kai Properties, which is developing a new Parc Central retail scheme in Tianhe North.
Guangzhou residents are among the highest spenders in China, and disposable income is expected to be one of the highest in China by 2020. Guangzhou has 23 shopping malls, and by 2017 this will be nearer 40, a growth largely in line with the city's expanding spending power and new neighbourhoods. Retail development remains an attractive opportunity for developers, with gross yield for shopping malls between 5% and 7%, an accommodating local government and an enthusiastically spending consumer base.
With space limited for new developments in central Guangzhou, homebuyers are also looking to relocate to the city's outskirts. Chinese property giants China Vanke and Dalian Wanda are both setting up projects in the Guicheng submarket, a residential market that attracts white-collar workers, and is emerging as an alternative central business district, with a new metro line connection.
According to JLL, the city's consumer class will rise to nearly 75% of the city's population by 2020. The city's shift from manufacturing hub to middle-class destination will create opportunities in leisure, retail and housing development. New infrastructure will also make the city and its emerging submarkets more appealing, with Guangzhou's metro network set to double in track length by 2020.
While Guangzhou is facing turbulent times, affordability is only one factor in the city's favour. Its resilience, huge labour market, and central importance in the Chinese economy all support it as it finds a new direction.
Buy, earn Munich
1

2

Currently reading

Guangzhou: Towering Canton

3