The Vietnamese economy is waking up. Following seven hard years characterised by a weak and devalued currency, high inflation, rising levels of non-performing loans and a stalled property market, the country is set to reclaim its spot as one of the top real estate emerging markets.
Vietnam registered $20.2bn (€17.8bn) of foreign direct investment (FDI) in 2014, of which 12% was in real estate. Repatriated capital in 2014 was estimated to total $12bn, a figure set to increase as the barriers to real estate ownership are further relaxed in 2015.
Foreign investors are attracted by a population of 90 million, a 97% literacy rate, high productivity and a strong consumer goods market. Notable FDI in 2014 included $3bn from Samsung Electronics, the Korean conglomerate, $2.1bn from Japanese developer Tokyu Homes, which is planning a township development in Binh Duong province, and an investment from AEON, Japan's largest retailer, for the development of its third shopping mall in Vietnam in the past two years.
The recovery is being supported by underlying factors. The government's liberalisation of home ownership for foreign investors and the better alignment of interests between government, foreign investors and local developers since the financial crisis have enabled a more efficient allocation of capital to the market.
Since 2009, the government has refined the implementation of an affordable homes loan policy to ensure loans are administered properly and disbursed to beneficiaries. Transactions in the affordable homes segment have increased 75% since 2013 and inventories of unsold properties in Vietnam are estimated to have decreased 27% in 2014. There is also a trend of developers applying for revised planning approvals to reposition abandoned projects in an effort to make them more affordable. Up until now, many of the affordable homes built have been in the urban centres like Ho Chi Minh City (HCMC) and Hanoi.
This demand is likely to extend beyond affordable homes, though, as some planned township developments get under way. The Waterpoint by Nam Long Investment Corporation (29km from HCMC CBD), and Tokyu Binh Duong Garden City by Tokyu Homes (30km from HCMC CBD) are two examples. This activity should provide a lasting effect on the Vietnamese real estate sector, ensuring a sustained and stable supply of real estate.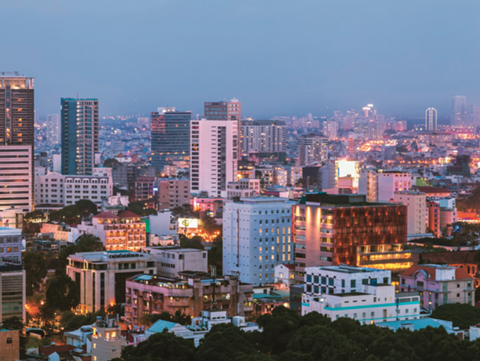 The provision of healthcare services to Vietnam's expanding urban middle class is attracting investment into private healthcare real estate assets. This was demonstrated after the 2014 opening of the City International Hospital at the International Healthcare Park (67% owned by ASPL), when AEON entered into a transaction to develop a 74,000sqm retail mall at the site.
Vingroup, Vietnam's largest real estate developer by market capitalisation, is developing its first international general hospital in HCMC. This is in addition to the Vinmec International Hospital in Hanoi and three other hospitals it has planned as part of its Vinhomes Central Park development plan. All this is set to transform the private healthcare sector.
As part of the effort to ensure sustainable growth in the real estate sector and to avoid the boom and bust cycles experienced in previous years, we hope to see further fundamental policy changes outside the real estate sector.
Among these is improved access to public sector capital markets for local real estate developers looking to strengthen balance sheets. Traditionally, there has been a reliance on private capital from individuals and private equity funds. A more robust public equity and debt market will enable real estate developers to take on larger projects which have longer gestations, like townships and large mixed developments.
Strengthening the banking sector, including the consolidation and merger of smaller banks with the capacity to provide better financing support to developers and mortgages to consumers is key. Other southeast Asian nations such as Indonesia and Malaysia have implemented similar reforms to improve the stability of the banking system.
The road to recovery was founded by the government in 2009 in the aftermath of the financial crisis, this stimulation included a $1.42bn government loan subsidies package to promote ownership of affordable homes priced at less than $50,000 per unit.
Overall, these policies are bearing fruit with GDP growth measured at 5.4% in 2013, and forecast to reach 5.8% in 2014, with the government placing greater emphasis on controlling inflation. Inflation rates for 2014 is forecast to be 4.1%, a historical low, it had reached 18.7% during in 2011. The government is targeting GDP growth of 6.2% for 2015, and inflation at 5%, which shows restraint as it pursues sustained growth.
Currently, the VN Stock index was up 5.64% from the beginning of the year and reporting 7.67% year-on-year growth. Although the recovery is tied to the improving global conditions post-Lehman global crisis, Vietnam has benefited from a self-imposed and disciplined approach towards economic restructuring that should help it navigate the next phase of the global economic cycle.
Chan Chee Kian is CIO at Aseana Properties