Singapore is constantly renewing itself – in part because land is scarce but also because it needs to stay competitive globally. Florence Chong reports
A snapshot of Singapore
• Population: 5.47m
• Land area: 718sqkm
• Per capita income: SGD72,711
• Home ownership: 90.8%
• Annual tourist arrivals: 15m
• Foreign direct investment: SGD1,024bn
• Singapore direct investment overseas: SGD620bn
• Unemployment: 1.9%
• Literacy rate: 96.1%
• Mobile phone penetration: 148%.
Singapore is a city in a state of constant renewal. Partly because land is so expensive – and increasingly valuable – many buildings are replaced after 30 or 40 years.
This is a city that has built its transformation from third-world colonial outpost to throbbing first-world metropolis, in part on the back of property development – starting with housing for the poor. It is a template for economic success that could well be tempting other, much bigger, developing nations.
As Benett Theseira, Singapore-based managing director and head of Asia Pacific at PGIM Real Estate, puts it: "A hallmark of Singapore's success goes back to its early post-independence days when the government drove programmes to provide affordable housing.
"Facilitating home ownership encouraged immigrants and new citizens to take a stake in the country. And it allowed migration from wooden shacks with no electricity or proper sanitation to purpose-built housing."
Today, more than 80% of Singaporeans live in estates developed by the Housing Development Board (HDB). With 90.8% of Singaporean householders now owning their homes, Singapore probably has the highest level of home ownership in the world.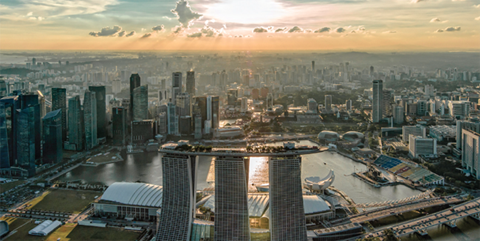 Theseira says the government's home ownership strategy has also provided an avenue for wealth creation. Much of the wealth of Singapore corporates and individuals comes from property – through ownership, investment and development.
Singapore has created a strong middle-class, while 19 of Asia's 581 billionaires live in Singapore, according to Forbes Magazine. The UK-based WealthInsight predicts that by 2020 one in every 30 Singaporeans will be a millionaire.
Singapore's government, Theseira says, did a good job of planning its new housing estates to include infrastructure – roads, mass rapid transit (MRT) systems and shopping malls – in the town centres.
"In our experience, 70% to 80% of shoppers to our shopping malls in these new towns come through the MRT stations. A typical mall of 200,000sqft gets between 1.2m and 1.3m people a month. Because of the high-rise residential apartment buildings in these estates, the catchment is very dense."
PGIM Real Estate manages seven shopping mall investments in the HDB heartlands. "These are core assets, producing stable income for our investors," says Theseira.
Needless to say, land, and consequently real estate is expensive. For example, in July last year the Australian diversified property group, LendLease, and its joint venture partner, Abu Dhabi Investment Authority (ADIA), paid a hefty SGD1.7bn (€1.1bn) for four parcels of land in Paya Lebar, near the central business district.
But in terms of the price per sqft, the deal pales in comparison to the record SGD1,444/sqft that Lend Lease paid in 2007 to clinch a choice site in Orchard Road, the premier shopping and tourist precinct of Singapore. LendLease built the prestigious Somerset@333 shopping mall on that site.
In both instances – as is the case in all government land sales in Singapore – LendLease has only paid for the rights to lease the land for 99 years.
Rod Leaver, former Lendlease Asia chief executive based in Singapore, says long-term institutional and sovereign investors look to Singapore as a safe haven. "On a risk-adjusted basis, Singapore ticks all the boxes," he says. "It is a very attractive place in which to invest. It has a stable government. It is safe. And importantly you can get your investment funds in and out."
Leaver says the cost of land relates to the geographic size of Singapore which, at 718sqkm, is just 70% the size of Sydney. "It is a real challenge to acquire assets in Singapore and that is why land is so keenly bid when the government does release it," he says.
In June, Qatar Investment Authority acquired Singapore's Asia Tower One for SGD3.4bn in one of the largest single asset sales in this region, if not globally.
Leaver says the land component can be as high as 70% for a development in Singapore, compared with 10-18% in Australia. Despite the high costs, Leaver says, the projects Lendlease has undertaken in Singapore have made "good returns" for the group.
The Australian company arrived in 1973, initially to bring its prefabrication technology to the building of HDB apartments. It has since developed some 500 projects, including many landmark buildings and also some 70% of the life-science manufacturing plants.
"The return on investment comes largely from land as opposed to the development," says Leaver. "Therefore, unfortunately many buildings are replaced in less than 40 years because the land is so valuable."
Land cost is one of the factors behind Singaporean developers expanding rapidly into offshore markets in neighbouring south-east Asia, China, the UK, Australia, New Zealand and the US.
Collectively, all Singapore outbound investment, including that in real estate, accounts for about SGD624bn, according to government statistics.
Stanley Quek, chief executive of Frasers Property UK, was one of the first of Singaporean developers to branch out to the UK and Australia in the early 1990s, during recessions in those countries. He ventured offshore just before Singapore suffered its own recession during the Asian financial crisis
That recession brought home the stark realities – and vulnerabilities – of an economy not supported by natural resources and commodities, Quek says. Brought up in the UK before returning to Singapore, Quek says: "We – and indeed the government – recognised then that Singapore business needed to go global."
Quek's offshore business grew by leaps and bounds after he took the long-established Singapore company Frasers & Neave as his joint-venture partner. The venture was rebranded Frasers Property.
At the beginning of this decade, Quek was working on a pipeline of SGD$4bn-worth of apartments in London, Sydney and Perth – long before the current crop of Singapore developers discovered these cities.
Last year, Singapore-based investors purchased a record SGD$37.8bn in overseas real estate, up 49% from 2014, according to the real-estate data and analytics firm, Real Capital Analytics.
This latest wave of outbound investment is again prompted by a slowdown in Singapore's economy.
Sing Tien Foo, associate professor at the department of real estate at the National University of Singapore, monitors Singapore's property market in conjunction with the industry body REDAS to produce the quarterly NUS-REDAS Real Estate Sentiment Index (RESI) survey.
He says respondents to the survey are mostly developers, and that the index captures their sentiments and outlook six months to a year ahead.
"The current downturn has been going on for the past four quarters already," Sing says. The last survey showed sentiment further weakening in office, suburban residential and prime retail.
"Office rent has fallen quite a lot," he says. "Decreasing returns is one reason that demand for office development sites is not strong. Prices for development land have softened.
"We will probably see downward pressure on the economy, with growth likely to be in the range of 1.5% to 2% this year. I am not optimistic for the mid-term outlook."
Singapore has been affected by the slowdown in China and low growth in the US, Japan and Europe.
In the past, the government would inject money into the economy during a downturn – bringing forward large infrastructure projects and offering subsidies to employers to help them ride through the rough patches.
Sing says: "Today, the question is how many more roads or hospitals can be built when land is scarce?"
The current slowdown comes from the twin forces of slower global growth and the restructuring currently under way in the domestic economy.
"The government is trying to wean itself off dependency on cheap foreign labour because of the stress the additional population is putting on the country's infrastructure, such as public transport," Theseira says.
Sing agrees that labour costs are a major issue facing Singapore. The government is encouraging adoption of new technologies to replace labour and to increase productivity, using a carrot-and-stick approach to push both Singaporean and international firms operating in Singapore to spend more on technology.
Theseira says it will take time for increased productivity to make up for reduced labour. Meanwhile, the transition is causing economic pain, especially for retailers and small businesses.
That said, he adds, Singapore enjoys full employment, although wage growth is slowing.
Over the years, Singapore has moved from a simple manufacturing economy to a sophisticated service economy, continually reinventing itself.
Theseira says Singapore's leaders are adept at meeting challenges. When they realised that Singapore was losing market share in tourism to rapidly developing cities in the Middle East and Asia, they authorised the building of casinos, branded as 'integrated resorts', and secured global attractions such as Universal Studios and the Formula One race to the island state. Tourist visitor numbers jumped 50% as a result.
The Singapore Tourism Board acknowledges that Formula One and the integrated resorts have helped cement Singapore's position as a prime tourist destination, receiving over 15m visitors a year.
One of the fastest growing industries is wealth and fund management, with Singapore aspiring to overtake Switzerland as the leading global centre for private-wealth management.
Sing says as part of this strategy Singapore is creating investment asset classes. "Outside Japan and Australia, Singapore has the biggest REIT market, with some 38 REITs and REIT-like entities listed and a total market capitalisation of about SGD70.4bn," he says.
Business leaders see Singapore as pro-business with clear rules of law, lack of corruption and transparent governance. "It has established a strong legal system and a clean and highly efficient public administration. This makes Singapore a cut above other countries in the region," says Sing.
Quek does not disagree that rules and regulations have worked well to upgrade and change Singapore, but he does say that conformity has stifled creativity. "The rules in Singapore are set and grounded, and that explains why you see some boring, albeit efficient, buildings in Singapore," he says.
Leaver sums up the Singapore difference: "Singapore's leaders focus on building a sustainable and viable country for the future. As opposed to short-term thinking for the next election, they plan 10, 20, 30-plus years ahead."
The green garden city state
In its own quiet way, Singapore has emerged as a global leader in sustainability.
"Singapore has the ability to become the most sustainable country on the planet," says Rod Leaver, former Lendlease Asia chief executive. "They could totally move 100% to electric cars before any other country. They are so driven around water, energy conservation and waste recycling."
Singapore has a masterplan to address virtually every conceivable aspect of sustainability. These have been expanded and refined over decades.
Way back in 1973, Singapore began to recycle wastewater to reduce reliance on imported water from Malaysia.
Today, Singapore's is best known globally for its 'NEWater', a potable water that comes from treated wastewater (sewage) that has been purified using dual-membrane and ultraviolet technologies. It is then fed through conventional water treatment processes.
Singapore is dealing with climate change in more ways than one, most visibly through the greening of the island. Initially, this green coverage was for aesthetic reasons, but it has since morphed into a weapon to help combat climate change.
Singapore's founding father, the late Lee Kwan Yew, turned the first sod of soil to kick off the national tree planting programme in 1965. From that single plant, Singapore has blossomed into the garden city that Lee envisaged. Today, the green coverage has gone to rooftop, vertical gardens and any spaces where plants will grow.
In another aspect of greening to reduce energy consumption, the city state is rolling out its green building masterplan. According to the Building and Construction Authority, more than 25% of buildings are "already greened", with a vision to extend this to at least 80% by 2030.
In tandem with sustainability, Singapore is moving to transform itself into the world's first truly smart city by deploying new and emerging technologies.
Under Singapore's Smart Nation programme, sensors and cameras will be deployed across the island city state to allow the government to monitor everything from cleanliness of public spaces to the density of crowds and the precise movement of every locally registered vehicle.
City Focus: Copenhagen - Probably the best city
1

2

3

Currently reading

City Focus: Singapore - Locked-in land value