The city is at the forefront of Malaysia's economic transformation. But, as Florence Chong reports, Kuala Lumpur is also becoming more liveable
In Entrapment, the 1999 thriller depicting the world's biggest financial heist, the gripping finale was shot at Kuala Lumpur's Petronas Twin Towers, then the world's tallest buildings. The Malaysian government facilitated filming at its most iconic buildings to showcase modernity and prosperity.
Malaysia has long worn its economic fortune on the sleeve of Kuala Lumpur. Today, the capital city known colloquially as KL is reinventing itself.
It is the focal point of Malaysia's economic transformation – the governing city of a country shifting from a commodity-based, oil and gas-reliant economy to one based on services and high-value, high-tech manufacturing.
When construction of the two 88-storied Petronas Twin Towers began in 1993, Malaysia was enjoying prolonged economic growth and had become an upwardly-mobile upper-middle-income country.
Now, another skyscraper, The Signature Tower, is to epitomise the city's new economic engine – Islamic finance and banking – and services industry. This 92-storey tower is coming off the ground at the 70-acre Tun Razak Exchange (TRX) project, due for completion next year.
Malaysia has been a frontrunner in cornering a growing slice of what the Malaysian Islamic Financial Centre forecasts will be a global market for Islamic finance of US$3.4trn in 2018.
Since pioneering the first listing of sukuks – or Islamic bonds – on Bursa Malaysia (formerly Kuala Lumpur Stock Exchange) in 2006, Malaysia has built up Islamic banking assets of around US$65.5bn. It has cornered more than 65% of global sukuk issuance. The industry is growing at between 18% and 20% a year.
The Asian Development Bank ranks Malaysia the global hub for sukuks.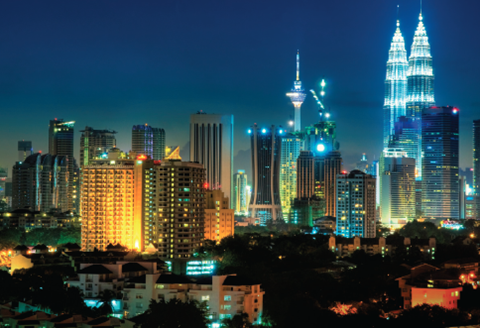 "Many financial institutions have come into Malaysia to undertake takaful (Islamic insurance) activities and to raise sukuks," says Zainal Amanshah, chief executive of InvestKL, the government agency tasked with bringing more multinational companies (MNCs) into Malaysia.
"We continue to work with our central bank, and our aim is to encourage all banks to expand their services in Malaysia and to overseas markets."
For a Malaysia that is both predominantly Muslim and a modern country, Zainal sees a unique role. Aside from Islamic banking, he says, there is halal certification and manufacturing. "Halal is not about servicing Muslims," he says. "It is a form of food safety which is applicable to all consumers."
Leigh Howard, a long-time expatriate resident of KL, says that, while many cities aspire to become financial centres, Kuala Lumpur has positioned itself well for Islamic banking.
"A lot of people are looking to KL to see how it establishes a niche that gives it the edge," says Howard, chairman of the Malaysia-Australia Chamber of Commerce.
Howard reckons it helps that the city is pro-business. "It is accessible and welcoming of foreign business and expatriates. It has good investment policy and global companies use it as a stepping stone into the rest of the region."
For the moment, however, the decline in global oil prices and general global sluggishness have combined to have a negative impact on the economy of both the city and the country as a whole.
Zainal says Malaysia's economy is forecast to grow by 4-4.5% this year, adding: "It is expected that, by 2020, KL's contribution to national GDP will be 40% – up from 30% today."

Such a trend, he says, is in line with urbanisation as more people are drawn to cities around the world.
KL's population is expected to reach 10m by 2020 – almost double what it is today. It is home to a smorgasbord of races – Malay, Chinese, Indian, and foreigners from around the world.
By then, policymakers hope that Malaysia will have become a high-income country, and to help make this happen, they have implemented an Economic Transformation Programme (ETP).
At the core of the ETP is a massive transportation upgrade to increase connectivity throughout Malaysia, embodying the country's overarching ambition to be more competitive.
Since 2010, the government has invested MYR70bn to upgrade the capital's transport system, in part through a mass rapid transit (MRT) project.
"By the time we add the cost of more MRT lines and a high-speed train from KL to Singapore, that investment number could double," says Zainal.
The goal is to increase the usage of land and road transport around KL by up to 40%, he says, from a relatively low base today. This will transform the city.
Howard agrees that something needs to be done to alleviate Kuala Lumpur's traffic congestion, but notes that the situation is relatively better than in Jakarta or Bangkok.
Zainal says: "It is about improving the liveability of the city. You can't have all the new houses and apartments – and shiny new offices – if roads are in gridlock. Nobody will come here."
Currently, activity is centred on KL's Golden Triangle, the main commercial hub, KLCC, the entertainment/shopping precinct, and KL Sentral, the transportation node.
Danny Yeo, deputy CEO at CBRE-WTW, a joint venture between the global property firm and local Malaysian company, says the city is being reshaped – geographically and visually – as large new urban redevelopment projects are completed.
He names multi-billion-dollar projects such as TRX, the Bukit Bintang area redevelopment, Bandar Malaysia (on the grounds of the old Sungai Besi) and regeneration of the Merdeka Stadium. Together, these will greatly expand the city boundaries.
TRX has generated a lot of interest, but for the wrong reasons. Its financier, 1 Malaysia Development Bhd (1MDB), has been at the centre of a damaging political storm over corruption allegations against Prime Minister Najib Razak. But it remains a project of considerable significance and vision.
The TRX development features a huge underground car park with a park on top. Yeo says a retail mall and an MRT station will bookend the development, with residential and office towers and hotels on the fringes.
Sydney-based international developer Lend Lease is developing the MYR8bn TRX Lifestyle Quarter.
And the leading Malaysian group, Permodalan Nasional Berhad (PNB), a diversified conglomerate, is planning an even taller tower – of some 118 storeys – as part of the regeneration of the Stadium Merdeka precinct in the city centre.
Each of these developments will have commercial, retail, residential and leisure components, and a number of new upmarket hotels, like Four Seasons and St Regis, are planned or have already opened to cater to steady growth in tourist arrivals.
Beyond the city centre itself, other hubs are springing up.
At KL's outer reaches are mini cities such as Putrajaya, the government administrative centre; Cyberjaya, an established commercial-high-tech hub; and Bangsar, in KL's so-called mid-Valley, a haunt of millennials attracted to its work-life environment.
Further south, another new hub, Bandar Malaysia, will emerge to serve as the KL terminal of a proposed high-speed rail connection that promises a 99-minute transit time to Singapore – a journey that by road can take at least four hours.
The China Railway Group has unveiled plans for what will be the world's largest underground city, complete with shopping mall, canals, indoor theme parks, cultural villages, indoor gardens, and a financial centre, to house the rail terminal.
China Railway wants this to be the centrepiece of its China Pan Asia rail network, part of the huge Chinese initiative, One Belt, One Road. The Chinese state-owned company plans to build its own US$2bn regional headquarters at Bandar Malaysia.
When the greater city's transportation infrastructure is complete, each of the hubs will be interconnected with KL city centre.
"Where once skyscrapers stood in isolation," says Leigh Howard, "now I see a more a fleshed out cityscape. It has wonderful walkways, some with airconditioning, and overhead bridges to connect the buildings.
"I also notice that the city has become more cosmopolitan. KL now has more dimensions to it, and that makes it more liveable."
For some, the real game-changer will be the KL-Singapore high-speed train, a project that is bound to enhance KL's desire to offer an alternative location to global firms seeking a presence in southeast Asia, a region of 630m people.
KL could then capitalise on its lower cost of living. Office space in KL is 20-30% cheaper than it is in Singapore. Similarly, housing, schooling and medical services are cheaper. And Malaysia's currency is always weaker than the normally strong Singapore dollar.
Singapore and Malaysia have jointly called for a global tender to build the rail line, with work expected to begin this year (2017) for completion in 2022-23.
With all the development planned, some rightly wonder whether Malaysia will be able to absorb the new office towers and residential towers, as there is already more than 20% vacancy in the office market.
But Yeo prefers to describe this as a "slight" oversupply, arguing that growth and an influx of new businesses will require more office space.
Zainal Amanshah says InvestKL's target is to bring 100 new MNCs into KL by 2020. "Already, we have surpassed our KPI [key performance indicator], with 60 companies, including several on the Fortune 500 list, setting up their regional headquarters in KL."
The transformation of KL, a green city with beautiful mosques and modern skyscrapers, will be incomplete if the River Klang, which runs through the city, remains an eyesore.
The 'River of Life' project is being overseen by Pemandu, the reform agency within the prime minister's office, to reverse years of neglect. It is nominated as one 'high-impact' initiative that will lead Malaysia to developed country status by 2020.
City Focus Rotterdam: Towards a first port of call
1

2

3

Currently reading

City Focus Kuala Lumpur: A Signature investment