Largely overlooked by risk-averse international capital, the city is changing and investors are taking notice, writes Florence Chong
Ho Chi Minh City (HCMC), the commercial hub of Vietnam once known as Saigon, is today seen as a new frontier for investors and tourists.
HCMC does not come to mind readily when thinking about Southeast Asian cities. It is not Bangkok, Kuala Lumpur or Jakarta. Yet its stature has grown steadily, with renewed interest from investors looking for fresh investment opportunities.
"Vietnam has aspirations to catch up with the rest of Southeast Asia," says Doan Anh Hung, general manager at Keppel Land, a subsidiary of the Singapore conglomerate Keppel Corporation.
Doan says half of Vietnam's population is under 35 and the country has plenty of natural resources. "The fundamentals are there, but how fast they can grow is a question of policy."
But it has also been said that the pace of progress is tempered by the size of the country and diversity within its 58 provinces. The government has promulgated new laws and regulations, but it is the implementation that is taking time.
So far, Doan says the indicators point in the right direction. HCMC is Vietnam's commercial capital, and it is run independently from Hanoi. Its finances come partly from business tax receipts.
It stands out from other Vietnamese cities, and even provinces, in terms of real progress. Frequent visitors to the city remark on how HCMC has changed over the past five years.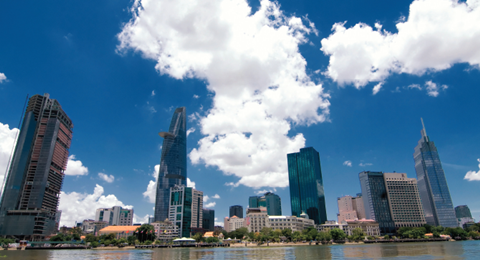 It is 41 years since the Vietnam War ended and 30 years since Doi Moi – economic reform – began to rebuild the war-torn country. Vietnam still receives monetary aid from many developed nations, especially Japan, and from multilateral agencies such as the Asian Development Bank
Some of the largest projects in HCMC, including its first subway project, are funded by aid. Japanese support is paying the bulk of the cost of the subway. Japan and, to a lesser extent, South Korea and Singapore, were the first countries to start investing in Vietnam. This explains the dominance of their companies in HCMC. They have helped develop the city's economy and the economy of the whole country.
Increasingly, Vietnam has become the alternative manufacturing base for global (including Japanese and Korean) companies that are relocating out of China for a variety of reasons, not least rising wage costs.
In the immediate post-war years, there was a distinctive difference between the austere but picturesque Hanoi, and the more brash and disorganised HCMC. The latter was 'Americanised' because of the presence of US troops in the city during almost two decades of war. Hanoi remained strait-laced because it was the seat of the communist government.
Today, that difference is blurring as Hanoi opens up to international investors, while HCMC becomes more comfortable in the reality that it has been part of the Socialist Republic of Vietnam since the fall of Saigon in 1975.
Vietnamese people no longer seem to hark back to their traumatic past. Rather, they look to the promise of the future. And nowhere is this sense of moving forward more apparent than in HCMC, where foreign and local businesses have set up their head offices to capture the promised growth in Southeast Asia's third most populous country – after Indonesia and the Philippines.
Andy Ho, managing director and CIO of VinaCapital, says Vietnam has attracted a high level of foreign direct investment over the past five to 10 years. "In the year to date, almost US$12bn (€11.2bn) has been dispersed, with a lot of that in HCMC because it is the commercial hub of the country," Ho says.
Economic growth has averaged 6-6.5% in recent years. Ho says the growth forecast for this year is 6% – a comfortable rate that creates sufficient jobs without inflationary pressure. "Our chief economist says [bank] credit growth of 15-20% will be required to achieve this growth, and this [can be done]," he says. The government forecast is for growth of 6-6.5% over the next 3-5 years.
Officially, the city's population is between 9m and 10m, but unofficially it is about 14m.
Aside from the natural birth rate, Ho says the population of HCMC is being boosted by urbanisation as more Vietnamese are drawn to the city.
But basic infrastructure is straining at the seams. Recent flooding highlighted the urgent need to upgrade drainage and sewage systems in the sprawling city. Its electricity and water supply need to be upgraded and expanded, while transportation badly needs to be improved to break daily traffic gridlock.
Ho says there is also a need for more housing, healthcare and schools to cope with the growing population. "This is the challenge we have," says Ho. "But the government has recognised this, and is looking to improve and scale up infrastructure development."
Authorities have been building infrastructure at a rapid pace. Doan says the construction of a subway system is a major project that will do much to ease traffic in the city centre.
Completion of subway has been delayed by two years to 2020 and the cost of construction has risen from US$1.34bn (€1.24bn) to US$2.07bn, according to the HCMC administration.
For the past 20-odd years, Keppel Land has played a key role in shaping the city's skyline, having created modern housing and built prime office towers. "Three years ago, you might see just one building higher than 40 storeys," says Doan. "Today, such buildings are a norm, not an exception."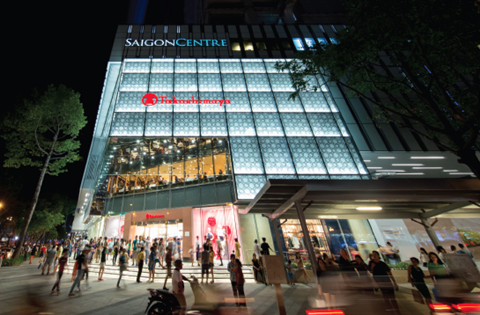 The high-end developer has brought new standards to HCMC, as reflected in its newly-opened Saigon Centre retail mall. The mall, with 55,000sqm of retail space, is fully leased to 400 international and local retailers. Upscale Japanese retailer Takashimaya is its anchor tenant. "It is the talk of the town at the moment, because of our design and planning," says Doan.
Some observe that HCMC city officials look to Shanghai as a model for their city's development. They point to the plan for Thu Thiem township as HCMC's answer to Pudong in Shanghai.
David Blackhall, who runs the listed Vinaland, can look across the Saigon River to District 2 and the new suburb of Thu Thiem from his office. He says that not much happened until recently, but now the pace of development has quickened.
"We had a declining property market for four or five years, but it began to recover two years ago," he says. "Massive infrastructure development, including tunnels and bridges, is taking place." Land he describes as once swamp and rice paddies is now becoming "occupiable".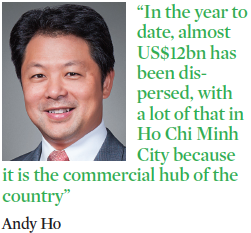 He says: "Will Thu Thiem become the new central business district? My view is no. But it certainly will provide the original city of Saigon with a modern, fully master-planned suburb, with modern commercial and residential space. It will also offer public facilities, such as convention and exhibition centres, open green space and sporting facilities on the doorstep of District 1."
Doan says the ultimate aim is to integrate Thu Thiem into the central business district. "As in Shanghai, many bridges will be built across the river to connect Thu Thiem with the city," Blackhall says.
Keppel Land was one of the earliest foreign investors in Vietnam, and is considered a leading player. In March, it bought a 40% stake in Empire City, a large, mixed-use waterfront project in the Thu Thiem area, for US$93.9m.
"The majority of development is funded locally," says an industry source. Foreigners have to compete with the Vietnamese, but it is not quite a level playing field." For example, Vietnamese are able to buy perpetual freehold land. Foreigners are limited to leasehold. Similarly, local firms have better access to bank finance, and the process of getting licensing and approval is much easier for locals.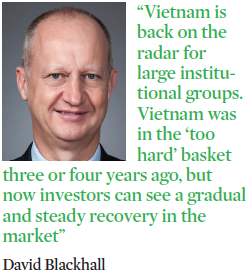 Change is on the way. Until a year ago, a foreigner could not buy an apartment and rent it. "So it is moving in the right direction," says Blackhall.
Doan says that from 2004 onwards, new laws permitted private enterprises to build residential. Keppel Land is also developing its portfolio of commercial properties in HCMC. "We have acquired a number of projects for residential development, but all of them still have a commercial component."
Aside from Thu Thiem, however, there is no sign of large-scale town planning happening.
Industry sources say that, although redevelopment programmes are in place to allow private-sector participation, no major projects are yet under way.
Regardless, Vietnam is still seen by some as a promised land. Blackhall says: "Vietnam is back on the radar for large institutional groups. Vietnam was in the 'too hard' basket three or four years ago, but now investors can see a gradual and steady recovery in the market."
Blackhall describes the level of foreign interest in HCMC as "enormous", with institutional investors looking at the city as an investment destination for at least the next five years.
Many still sees it as a "frontier" rather than "emerging" economy. "We see institutions from South Korea and Japan, and insurance companies out of Europe and the US looking for opportunities to invest here," Blackhall says.
Real estate and infrastructure, along with listed and unlisted companies, are on the shopping list of this new crop of investors. To meet that demand, Blackhall says VinaCapital is planning to launch unlisted products in joint ventures, club structures and private-equity offerings.
VinaCapital runs two listed entities in London – Vietnam Opportunities Fund, which is invested in a range of companies, including real estate groups on the London Stock Exchange, and VinaLand, which undertakes real estate projects, on the AIM index.
"Each foreign investor has his own area of interests," says Blackhall. "The global insurers, for instance, look for A-grade office buildings for the yields. The yield from an A-grade building is around 6-7%."
Rents are moving up as supply falls behind demand. "The office sector here is the strongest it has been in some years," he says. "We have just been notified by our landlord that our rent will increase."
Some office towers will come online in the next 12 to 24 months, and Blackhall has no doubt that there will be no problem filling them. "This is a good sign because, firstly, companies are expanding and, secondly, others are upgrading to better-quality office space," he says. "This represents a major transformation of the office market."
That transformation is also reflected in the wider property market and the city itself.
City Focus: Banking on Frankfurt
1

2

3

Currently reading

City Focus Ho Chi Minh City: On the map