Delhi offers a microcosm of the wider Indian real estate market. Namgyal Tsering reports on the positive effects of government policy
India is one of the best performing economies in the world. It is not surprising that its real estate sector has also attracted a lot of interest, thanks to a confluence of positive factors including low interest rates and favourable government policies.
The Indian capital of New Delhi is a sprawling city of nearly 11m people which, along with the adjacent cities such as Gurgaon and Noida, is part of the larger Delhi metro area called the National Capital Region.
India recorded GDP growth rates of 7.1% and 7.9% in the first and second quarters of 2016, respectively. Improved performance in sectors such as manufacturing, electricity and real-estate services contributed. Real estate services (categorised alongside financial, insurance and professional services) registered an annual growth of 9.4%, accounting for about 23% of the quarterly GDP. The headline inflation continued to be well within the central bank's annual targets, declining from 6.07% in July to about 5.05% in August – enabling the central bank to implement a rate cut of 25bps during the monetary policy review in early October.
The central government, moreover, is expected to announce further amendments to the Real Estate Regulation and Development Act 2016 to expedite the establishment of state regulators. While the implementation of all the provisions of the act may occur in subsequent quarters, all states would be required to set up regulatory authorities within six months of the announcement of these rules.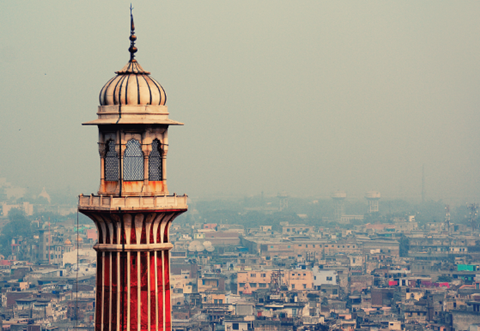 Analysts believe the government's decision to ban the country's high-value demonination bank notes could have some impact on the real estate transactions in India. In India the property market is traditionally seen as a good way of avoiding tax, and often the significant percentage of purchase of property – especially in the residential market – is conducted in cash. Many analysts believe that the demonetisation, which has led to a slush of funds in the banking system, will eventually allow banks to cut interest rates again, thereby benefiting the real estate market.
Then there are other policies that should help the Indian market. The government's new tax system – the goods and services tax (GST) – is expected to boost the real estate industry as it would help lower the cost of real estate, according to Cushman and Wakefield.
In addition, the debut of real estate investment trusts (REITs) in India could encourage more global investors to invest in the Indian real estate market, analysts say. Blackstone is reportedly preparing two REITs for listing in India, all of which make the Indian real estate industry a highly promising one.
In the first half of 2016, government policies were one of the main factors affecting the housing market. Some new amendments in the real estate market include 100% deduction on profits earned by the developer on building affordable housing projects and an additional deduction of 50,000 rupees on interest on housing loans for first-time home buyers.
In addition, several high-profile projects such as the Smart Cities Mission, the Atal Mission for Rejuvenation and Urban Transformation (AMRUT), and the Pradhan Mantri Awas Yojana (PMAY), which is also known as Housing for All by 2022, have helped to boost affordable housing across the country.
However, residential activity remained relatively subdued in the first half in most major Indian cities including Delhi, which is expected after years of skyrocketing growth.
The residential real estate market in the National Capital Region continued to be muted during the first half of 2016. Capital values dropped between 3% and 8% across most micro-markets in Delhi, including Golf Course Road in Gurgaon and Greater Noida Expressway in Noida, according to CBRE.
Transaction activity remained focused on the high and mid-end categories across various markets such as Gurgaon and Noida, as buyers opted for less pricey projects near completion.
Several new projects launched in Delhi increased supply in the city. On other hand, while Gurgaon had a limited increase in supply, Noida witnessed a steady rise in supply, mainly in the high-end category.
Not surprisingly, as buyers look for cheaper options in the neighbouring cities of Gurgaon and Noida, Delhi has witnessed a marginal correction in capital values. The residential leasing market is also softening as rental values drop in the both the luxury and high to mid-end markets of the city. This was largely on the back of weak demand as developers offered lower prices to attract house buyers. Similarly, capital values in the premium-luxury segment in Noida and Gurgaon also witnessed a correction in the range of 6-8% and 2-4%, respectively.
On the rental housing front, Gurgaon witnessed a sharp decline of 10-13% in rental values across categories in the key micro-markets of DLF Phase 1, 2, 3 and 4, along with Sohna Road. This was due to negligible demand for independent housing units (especially among expatriates). Other micro-markets in Gurgaon and Noida also witnessed a rental value decline for premium-luxury and mid-end and high-end housing of 3-6% and 6-11%, respectively.
Strong demand in retail and office
Government policy was also a critical factor in the retail market, showing once again how instrumental regulations can be.
In a major overhaul of the foreign direct-investment rules in 'single-brand' retailing, the government relaxed the local sourcing norms for up to three years – this could go up to five years for products with 'state-of-the-art' or 'cutting-edge' technology. The foreign investment promotion board also allowed 100% foreign direct investment in food retailing, including through e-commerce, for food products produced or manufactured in India. Analysts expect these developments to positively affect the expansion of international cash-and-carry players in India.
Prime mall developments across Saket District Center and Vasant Kunj witnessed half-yearly rental growth of 11-13%, largely driven by limited vacancy levels and strong demand (see Retail brand names flock to Dehli). Rental values in Gurgaon also witnessed positive movement in the past six months, helped by sustained occupier focus towards select properties, according to a survey by CBRE.
In the office market, Gurgaon continued to lead office leasing activity in National Capital Region. Rental values continued to increase in DLF Cybercity, although it remained stable in most places. The central business district of Connaught Place recorded steady leasing activity during the quarter. Small transaction closures (less than 5,000sqft) were reported largely by occupiers from sectors such as engineering and manufacturing. A negligible addition in supply, coupled with sustained occupier interest, resulted in a marginal dip in vacancy levels, even as rental values remained stable on a quarterly basis.
The secondary business district of Nehru Place, Saket and Jasola witnessed a drop in office leasing, while transaction activity was mainly concentrated in Aerocity and Jasola. Leasing mainly occurred in the form of small transactions (10,000-20,000sqft), driven by demand from engineering and manufacturing and financial firms. On the supply front, a small-sized non-IT development came on stream in Aerocity. Rental values remained stable across all locations, while vacancy levels declined marginally during the quarter under review.
Gurgaon continued to dominate office leasing in the National Capital Region, with demand mainly coming from IT, engineering and manufacturing companies. Leasing activity occurred in the form of several small to medium transactions (10,000–50,000sqft), along with a few large transactions (over 100,000sqft). Two leading IT firms have taken about 100,000sqft each in a special economic zone at Dundahera, as well as a recently completed development on the Southern Peripheral Road.
Noida witnessed a slight drop in leasing during the third quarter, with only a few small to medium-sized transactions (10,000–50,000sqft). Demand for office space was mainly concentrated in developments along the Noida–Greater Noida Expressway and in Sector 62, driven by IT, engineering and manufacturing companies. The city witnessed significant development completions in the form of a large development in Main Noida and two small IT developments on the Expressway. Rental values remained stable across all micro-markets during the third quarter.
On the whole, the Indian real estate market is mixed and the situation in Delhi mirrors the larger national trend. But analysts say strong economic growth, growing consumer purchasing power, and positive regulatory reforms and lower interest rates, will probably make the real estate market more efficient, transparent and organised – and ultimately more attractive in the long term.
Retail brand names flock to Delhi
In the first half of 2016, Delhi National Capital Region recorded strong retail activity with various medium to large stores opening in prominent shopping centres, according to CBRE.
In the review period almost half a million sqft of organised space was added with the completion of Logix City Center.
In addition, leasing activity in the first half of 2016 was from a healthy mix of domestic and international players, largely driven by fashion and apparel retailers, followed by food-and-beverage occupiers.
National Capital Region remained a key launchpad for foreign retailers entering India. French luxury accessories brand Longchamp and Spanish fashion retailer Massimo Dutti opened their first stores in the country at DLF Emporio, Vasant Kunj and Select Citywalk, Saket, respectively.
In Noida, DLF Mall of India had multiple store openings by brands such as Cole Haan, and Red Fleece by Brooks Brothers, while sports brand New Balance re-entered the country with a store at the mall. DLF Promenade in Delhi had store openings by Hunkemoller, BCBGeneration, G Star Raw and DC Shoes, while Select Citywalk in Saket saw new stores by international retailers such as Dior Cosmetics and BCB Generation.
Gurgaon also welcomed multiple fashion and accessories brands such as H&M and Hunkemoller opening stores in Ambience Mall.
The high street of Connaught Place experienced strong growth from prominent domestic food-and-beverage companies such as Teddy Boy, Tree Trails Café and Café MRP.
Connaught Place witnessed a rental growth of 68% in the first half of 2016, mainly due to surge in activity by food-and-beverage brands. A new restaurant was also launched by Johnny Rockets on the high street.
In addition, South African chain Barcelo's opened a restaurant in Hauz Khas Village.
City Focus Stockholm: Fully stocked
1

2

3

Currently reading

City Focus Delhi: Indian mirror

4