CapitaLand and Ascendas-Singbridge have combined forces to create the biggest real estate manager in Asia-Pacific. Florence Chong reports
If there were any gaps yet to be filled by the global ambitions of Singapore-based CapitaLand, they were in the "new economy sector" and in India – an increasingly important emerging market for international investors.
In January, CapitaLand moved to plug both gaps, with the proposed S$11bn (€7.1bn) acquisition of fellow Singaporean company, Ascendas-Singbridge – a fast-growing group 51% owned by Singapore's sovereign wealth fund, Temasek, and 49% by JTC, a government statutory agency.
The acquisition will deliver to CapitaLand 100 additional properties in logistics/business parks and data centres in Singapore and other key markets like China and India, and will represent 13% of its enlarged assets under management of S$116.5bn.
Although it was already the largest property group in Asia – with dominant positions in Singapore and China – CapitaLand's core business has always been in residential, retail and commercial. Observers note that residential is a cyclical business and retail is an area that is fast losing appeal for some investors.
Ascendas-Singbridge, on the other hand, has been riding the exponential growth in e-commerce. It has a thriving business in logistics, industrial, data centres and business parks, and has established an entrenched position in growing online markets, such as India.
Andrew Lim, CapitaLand's group chief financial officer, told analysts that what CapitaLand saw in Ascendas-Singbridge was a growth opportunity. "We have identified urbanisation and e-commerce as two megatrends which will drive growth in real estate," he said. "More than 80% of Ascendas-Singbridge's AUM is in the business space, with 50% in sectors exposed to the new economy space, such as business parks, logistics and data centres."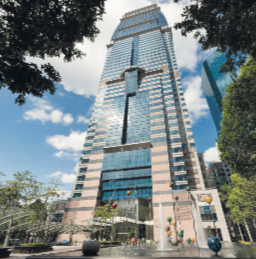 Lim described the Ascendas-Singbridge business as "very profitable" and said it is run by a very competent management that has implemented good strategies. The company is now Asia's largest urbanisation solutions provider. The platform run out of its sustainable urban division has developed Science Park in Singapore, Bangalore High Tech Park and Guangzhou Knowledge City.
But the icing on the cake is India, which CapitaLand sees as "an exciting new growth market" that has been elusive – until now.
Lee Chee Koon, CapitaLand's president and group CEO, was candid when speaking with analysts: "We had trouble unlocking the Indian market. CapitaLand had tried to invest in India for some time," he said. "We like India for the size of the market. It offers a lot more opportunity for growth."
Lee credited Ascendas-Singbridge's success in India to "having chosen a good asset class and done well".
Ascendas-Singbridge first entered India in 1994 with strong partners, such as Sinagpore's sovereign wealth fund GIC, and has built up a portfolio of more than S$2.6bn there.
It started its Indian business building business parks for high-tech companies in cities such as Bangalore, which were best known for providing back office services to international companies.
In recent times it has entered the logistics space, gaining an early-mover advantage while also strengthening its brand recognition in India. Ascendas-Singbridge operates a full value chain in the new economic sectors. It is a developer, owner-operator and fund manager with an off-take platform through Ascendas REIT (the largest logistics vehicle) and the Ascendas India Trust, both listed in Singapore.
CapitaLand will also gain entry to South Korea's core office market through the acquisitions, said Lim. Ascendas-Singbridge runs private funds for Korean investors, and in recent times has bought and sold office assets there. In 2017, it sold a building to IGIS, which bought it on behalf of a Korean pension fund for US$635m.
In 2017, Ascendas-Singbridge launched its fifth single-asset fund in Korea, seeding it with a brand new mid-sized office building in the Gangnam Business District (GBD), acquired for S$124m.
Lee said: "Geographically, the deal strengthens CapitaLand's presence in our core markets of Singapore and China, while adding meaningful scale in India, US and Europe."
Last year, Ascendas-Singbridge bought a portfolio of 12 logistics properties from Oxenwood UK for £207m. The acquisition was quickly followed by the purchase of 33 suburban offices in the
US for more than US$1bn. Andrew Lim says the firm's suburban office portfolio will complement CapitaLand's multifamily portfolio, which it acquired for US$835m last year to enter the US market.
The Ascendas-Singbridge business will be run as a separate business unit within the enlarged company. Lee said: "We will continue with the Ascendas-Singbridge brand name, especially if it is strong in certain markets and asset classes."
Greater diversification, both in assets and geographies, would make CapitaLand more resilient to market cycles in future, he added. "This deal immediately adds a portfolio of operating assets that contribute income today, while adding a sizeable pipeline of development projects for the future."
The merger will increase its landbank by 18m sqft. The combined business will raise the group's fee income from fund management by 40%.
CapitaLand intends to launch new vehicles and to attract more capital partners as it expands its combined stable of 31 mostly private and public REITs. It will lower its exposure to retail by 4% to 32%, and to China from 48% to 41% of its total portfolio.
CapitaLand has recast its strategy to go global over the past year under previous group CEO, Lim Ming Yan, who retired four months ago. His successor, the 43-year-old Lee, picked up where Lim left off, entering into negotiations to purchase Ascendas-Singbridge when he took the helm last September.
CapitaLand negotiated with Temasek, the majority shareholder of Ascendas-Singbridge, over more than six months in what Lee said was a "dating process". The deal had come together at the weekend because there was a "willing buyer and a willing seller".
Temasek will receive S$3bn in cash along with new CapitaLand shares worth another S$3bn. This will take its ownership in the enlarged company to 51% from 40.8% today.
The Ascendas-Singbridge deal means that CapitaLand will achieve its stated aim – to increase AUM to S$100bn by 2020 – well ahead of schedule. Globally, it will be the ninth-biggest real estate investment manager, based on IPE Real Assets' latest ranking, after Brookfield, PGIM, Blackstone, Hines, Metlife, Nuveen, CBRE Global Investors and UBS Asset Management.