As India's capital of IT, Bangalore is lighting up as the city for office and residential investments. Christopher O'Dea reports
India's IT capital's property markets is a sector in search for equilibrium. Global demand for IT services continues to rise and foreign investors are allocating ever more capital to Bangalore's office and residential sectors, where the back-office staff of the world's tech boom live and work.
IT sectors accounted for nearly 50% of total office transactions in the third quarter of 2015, reflecting underlying demand that made Bangalore the strongest market for office property rental growth in India during 2015.
That demand has been met by a significant uptick in new office supply. The shift to office development comes after a boom in higher-end residential building flattened out due to rising land prices and construction costs, and slackening demand for the high-priced, larger apartments that became common as Bangalore's IT sector expanded after the financial crisis.
As conditions changed, the ability of the property markets to react to new consumer preferences has been hampered by local practices in land ownership, development sales and construction permitting.
But, all in all, those trends point to a turn in the commercial property cycle in Bangalore, says Milan Khatri, head of Asia-Pacific property research at Aberdeen Asset Management. "Bangalore is the IT hub of India," he says. "It's exceptionally strong and that certainly means Bangalore will hitch onto that and do pretty well.
"The office market has evolved over the past 10 years," says Khatri, with development moving from central business districts to a series of peripheral sub-markets around the city. Residential development followed the path, as land owners and builders responded to employers' desire "to get the right quality of talent and make their companies more attractive from an employment perspective".
Land in and around peripheral areas where IT firms could occupy high-quality office space with large floor plates and clear title began to be held for sale to residential developers. Land values rose as developers built units of 1500sqft or more to sell at prices of $100,000 or more.
But even with India's growing middle class and Bangalore's IT boom, demand for such units waned over the past few years, Khatri says. What is needed is more mid-value housing units of 1000sqft or less at prices below $70,000.
But it won't be easy. "The process for getting approval for developments isn't straightforward," Khatri says. People would buy land and hold it for several years until they could get an appraisal, then raise the price, complicating the long-term planning required to transition to larger developments comprised of smaller, more affordable units. "A more unified process for appraisals is needed, and if that can be dealt with, maybe the economics can start to tilt in favour of mid-priced units."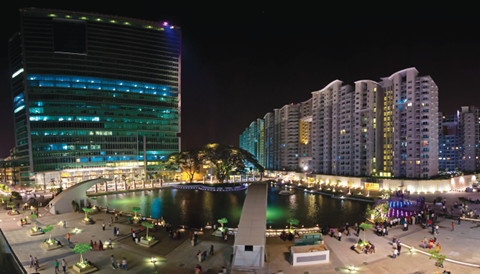 The residential sector had attracted significant foreign institutional capital, often put to work through funds of unlisted property run by local partners in what was, for a time, seen as a lower-risk way to access Indian economic growth while getting capital returned more quickly than from commercial office property. "But the cycle is turning now, back towards office," says Khatri.
Electronic city
The shift is unmistakable in the numbers. With the global IT revolution rolling on, Bangalore has become the second-largest office-leasing market in India, ranking behind only the Delhi National Capital Region (NCR), according to CBRE Research. Bangalore accounted for 22% of office leasing transactions in the third quarter of 2015, compared with a 31% share for Delhi NCR.
Offices are sprouting across India, with new supply in the third quarter of 2015 alone surging by 44%. Occupiers leased more than 9m sqft of office space across India in the quarter, clocking up a 20% increase over 2014. Bangalore was one of a few cities to see continued pre-leasing transaction closures, CBRE says, as well significant renewals. The main feature of most new construction is larger floor plates at an international-quality level.
In Bangalore, occupiers are showing strong interest in prominent peripheral and suburban micro-markets of Koramangala, CV Raman Nagar and Whitefield. Most new supply remains concentrated in North Bangalore and Whitefield, two micro-markets that are distinctly digital – IT sectors accounted for nearly 50% of total lease transactions in the city, helping rental rates continue to inch upwards.
The micro-markets of Whitefield and Electronic City in the Peripheral Business District accounted for nearly 25% of the total space leased in Bangalore during the third quarter of 2015, with demand for medium and larger-sized spaces driven by consolidation and expansion requirements of prominent IT occupiers. In fact, says CBRE, Bangalore remains the rental leader in India, with office rental rates increasing by 2-3% even in its central business district, and between 2% and 7% across peripheral submarkets.
"The cycle is turning now, back towards office"
Milan Khatri
Industrial and logistics property reflect India's emergence as the fastest-growing economy in the world – a "bright spot", according to former US Treasury secretary Lawrence Summers at a recent speech – and at the same time the growing pains resulting from the slow pace of change in legislation and regulation governing key aspects of economic development.
Investment-friendly policies initiated over the past year helped boost India's gross domestic product by 7.3% in the 2015 fiscal year, resulting in the country overtaking China as the world's fastest growing large economy. This improvement was spearheaded by manufacturing which grew by 7.1% as well as the finance, insurance and real estate services segments which performed strongly, growing by 11.5%.
The World Bank predicts that India's GDP will grow 7.8% in 2016 and 7.9% in 2017 and 2018. In the real estate and construction sector, a spate of legislative initiatives were debated in 2015, including approval of a Real Estate Regulatory Bill that was expanded to cover residential and commercial property.
Despite Bangalore's standing as India's IT capital, CBRE says there's a "paucity of modern warehousing facilities", and e-commerce companies "constitute a meagre 3% of the total warehouse demand." Transaction volume in logistics and warehousing space is concentrated in three cities, with Bangalore running in third place with an 18% share through the first half of 2015, behind Mumbai at 31% and Delhi NCR at 27%.
Two of the 10 largest industrial/logistics developments in India are being built in Bangalore. They are a 22-acre project for PMI Infrastructure due in 2015, and a 10-acre project for INA Developers that is due for completion in 2017. And the supply pipeline remains sluggish. While developers have approximately 1.5m sqft of warehousing space under construction, CBRE says there is "negligible planned/under-construction supply" in North Bangalore and Whitefield.
The soft supply outlook comes as India's $110bn logistics and warehousing sector is being tested by the growth of online shopping. Fuelled by online retailing, the supply of modern warehouse space in India is set to more than double by 2020 to 200m sqft, according to JLL. Some of that will help accommodate one of the fastest-growing segments of e-commerce in India – online groceries.
Grocery demand is rising by 30% annually in large Indian cities. India is already the world's sixth-largest grocery market, and grocery shopping is expected to rise from $383bn a year to $1trn a year by 2020, according to retail consultancy Technopak.
But because of poor transport infrastructure, online ordering and delivery are flourishing. Storing all the food in locations convenient for delivery will drive the size and location of the next generation of logistics infrastructure. Some companies carry full inventory, which requires warehouse space, but others, such as Bangalore-based ZopNow and LocalBanya, started with an inventory model, then switched to hyper-local inventory-light business models relying instead on sites run by traditional grocers.
A further boost to industrial and logistics property may come from another capital source that is diversifying away from housing finance by coming home to India. Indian mortgage lender Housing Development Finance Corporation plans to raise $500m from offshore investors for domestic property projects, including in warehousing and logistics for the first time, joining the parade of institutions seeking to take part in India's e-commerce boom.
Khatri says new tax laws clearing the way for real estate investment trusts (REITs) in India will help stimulate activity in the residential sector, where many developers and investors see listed property vehicles as an exit route. Still, the changes did not spark REIT formation during 2015. Residential property remains in a slump, with prices down between 15% and 20% in major markets as developers try to clear their books of unsold units.
With developers facing a liquidity crunch, private capital is starting to appear. Consultancy Cushman & Wakefield says private equity investment in real estate in India rose 84% through September 2015 to the highest level since 2008.
And Indian regulatory changes to make it easier for foreign investors to sell their property holdings and repatriate the proceeds are expected to attract fresh offshore capital.
But as 2016 unfolds, investors in Bangalore property can take their cue from the city's nimble digital grocers – have a plan, but be ready to pivot.
Birmingham: An investor's paradise
1

2

Currently reading

Bangalore: Electronic city

3